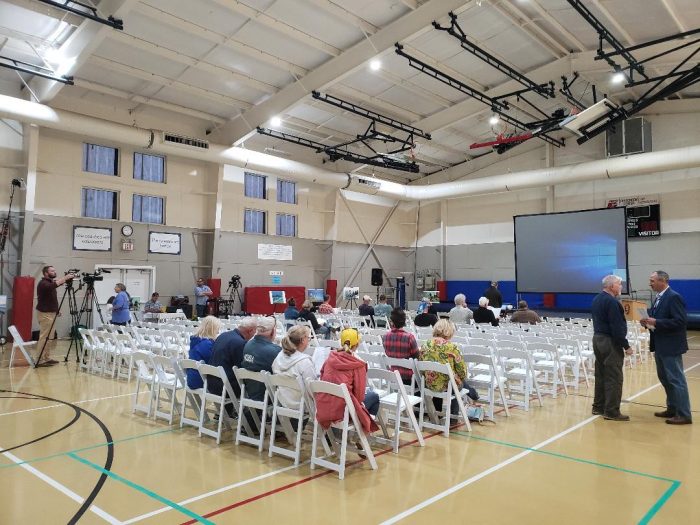 On Saturday, November 2, the first-ever Cape Hatteras Surf Fishing Heritage Celebration was launched at the Fessenden Center in Buxton, and an estimated 200 attendees drifted in and out of the transformed gym to attend a dozen presentations that focused on varying aspects of fishing, and its Outer Banks roots.
Hosted by the Cape Hatteras National Seashore, but boosted by a number of partners integral to the local fishing scene including the Cape Hatteras Anglers Club, North Carolina Beach Buggy Association, the Outer Banks Preservation Association, Outer Banks Forever, and the Outer Banks History Center, the day was an immersion in fishing with topics that ranged from the history of beach driving to how to master the perfect long-distance cast.
If you missed it, you still have an opportunity to catch the distinct presentations in several ways. Dare County's Current TV filmed the event, Radio Hatteras recorded the event for future programming, and Outer Banks Forever live-streamed all presentations, which are all available for viewing on their Facebook page at https://www.facebook.com/obxforever/.
But in the meantime, while it's impossible to condense hours of fascinating facts and history into an easy-to-skim summary, here are a few of the event's highlights and key takeaways from the day's celebration.
Let's start with one of the most important takeaways that inspired an enthusiastic round of applause from the crowd…
Takeaway #1: Don't ask a woman if she needs you to cast for her.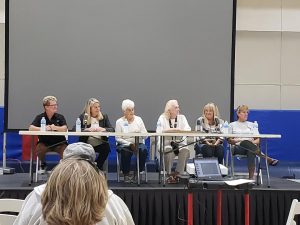 One of the most well-attended and well-received sessions of the day was the early afternoon's panel discussion with legendary female surf fishing anglers Carol Dillon, Sue Garrett, Nancy Gionnotti, Rossie Jennette Jackson, Ginger Knight, and Shelly Rollinson. Funny and insightful, all of the ladies stated that they learned their love of fishing from their parents, (and especially their dads), and that they saw no discrepancy between the sexes when it came to the ability to fish, to compete in tournaments, and – most importantly – to win.
The ladies noted that women's participation in local surf fishing tournaments has been rising steadily over the past few decades, with all-women teams placing first and second in the 2010 Cape Hatteras Anglers Club (CHAC) Tournament in 2010, and an all-women's team, The Outcasters, placing first in last year's 2018 CHAC tournament.
"There were, I think, 15 all-women teams in last year's tournament, not to mention the mixed teams," said Garrett. "We compete more or less on equal footing… We put our waders on the same way."
"I learned to fish with a bamboo pole and a cork, and I learned to know when the fish were near that hook on [my father's] head boat," said Dillon, a charter member of the CHAC, which was founded in 1957. "Now, I have two daughters and three granddaughters who [compete] in tournaments, so we are still at it."
At the end of the all-too-brief discussion, Pat Weston, who was at the Surf Fishing Celebration representing the Outer Banks Preservation Association (OBPA), shared one final and essential word of advice to the crowd. "One more thing," she said, "Don't ever ask a woman if she needs you to cast for her." As expected, her advice resulted in a round of appreciative laughter and applause from all of the ladies in attendance.
Takeaway #2: Air Down!
More than one presenter focused on the importance of airing down when driving on the beach, and it was a theme that was everywhere throughout the day, from demonstrative photos from Daniel Pullen of stuck vehicles in the surf, to the signature stickers from OBPA that read "Don't be a Clown, Air Down."
As Bill Smith, President of NCBBA, put it simply during his presentation on the history of beach driving, "Air down, and spread the word… That's just how you avoid getting stuck."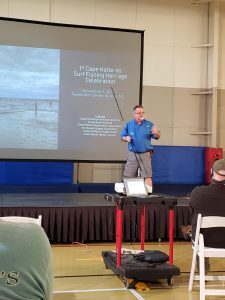 Takeaway #3 There are a lot of moving parts when it comes to the perfect cast.
Experienced anglers likely know that the perfect cast requires a balance of the perfect rod and reel, the perfect stance, and a number of other factors that stem from your equipment, and your abilities.
But fishing newcomers in the crowd, (like yours truly), were paying close attention when the secrets of the perfect cast were shared by long-distance casting champion Tommy Farmer, and the optimal equipment for the job was shared by Hatteras Jack owner and third-generation rod builder Ryan White. Needless to say, attendees who were lucky enough to catch these morning presentations got a leg up when it came to casting further and more successfully than their fishing colleagues.
Takeaway #4: The Outer Banks are wild… and sharky.
Several presenters also touched on one of the main reasons why the Outer Banks is so exceptional for surf fishing, which is that it serves as the northern border for warm-water species, and the southern border for cold-water species.
This results in exceptional fishing all year long, and a location that's 30 miles in the ocean and that's bordered by constantly shifting sandbars certainly doesn't hurt either.
Presenter Andrew Cathey of the N.C. Division of Marine Fisheries Angling Program touched on the most popular species for surf fishing based on extensive data, (which are namely red drum, bluefish, and kingfish), while afternoon presenter Dr. Charles Bangley of the Smithsonian Environmental Research Center provided a closer look at one of the Outer Banks' most famous beneath-the-surface residents, sharks. "In North Carolina, you're lucky enough to have sharks year-round," he said.
Bangley also touched on the recent phenomenon of bull sharks utilizing the western regions of the Pamlico Sound as breeding grounds and nurseries – an event that's attributed to an increase in water temperatures. But he also noted that sharks of all sizes were present on both sides of our skinny island. "The fact that some [tagged] sharks have come through the inlets, or have been [identified] in the sound is telling," he said. "The Pamlico Sound has a lot of little sharks, but it has a lot of big sharks too."
Takeaway #5: Fall is prime fishing season.
Most anglers who have been visiting the Outer Banks for years already know that fall is primetime when it comes to exceptional fishing, but this was a theme that popped up again and again through multiple presentations.
Arguably, Jami Lanier, Cultural Resource Manager of the NPS, summed it up best when she shared a quote from Frank Leonard Stick, an early pioneer of the surf fishing and tourism industries on the Outer Banks: "As the locals say, after Labor Day, the fishing gets serious."
Takeaway #6: The future of fishing relies on getting involved, and getting the next generation's lines in the water.
The last panel of the day concentrated on the future of fishing. Panelists Eric Hoag, Travis Kemp, Pat Preston, and Lee Scarborough shared advice on what they've learned when it comes to identifying ideal fishing conditions and utilizing technology, and they touched on the current issues of the day – like the newly implemented restrictions on southern flounder.
But when asked what was required to keep surf fishing a strong local industry for generations to come, it boiled down to recruiting more fishermen to stay involved in the issues that matter.
"We need to get more people involved in fisheries management," said Kemp. "We have to stay involved, and make sure we maintain this resource for years to come."
"The more people who fish, the more likely we'll be able to keep on fishing," said Hoag.
Takeaway #7: The Cape Hatteras Surf Fishing Heritage Celebration will be held again…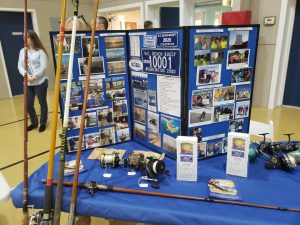 Based on the response of attendees, the wealth of information, and the solid attendance which ebbed and flowed throughout the day, organizers were happy with the success of the inaugural event, and were more than optimistic that the Cape Hatteras Surf Fishing Heritage Celebration would return.
"This exceeded my expectations," said Cape Hatteras National Seashore Superintendent David Hallac. "I learned so much, and was inspired by the culture, and the future, of surf fishing."
"I think this first [Celebration] was so successful that we'll have to do it again."
Want to see what you missed?
All presentations are currently available online at https://www.facebook.com/obxforever/, and keep an eye on Dare County's Current TV and Radio Hatteras for highlights in the near future.
While the dates for the next Cape Hatteras Surf Fishing Heritage Celebration have not been determined, anyone with an interest in history, fishing, and / or the Outer Banks in general should keep an eye out for the next edition of this celebration, where surf fishing is king.