2019 was a tough year for many islanders. Hurricane Dorian dominated the headlines in the fall, closing Ocracoke Island for nearly three months, and flooding and ocean overwash seemed to accompany every storm throughout the year, leading to multiple road closures and revived conversations about how to protect N.C. Highway 12.
But it you look closely enough, you'll find plenty of good news dotted throughout the year as well. Don't forget that we started 2019 with a 56-year-old bridge that was functioning decades after its original 30-year lifespan, and we ended the year with a brand new bridge that is expected to stand for a century.
So with that mindset in place, let's take a closer look at the stories that ruled the news cycles in 2019, and which will likely pop up again in the headlines as 2020 approaches.
Hurricane Dorian
Hurricane Dorian, which made landfall at Cape Hatteras on September 6, was a world-changing storm for Ocracoke Island.
Generations of Ocracoke residents attested that Dorian produced the worst flooding they had ever seen in their lifetime. Roughly seven feet of storm surge inundated the village, destroying homes and vehicles, and causing massive damage that is still piled up along the roadways, and at the informally named "Mount Trashmore" at the Ocracoke Lifeguarded Beach.
More blows were dealt for islanders when FEMA individual assistance was denied for Dorian victims, and subsequent nor'easters in the fall pushed back the original opening date of Ocracoke Island to December 3.
But there are strands of silver linings when it comes to Dorian, particularly in the form of the public response. Within days, multiple organizations and individuals were generating donations and funds to help Ocracoke Island, and even Hatteras Islanders paused in their own storm clean-up efforts to shuttle essential supplies by boat to their southern neighbors.
The story of Dorian isn't over. Despite being officially open, Ocracoke Islanders are still cleaning and rebuilding, and there remains months of work ahead. But the will and tenacity of the island residents, backed up by a flood of support from the public at large, makes getting back to normal just a little more plausible.
If you want to revisit the height of storm, (and no one would blame you if you didn't), here's a peek at our breaking coverage and a video taken by our publisher, Donna Barnett, of her yard-turned-river just moments after Dorian made landfall. https://islandfreepress.org/outer-banks-news/record-storm-surge-hits-ocracoke-and-hatteras-flash-flood-emergency-in-effect-until-noon/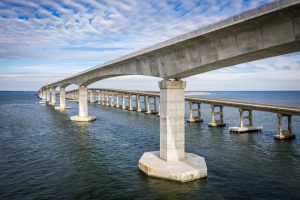 Bonner Bridge Replacement Opens
2019 wasn't just about storms and devastation, and the year began with a celebratory spirit as the new bridge across Oregon Inlet opened to the public on February 25. A Ribbon Cutting Ceremony with Governor Cooper and local and state officials was held roughly a month later on April 2, and throughout the remainder of 2019, efforts continued to complete the final touches on the new bridge, and to start the demolition of the former Bonner Bridge in earnest.
Like many stories in 2019, however, the new bridge was not without controversy. After a Dare County Board of Commissioners 3-2 vote to rename the bridge the "Marc Basnight Bridge" after the former State Senator, multiple petitions circled to retain the old Bonner Bridge name, generating thousands of signatures in the process. The public outcry from islanders was unsuccessful, however, and the new bridge is officially called the Marc Basnight Bridge – although, many folks will forever use and retain the old Bonner Bridge moniker in everyday conversation.
Here's our coverage of the official grand opening of the Bonner – er, Marc Basnight – Bridge. https://islandfreepress.org/outer-banks-news/gov-cooper-and-local-state-officials-attend-ribbon-cutting-ceremony-for-new-bridge/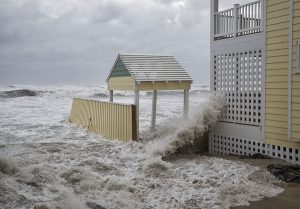 Nor'easters and Highway 12 Closures
If there is one word that islanders became sick and tired of hearing this year, it's "overwash."
2019 had a number of storms that caused oceanside flooding in multiple hotspots along N.C. Highway 12, and especially in the fall months, when two long-winded nor'easters caused the road to be sporadically closed from Rodanthe to Oregon Inlet for days at a time.
The constant flooding of N.C. Highway 12 has sparked new conversations and debates about long-term plans for the island, as NCDOT efforts to build back dune lines become routine after every storm or long-period swell. Most recently, funds were approved for a beach nourishment study in Avon to protect a vulnerable corridor of N.C. Highway 12 near Ocean View Drive, however, you can expect this story to linger in the headlines for a very long time to come, (and, unfortunately, you can also expect to hear the word "overwash" again as the winter storm season gets into full swing.)
Not fed up with the word "overwash" yet? Here's one of many, many stories that covered the cycles of flooding along N.C. Highway 12. https://islandfreepress.org/outer-banks-news/significant-ocean-overwash-accompanying-sunday-mornings-high-tide-in-avon-buxton-rodanthe/
Ocracoke Passenger Ferry
The Ocracoke Passenger Ferry was another positive development for Hatteras Island that had a little bit of controversy on the fringes of its grand opening.
After being delayed for more than a year due to complications in building the state's first passenger ferry, the North Carolina Department of Transportation's Ferry Division leased a ferry for the 2019 summer season, the M/V Martha's Vineyard Express, from the New Jersey-based ferry company Seastreak Marine. The passenger ferry service with the leased vessel officially launched on May 20, and by the end of seasonal operations on September 5, the ferry had transported nearly 30,000 passengers to and from Ocracoke village. Time will tell if the state's own ferry will be completed when the summer of 2020 rolls around, and you can expect this story to make waves again in the months to come.
An overview of the passenger ferry's inaugural season can be found here: https://islandfreepress.org/outer-banks-news/passenger-ferry-transports-nearly-30000-riders-will-close-for-season-september-5/
Southern Flounder and Fishing Issues
Truly, 2019 was seemingly the year of controversy, and this was especially the case in the commercial fishing industry. In late August, the Marine Fisheries Commission voted 6-3 to adopt the highly contested Draft Amendment 2 to the Southern Flounder Fishery Management Plan, which placed a number of hefty restrictions on southern flounder fishing. This was in addition to several other management changes for certain species, which includes two current and ongoing suites of proposed changes to reduce blue crab harvesting, and to reduce the bycatch of non-target species in shrimp trawling.
On the plus side, the Dare County Commission for Working Watermen was revived in 2019 as well, under the leadership of County Commissioner Steve House, in an effort to help the county address these ongoing issues as they pop up and affect our fishermen on the Outer Banks.
A detailed account of the MFC meeting to adopt the Southern Flounder Amendment 2 can be found at https://islandfreepress.org/fishing-report/mfc-votes-to-adopt-southern-flounder-amendment-2-with-additional-changes/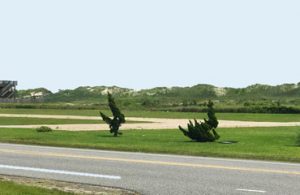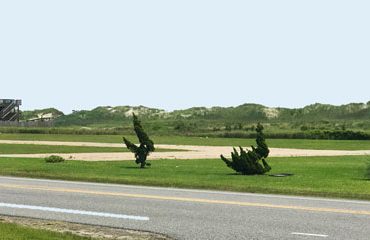 Proposed Hatteras Hotel
Speaking of controversy, (which is clearly a theme for this past year), the summer of 2019 saw a heated debate pop up about a proposed seven-story hotel that was planned to be developed in Hatteras village by SAGA Construction.
Though the project ended up going back to the drawing board after multiple comments were made at a well-attended Dare County Planning Board meeting in June, the idea of a new hotel brought polarizing opinions on whether such a large development would bring new visitation to Hatteras village, or would change its distinctive character.
Take a look at just a few of the opposing viewpoints in our coverage of the Planning Board meeting here: https://islandfreepress.org/outer-banks-news/back-to-the-drawing-board-for-hatteras-hotel-development-project/
The 20th Anniversary of the Move of the Century
Finally, a story that does not have any controversy involved whatsoever! 2019 was also the 20th anniversary of the "Move of the Century," and a day-long celebration was held on July 1 to pay tribute to the 23-day endeavor that relocated the lighthouse 2,900 feet from its precarious locale on the edge of the ocean in 1999. Granted, twenty years ago, there were plenty of islanders who were against the proposed move because of understandable concern that the lighthouse could be severely damaged in the process. But considering that two decades later the lighthouse is still standing, we can file this story under the "good news" category.
Revisit the highlights of one of the more positive stories of the year here: https://islandfreepress.org/outer-banks-news/island-community-celebrates-the-move-of-the-century/
Seashore Improvements
Diving back into our unofficial controversy theme, 2019 was also the year where two new public beach accesses opened to the public – the Buxton Day Use area along Old Lighthouse Road and the new Kite Point Parking area south of Avon. Though both access points have been well used since opening, (and especially the Kite Point parking area), there were concerns along the way about increased traffic on the primarily residential Old Lighthouse Road, as well as a seasonal speed limit reduction from 55 mph to 45 mph in between the villages from Avon and Buxton, and Frisco and Hatteras. The speed limit reduction will likely be in place again for the summer of 2020, so islanders who can't drive 55 will want to get their fill in before then.
The grand opening of Kite Point was also marked with a ribbon cutting on May 2, which is highlighted here: https://islandfreepress.org/outer-banks-driving-on-the-beach/ribbon-cutting-marks-official-opening-of-kite-point-parking-area/
Sea Turtles
Let's end our 2019 wrap-up with one last happy story, just to take the sting out of so many controversies and episodes of ocean overwash that were sprinkled throughout the year.
If you had to point to an island demographic that had a banner year, it would be our visiting sea turtles. 2019 was a record-breaking year for sea turtle nests with a total of 473 nests recorded in the Cape Hatteras National Seashore as of December 13. This blew 2016's previous record of 325 total nests out of the water, and continued to be a big story as the number steadily increased all summer long.
So if you feel like 2019 was just a year of storms, floods, debates, (and yes, controversies), remember that at least the sea turtles on our islands had a stellar and successful time, all year long.
So why were the sea turtles so active and amorous? We explored this question in detail here: https://islandfreepress.org/blog/editors-blog-sea-turtles-nest-records-are-being-shattered-but-why/
This is just a sample of some of the stories that grabbed our attention in the past 12 months. 2019 was also the year when a shipwreck closed a mile-long section of the Frisco beach, when a special election was held due to the passing of Rep. Walter Jones, Jr. in February, when the Worrell 1000 race returned to Hatteras for the first time in 17 years, and when a number of other unique events landed on our local shores.
And if there's one thing for certain, based on 2019's erratic news cycles, there's no telling what an upcoming year will bring. We'll revisit some of these topics in our next blog that looks at the stories to keep an eye on as 2020 approaches, and in the meantime, all of us at the Island Free Press hope that the end of your 2019 is merry, joyful, and completely free of controversy and ocean overwash.