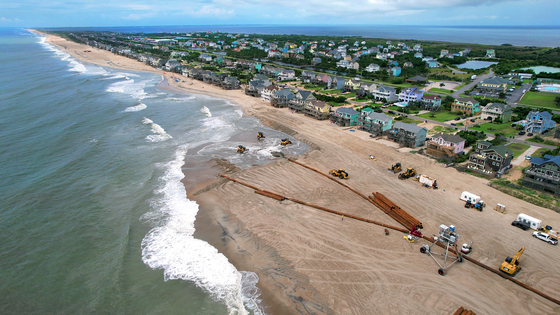 There are summer seasons that are memorable for a significant reason.
1999 was the summer of the Cape Hatteras Lighthouse move. 2004 was the summer of July's Hurricane Alex, and the ridiculously quick efforts to reopen and get back to normal. 2017 was the happy summer of Shelly Island, while 2020 and 2021 ended up being the more ominous summers of pandemic-inspired social distancing.
So far, it looks like the summer of 2022 has shaken off the social-distancing stigma, and has instead become the summer of beach nourishment.
Hatteras Island is currently in the middle of two beach nourishment projects: a maintenance project for Buxton, (which had its inaugural beach nourishment endeavor in 2017/2018), as well as a brand-new project for Avon, which officially began in June of this year.
Both projects are currently causing waves, and are the dominant topic of conversation among locals and visitors alike.
In fact, smart local businesses, like the Cape Hatteras Motel in Buxton, are commemorating the event with milestone souvenirs like "We got pumped!" T-shirts and tank tops, which are a wonderful way to both mark the occasion, and to show off your own super-pumped arms at the same time.
If you're a longtime reader of the Island Free Press, then I should warn you in advance that everything that follows might seem a bit repetitive, because these beach nourishment projects are not sudden endeavors.
Instead, like every initiative that requires cooperation from local, state, and federal agencies, a beach nourishment project for Hatteras Island, (let alone two), requires years of red-tape-whacking, and permission-granting, and funding, and multiple ink-on-paper approvals before a project is finally in process, which is where we are now.
But just in case you have been living under a shell since 2015 or so, or are fairly new to our local news cycle – (and we sure are happy to have you!) – here's a bit of background via an easy-to-scan FAQ.
It should be noted that Dare County has a more comprehensive and refined FAQ section on their extremely-thorough website that is dedicated to the county's beach nourishment projects, morebeachtolove.com. This is a fantastic resource for now, and for the weeks ahead, as the Buxton and Avon beach nourishment projects move forward through the summer.
To be honest, the following FAQs are based on what I would want to know as an Outer Banks newcomer, and I am inherently obnoxious when it comes to questions. (Seriously, ask anyone I have ever interviewed or have had a normal, everyday conversation with, and they will tell you the same thing.)
In any case, without further disclaimers and ado, let's dive into the info that's more or less imperative to understanding why 2022 will likely be the "Summer of Beach Nourishment."
What is up with this beach nourishment nonsense?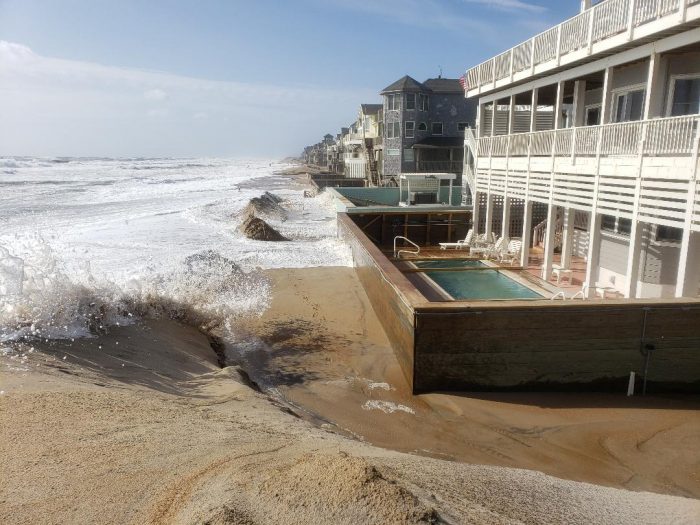 So long story short, the rate of erosion along the beaches of Avon has accelerated dramatically in the past few years, and particularly for the southern half of the village.
The sand dunes along much of the beach in the Kinnakeet Shores area and beyond have been washed away, allowing the ocean to flood N.C. Highway 12 regularly, and make the highway impassable. In the past several years, this has occurred during hurricanes and nor'easters, but also during offshore storms, extreme high tides, and other less-severe weather events.
When overwash in Avon occurs, the flooding impedes pretty much everything. It prevents first responders from being able to reach emergencies, sanitation workers from picking up trash, and islanders from performing normal daily tasks. In addition to these safety issues, there has been flooding damage to homes and businesses, which in turn negatively affects the tourism economy.
This same situation occurs in Buxton, in the area where the first Hatteras Island beach nourishment project occurred in 2017-2018. If you do a search on our website for "ocean overwash on Highway 12," you'll likely see the same handful of affected areas listed, over and over again, which includes southern Avon and northern Buxton. Beach nourishment is an immediate band-aid for these issues, as well as a potential solution for years to come, (and more on that in a moment.)
Why is this happening now, in the summer, when everyone is vacationing?
The reason why the projects are done during a summer timeframe is due to the weather and wave conditions. The maximum wave height to conduct safe dredging is 5' feet, and the average wave heights in the summer are typically well below this maximum. This is not the case during the rest of the year.
In addition, the storms that frequently affect the area in the late fall, winter, and early spring can cause dangerous conditions for the crews who are tasked with performing dredging operations along the coastline.
Simply put, visitation is highest in the summer months for a reason – the weather is consistently beautiful. And this is why projects that require optimal weather conditions take place during the summer as well.
Why can't we have a seawall, or jetties, or groins instead?
In 2003, the North Carolina General Assembly voted unanimously to formally adopt a law banning hard structures, such as seawalls and terminal groins. This law bans the construction of any new and permanent erosion-control structures on beaches within the state.
Other options that aren't hard structures—such as geotubes and offshore reefs—are not approved for use in North Carolina either.
Therefore, beach nourishment is currently the only tool that is available to protect our island roadways and infrastructure from beach erosion, and subsequent flooding and overwash.
Well, erosion isn't going away, so why can't we have a super-long bridge to Avon and Buxton?
We considered a version of a super-long bridge in the late 1990s and early 2000s, when we were looking at feasible replacements for the original Bonner Bridge, (which was built to last until 1993, and which wasn't officially replaced until the grand opening of the new Basnight Bridge in 2019.)
At the time, one of the options for the Bonner Bridge replacement was a 17-mile-long bridge that would extend from Oregon Inlet to Rodanthe, and which would end up being one of the most expensive bridges ever constructed in the United States.
So, imagine this estimated cost, multiplied by two or three, which is what would be required for a bridge to reach Avon and Buxton. It would also not resolve the issue of accessing these two villages, as the majority of erosion and flooding is taking place in residential areas.
Actually, let's pause and backtrack for a second…
There are at least seven flooding hot spots on Hatteras and Ocracoke Islands: The "canal zone" south of the Bonner Bridge, Pea Island Visitors Center, the S-Curves just north of Rodanthe, southern Avon, northern Buxton, north of Hatteras village, and northern Ocracoke Island.
Out of all of these areas, only southern Avon and northern Buxton have substantial infrastructure, as opposed to just undeveloped shoreline.
So while a bridge or five might make sense for undeveloped areas, it might not be the best idea for areas where there are already homes and businesses that are well-rooted.
Fun Fact: The new Jug Handle Bridge, like the fairly-new Basnight Bridge and Captain Richard Etheridge Bridge at Pea Island, have all been designed to easily interconnect with additional bridges in the future – so it's kind of like playing Legos or toy train tracks, but with landscape-altering future erosion considerations that could affect our ability to access Hatteras Island.
Who is paying for this stuff?
The short version of this answer is Dare County, FEMA, as well as Buxton property owners and Avon property owners in the affected areas.
Special tax districts were created for property owners in northern Buxton, as well as all of Avon village, to help fund the project. The special Avon tax district was brand new last year, and believe me, it caused a lot of debate.
Visitors are helping to foot the bill behind the scenes, through the Dare County Occupancy Tax, which would exist regardless of whether beach nourishment was happening or not. Basically, the occupancy tax has remained unchanged for multiple years, so while Avon residents may have had to dole out some extra funds for these local projects, visitors have not been charged anything extra in 2022, beach nourishment-wise.
Essentially, Dare County's Beach Nourishment Fund is funded by a 2% portion of the county's 6% Occupancy Tax. In addition to the Occupancy Tax, beach nourishment is also funded by various property and municipal service district taxes as well as state and FEMA Public Assistance program funds, when applicable. (More on that soon too.)
How long will this take?
Both projects are estimated to take 40-60 days, and both began in late June or early July, so by the late summer of 2022, we should be in the clear.
With that being said, as a journalist who has covered the Outer Banks for more than 20 years, (and who has rarely seen any big-ticket project finish on time), my money is on delays of some sort, which will likely be hurricane related. Email me if you want to start a pool.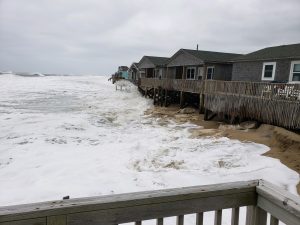 All that Buxton beach nourishment that occurred in 2017-2018 has washed away. So why is beach nourishment still a thing?
Great question, imaginary questioner, and to be honest, it's both a simple and problem-fraught answer.
When beach nourishment occurs, the immediate result is a super-huge beach that is up to 100 yards in width, and which is very flat and almost unnatural looking, compared to the rest of the Cape Hatteras National Seashore.
But this new and oddly wide landscape isn't the desired end result.
Instead, it's hoped that the natural processes of wave activity and storms and erosion will sculpt the beach closer to its original shape prior to the nourishment project, but to a point where it's still substantial enough that storms won't flow over the sand and impact N.C. Highway 12.
That was the goal with the initial Buxton beach nourishment project, and it was effective for a good while.
While flooding along N.C. Highway 12 in northern Buxton was minimal at first following the 2017-2018 project, it has obviously become more prevalent in recent history, as evident by the number of times I have had to type "Ocean overwash reported in Buxton" over the past several years. (Between you and me, dear reader, I would love to never have to type that phrase again.)
But here is the clincher – beach nourishment is not a one-time deal.
It has to be maintained every five years or so, (hence the current Buxton project), and once it's done, protecting our shoreline suddenly gets boosted by bigger, better funds, as FEMA will chip in to maintain already-engineered and nourished beaches.
So while the 2017-2018 sand in Buxton may have disappeared, we now have a federal funding source to help us continue to protect N.C. Highway 12 on this stretch of the island, and the same will be true for Avon, too, once its beach nourishment project is complete.
Will our Avon and northern Buxton taxes increase in the years to come, depending on how expensive it is to conduct future beach nourishment maintenance projects? We don't know. But we will certainly tackle that question if it comes down the pike a few years from now, which is a possibility.
Why isn't beach nourishment happening in northern Rodanthe, where three houses collapsed in 2022?
Any erosion around Ocean Drive in Rodanthe where the houses collapsed won't affect N.C. Highway 12 when the Jug Handle Bridge opens, and in order for beach nourishment projects to be viable, they have to be instrumental for the infrastructure of a community.
So, for example, if N.C. Highway 12 floods in Avon, you can't get to Buxton, Frisco, or Hatteras if you're headed south. If it floods in northern Rodanthe, once the bridge opens, the island's lone highway will be traversable throughout.
The other factor is that there is simply not enough affected northern Rodanthe property owners to pay for a beach nourishment project without bleeding them dry in taxes.
The cost for the Avon nourishment project is spread throughout the village, from Askins Creek to Hatteras Colony.
With just a handful of Rodanthe property owners who would directly or indirectly benefit from such a project, (and with beach nourishment costs running $1 million dollars per mile), who do you tax to cover the costs among Tri-Village residents?
I get it, and Bravo for y'all. But this is our ONE vacation for the year, and we've saved up for it, and have looked forward to it for months, if not years. (Thanks, Covid!) And we're staying in an area where beach nourishment is happening. So now what?
Argh, that sucks, and I get it. The good news is that the project progresses quickly.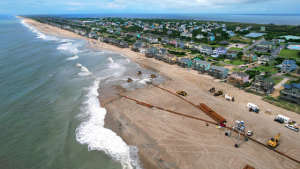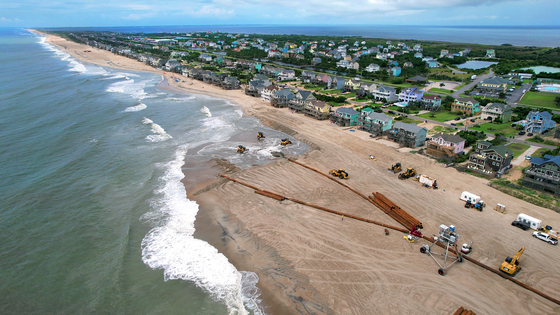 As Dr. Haiqing Liu Kaczkowski, Senior Coastal Engineer for CSE, stated in a late spring meeting, the contractor has a 1,000 ft. closure area on any given day, "but this zone is moving, on the average, every 500 feet per day… so this [closure] zone will move north 500 feet every day."
In that vein, Dare County will have regular updates of the project's progress and current closures via the county's website, morebeachtolove.com.
Among the website's links and information are Google maps that outline exactly where construction work and possible closures are occurring, which includes a map for Avon and a map for Buxton.
So you'll know before you go, (and when you arrive), if the beach in front of your vacation home is closed off, and for how long. And it's fairly likely that if it's a worst-case scenario situation, the beach won't be closed off for long.
I can't access the beach at ORV Ramp 38, or in front of my house. Now what?
If you have held on this long, and are still reading with all of this redundant and arguably asinine information, then you're in luck, because I'm about to reward you with some genuinely solid beach tips.
ORV Ramp 38 will remain open whenever possible for off-road vehicle access, but not for pedestrians who want to park at the adjacent parking lot and walk to this small stretch of southern Avon shoreline.
But to be frank, that doesn't matter, because the beach directly in front of ORV Ramp 38 isn't great. The fishing in the immediate area is decent at best, the shelling is awful, and the surfing/body-boarding opportunities are non-existent.
So, if you are a non-ORV beachgoer in northern Avon village, and are affected by beach nourishment, here is where you should go instead:
"Old Road"/Canadian Haul: Look for a sandy trail on the oceanside roughly a mile south of the ORV Ramp 38 parking lot if you really want to be in the south-of-Avon area. You can also park at the soundside Canadian Haul area, (which is a little further south), and can walk across Highway 12 as needed.
Parking area at Ramp 34: This is located just north of Avon, and is super easy to get to. The area is currently open to the north for pedestrians for .66 miles, and there are some potentially lovely seaglass finds along the way, based on my personal experience.
Parking area between ORV Ramp 27 and 30: This new parking area that opened for on-foot beachgoers in 2021 was my best-kept secret, until literally just now. There are few crowds, lots of wide-open beaches, and decent seaglass and shell finds, depending on the time of year.
ORV Ramp 27: Pedestrian beachgoers will love this ramp because of the historic shipwreck that is barely exposed throughout the summer, as well as the great shells to the south, and the great waves to the north. To be honest, this is my new go-to beach for the summer of 2022, as my father, (who is a body-boarder of more than 30 years and ergo a natural beach expert), very much approves.
Anything else I should know? (AKA., will you shut up already?)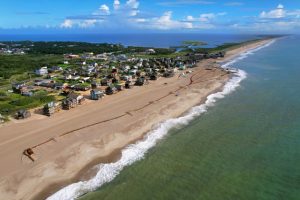 Yes! Everything that is not covered here, (and heaven knows that's a ton of info), can be found on the Dare County Website morebeachtolove.com.
Thus far, the beach nourishment projects seem like the biggest story of the year, and I hope to high heaven it remains that way. After covering stories that defined our previous seasons in a negative light, (like hurricanes, or massive power outages, or bridges that had yet to be built), it's refreshing to cover something that is controversial, but which is nevertheless an active and in-process endeavor aimed at making our islands better.
Am I continually wearing rose-colored glasses? You betcha. (And they are permanently affixed to the point that you could reasonably call it rose-colored eye surgery.)
Beach nourishment is a nuisance this summer, and there are other a thousand things we could have done instead to protect our coastline, in an optimal world without red tape, and restrictions, and perpetual erosion.
But this is the best viable option we have at our hands, and it's happening. Even better, it's happening quickly, and it's completely on schedule as of July 18. (In fact, I hereby renege my earlier offer to start a "delay" betting pool.)
In my little world, I'd rather write about "the summer of beach nourishment" than "the summer the island became accessible only by boat" any day of the week.
And after years of research, if this is the best solution we can acquire now, then let the bulldozers roll.