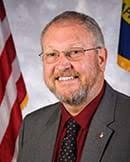 If you have lived on Hatteras Island for any length of time, then you likely know Danny Couch.
A lifelong Hatteras Island resident, Danny has been involved in the public service arena for roughly 30 years, and has spent the past four years as Hatteras Island's representative on the seven-member Dare County Board of Commissioners (BOC).
He's also running for reelection this year, but there's a pretty darn good chance he'll win, since he is one of two commissioners who are running unopposed in 2020.
(For the record, the other commissioner running unopposed is incumbent Wally Overman. There are also active contests for BOC seats: Incumbent Steve House versus challenger Kathy McCullough-Testa, and incumbent Chair Robert L. Woodard versus challenger Amanda Hooper Walters.)
In any case, Danny Couch will almost assuredly be our Hatteras Island representative on a county level for the next four years, so it's a good time to check in and take stock on what has been accomplished so far, and what's on the table for our island in the years to come.
We sat down with Danny for an in-depth conversation on these topics and more, (or rather, we had a socially distant and on-the-phone interview which allowed me to wear pajama pants the entire time), and here is what he had to say.
So what have you learned in your first term as Hatteras Island's representative on the Dare County Board of Commissioners, and in your pubic service career for that matter?
Having been in public service for 30 years, and having served two terms on the Dare County School Board, I learned that you have to have to build repertoire with the people you work with. Anything that I or anyone else on the Board has done has to be put in the context that, at the end of the day, it is a Board decision. The idea of any one individual – including the Chairman – being able to go into a meeting and bang their flip flop on the table to make something happen, that's not the way it works… And you need to have the community involved as well.
A perfect example is getting Avon beach nourishment on the table. The beach nourishment fund is not sustainable as long-term future funding for projects, but because the residents of Avon took charge of [the issue] in the form of the Avon Beach Nourishment Task Force, the [community support] has been able to get us as far as we've gotten. That's just the way you accomplish anything. You do it by building consensus in the community, and on the Board.
Besides the potential Avon Beach Nourishment project, (which just had an initial feasibility study completed this summer), what other projects or accomplishments are you proud of in your first four years on the board?
Other things that have been accomplished include the Dare County Waterways Commission, and its ties to Hatteras Island. That group was left for dead with the overbearance of Oregon Inlet interests on the board prior to 2016. But because of the excellent chemistry and the expertise of the commission, and with Creature's [Steve Coulter's] leadership – that's just another example of consensus getting things done.
Buxton beach nourishment was a big project as well. Even though that was already in the mix when I joined the Board, (and the Basnight and Rodanthe Bridge projects were in the mix as well), you still have to fortify and sustain those relationships to make sure that the projects are completed. Those guys at NCDOT, Flatiron Construction, and PCL, they count me as one of them, and try their best to accommodate the community as much as possible.
I have to thank Bob Woodard for giving me the reins of the COA Task Force, charged with suggesting the focus and future of COA – Roanoke Island. What a great group we had, Tom Murphy from Chicamacomico-tri villages, Malcolm Fearing from Roanoke Island – he was irreplaceable, as was Tom – and Anne Petera of Kill Devil Hills who had been involved with trade and vocational education in VA, quite a resume she has. Hatteras Island is hospitality-based and our students can learn with the best and brightest and not have to leave the county.
So politics have gotten pretty partisan lately, (to put it mildly), with Democrats and Republicans having a hard time working together, and especially on a statewide and national level. As one of two Democrats on a seven-member board, do you find that this partisanship occurs in local government as well?
I'd be lying if I said it didn't exist, but this has been a very, very positive experience… I am very proud of the fact that we are a bipartisan board, and that any [party-affiliated] bias doesn't get in the way of getting things done. I'm not a member of the prevailing party, but I am local, and my contributions on Hatteras Island and countywide are appreciated, and are listened to on that Board.
I will say that having been immersed in moderate democratic politics for years, with public figures like Warren Judge, Marc Basnight, Mac Midgett, Bobby Owens, John Hooper and Allen Burrus leading the way, when it finally became my term in 2016, the whole playing field had changed.
But now is the time when you have to work harder together to figure things out. I don't pick fights, I don't burn bridges, I'm not into ultimatums, and I work with my fellow board members to get things accomplished. We all do.
I need to say something about representation of the island on the control group. And that is, that it finally happened. Chairman Woodard not only got the vote from the others on that group to add me but also set up an advisory group that includes a number of home folks on an advisory level like Beth Midgett and others. I am looking forward to working with Randal Mathews in Ocracoke – he's due to come on board down there on the Hyde board in 2020. Great guy, known him for 35 years.
COVID-19 is a story in itself, but it was the one of the most troublesome things I've had to deal with, reconciling and protecting the home folks with not compromising the relationships and contributions we all have with our property owners, I could not have made the recommendations I made to the Control Group without hearing them out – the good, the bad, and the ugly. Literally 600-700 emails and calls.
There have been a couple of instances where the BOC has gotten some heat or blowback from Hatteras Island constituents.
Most recently, the sale of part of the county-owned Buxton Harbor property, (which was a 28,640 square feet parcel of land at the mouth of Buxton Harbor), was sold to the property's neighbor, C. Daniel Burrus, after decades of discussion by the county to establish a boat ramp or recreational site there. Can you explain what went into that decision?
There were some people who were upset that the county let go of that part of the Buxton Harbor. We spent 30 years trying to make that happen, and that project of trying to get a boat ramp or a recreational amenity there was on the radar of four different Boards. And when the Wildlife Resources Commission abandoned participation in the project, well, at that point, you can't justify spending several hundred thousands of taxpayer money [for the project] – there needs to be commensurate returns to compensate that expense. The support was not there on the Board for this going any further, because there's a point of diminishing return when your efforts, and your money, and your time is not producing results.
In working with the neighboring property owner, there may be a private opportunity going forward, but we'll have to see. We just couldn't continue to beat a round peg into a square hole anymore – it was time to move on. Regardless of any personal feelings I may or may not have had regarding the Buxton Harbor, if you can't build consensus, then it is an exercise in futility. That's why it's a Board, and not an individual decision.
Keep in mind that at the site, there is no parking for pick-ups and trailers, the bulkheading is completely shot, and the reason the county even had that property is because when there was a fishhouse there 50 years ago, they received some dredging money on the stipulation that there was ownership from a local government authority. That's when the county came in and took ownership of the property – so we could do some dredging there. Meanwhile, the title is hopelessly clouded and there'll never be title insurance of consequence, and it's an unacceptable risk should something unfortunate happen at the site, and the county get sued. Nevertheless, Dare still is the owner of record of the basin, the NC 12 frontage and the existing ramp – we parted with a landlocked piece that may increase our leverage with something positive happening there with the buyer
It's worth noting that we are trying to get Avon Harbor squared away as well, that's a project that is in the works. Rodanthe Harbor was cleared up and cleaned up of debris up after years of derelict boats and abandoned gear and that box is checked – good things going to happen there when the ramps go in and the basin stays clear for an emergency ferry. Rodanthe Harbor is not as far as you might think from Oregon Inlet.
Another project that caused a lot of division in the community was the proposed seven-story hotel in Hatteras village in the summer of 2019. That BOC meeting had the highest attendance by islanders in years, with several dozen island residents submitting both positive and negative comments in person, or virtually from the Fessenden Center. Eventually, the project was put on the backburner by the development company, SAGA Realty & Construction, and mainly due to the negative feedback. But you were always in favor of the hotel. Do you wish the end result had gone another way?
I wish the dialogue would have been a little more productive. I think our population has a tendency to get a little stiff necked, presumptive and less-than-willing to listen. Some seem to have pre-conceived opinions about SAGA construction, but why? Here, we are scrambling for housing, and people are upset that SAGA wants to build a hotel, but [the developer, Sumit Gupta] was clear from the outset he was going to provide a measure of seasonal housing and short-term housing for those in need going forward. But we just didn't latch on to that and I'm not tone-deaf so time to move on.
Since we're picking on all the negative aspects of the past four years, sometimes there's a feeling on Hatteras Island that we're the ignored stepchild of Dare County, and we are often overlooked. Do you think this is the case?
It's not an accurate perception and I'll tell you why – but it's always in the background, because we're small. We're unincorporated villages, not municipalities. But our muscle is the Cape Hatteras National Seashore (CHNS), and that is truer than ever right now. Who knew that the National Seashore would carry such a large part of Dare's economic success during 2020, and during a pandemic? Because of the fact that you can socially distance on the beaches, we've been a huge factor in 2020 so far, with [record-breaking visitation on our island.]
I think our economic clout outweighs any perception that we're a stepchild. It hasn't been my experience in county government and with county employees, and certainly not with social services. I have some insecurities about the job, but whether or not Hatteras Island gets its due is not one of them.
Let's shift to something more positive. What projects or issues are you concentrating on in the future?
Childcare is something I'm going to focus on in my next term, because we're not in a good place with childcare. From birth to age 5, before these kids get into kindergarten, they should know their colors, shapes, the alphabet, how to sign their name, how to tie their shoes, etc. But because of COVID-19, and because the labor pool here has been stretched as tight as a bungy cord holding a battleship, there have been some challenges. If you lose an entire year of education in those critical growth years, those impacts are lifelong.
Now, we've got to hand it to the childcare centers on the island – they really have been up against it, and are working their butts off. But because we're so far away from [the rest of N.C.], we can't always get on the radar screen of support agencies, and that includes the state. So you need to yell a little louder down here when you need to get things done. When we get kids back in school, childcare of all forms will gain momentum, and that includes after-school activities as well.
We're also looking into essential housing now – a number of properties on Hatteras Island are appealing – and that's definitely an area I can help with as well. No guarantees – money doesn't grow on trees.  My lifelong contacts here are an asset, and I'm glad to bring those to the table. I'm proud of the relationships I've been able to build over a lifetime, and its of tremendous value when it comes to these [island-centric] projects.
What do you like best about your job as Dare County Commissioner?
Oftentimes, when people have issues with county government, or they are in need of county services, they don't know where to go. And if you can open a door, or provide some services to your constituents directly, that's big. It's a huge reward for me to solve a problem on behalf of somebody who doesn't know how to go about solving a problem.
County government will always work with you. The rules/regs are the rules, but there's always a solution. I do want to recall something I'm proud of, July 2019. I was with the commissioners and county personnel, we were invited to the White House – regardless of what you may or may not think about the administration, there are very capable folks up there. So, we're in a local government conference of maybe 80 other folks from NC, VA, TN and SC. Introductions are going on, they wanted to know what county each group was from. Charleston, SC, had spoken up already, as had Pigeon Forge, TN, but when they came to us, I blurted out, DARE COUNTY – OUTER BANKS OF NORTH CAROLINA! Every head in the room snapped around to our little group – we're known, trust me. We were the last to leave that day, because a number of personalities in the administration came up to us – I'm not going to drop names, but I'll just leave it that you see them on cable news every day.
Finally, any lessons in your four years (so far) as a BOC member that really stick out, or any advice to pass on to our future leaders of local government?
People are going to get upset, it's human nature, you cannot possibly please everybody – and if you go into public service thinking you're going to please everyone, you are sadly mistaken. My father told me years ago that "if everyone loves you, you got a problem." It took me a couple of years in this seat to understand that what he meant is that it's better to be respected than loved.