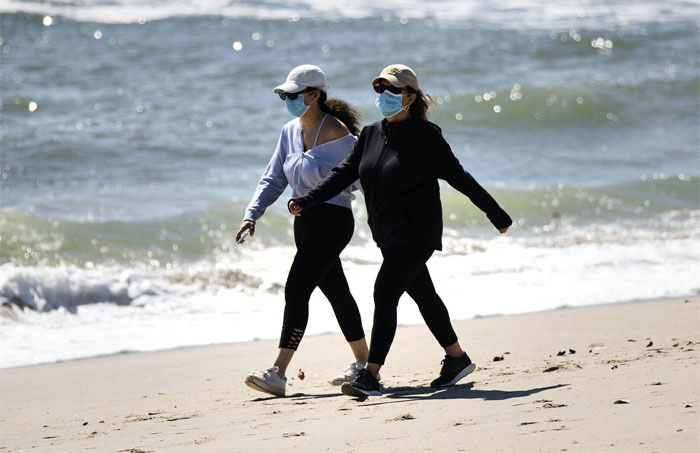 Oh, 2020. We were so excited to see you arrive, and we'll be so dang glad to see you leave.
To say that 2020 was an unusual year is a massive understatement. Looking back at our past "Year in Review" round-up of notable stories, the bulk of our previous lists were topped by hurricanes, new bridges, beach access controversies, new landmarks – (remember Shelly Island?) – and a host of other topics that had decidedly local roots, and strictly local effects.
Not so in 2020.
Our biggest story at the Island Free Press is the "Story of the Year" for every community in the world, and while islanders had distinct challenges which made national headlines, (more on that in a moment), we were all in the same rickety, sinking boat.
In fact, the Coronavirus seemed to infiltrate every story in 2020, from the delayed launch of the Hatteras-Ocracoke passenger ferry, to the sluggish start of the 2020 visitor season.
But with that being said, there were a few other distinct and unrelated headlines that grabbed our attention during the past 12 months, including some topics that will certainly carry over into 2021.
So let's delve a little deeper into these stories and their potential long-term implications, as well as the toll that the Coronavirus has had close to home. While 2020 will not go down in the history books as the Best Year Ever, there are a few thread-bare silver linings in our Outer Banks community that should not be overlooked, and which deserve to be highlighted – especially during a moment in time where we could all use a little optimism.
In that vein, and without further ado, let's get started with the biggest story of the year, which is no surprise to literally anyone, anywhere.
The Coronavirus Pandemic
Everyone in the world had to weather the challenges of the Coronavirus in 2020, but what made the Outer Banks unique – and a fixture in national headlines early on in the pandemic – is the fact that we could, (and did), completely shut off access to our islands from the outside world.
Early on in the pandemic, Dare County made a controversial move when they stationed checkpoints at the Virginia Dare Memorial and Wright Memorial bridges, and only allowed re-entry to Outer Banks locals, barring visitors and non-resident property owners from coming to the islands from potentially highly-infected areas.
The Outer Banks was effectively separated from the world at large for approximately seven weeks, and the closure that affected thousands of vacationers and property owners garnered both praise and condemnation.
During the first wave of the pandemic, when fear and hoarding was especially heightened around the country, locals were grateful to remain insular and to keep the islands' limited supply chain in check, but also very much aware of how a non-existent spring visitor season would eventually affect their bottom lines. Keep in mind that many local businesses were still reeling from the effects of 2019's Hurricane Dorian, so a substantial lack of income in the spring was clearly an additional blow.
Granted, the Outer Banks reopened to visitors on May 16 with statewide safety measures in place, (such as mandatory social distancing guidelines and wearing a mask in public spaces), and we have remained open ever since.
But a hindsight question still remains, which will be entertaining to debate when the pandemic subsides, and we're all allowed to socialize and argue at bars once again:
"Was closing the Outer Banks the right call?"
At the time of the closure, the consensus among the residents that we interviewed was "Yes."
Keep in mind that there was so much uncertainty in those first few weeks of the pandemic. We had no idea how fast it would spread, what the hospitalization rate and death toll would be, and how our islands – which attract roughly 2 million visitors a year – would be impacted by waves of visitors pouring in from all across the East Coast.
The Coronavirus was new, and scary, and it had not yet become a parasitic feature of everyday life.
I remember how shocked we all were when the first diagnosed case in Dare County occurred on March 25. Now, it's not unusual to report 10-20 new cases on a daily basis.
We have gotten used to the parasite, and while the launch of a vaccine certainly signals hope for the future, we're alarmingly pretty complacent about our diseased present, despite breaking records of new cases and hospitalizations on a weekly basis.
But in the interest of focusing on those rare silver linings in 2020, islanders have always treated the Coronavirus like any other life-altering storm. They helped their neighbors, found ways to keep spirits up when everything looked grim, (the car safari was an especially delightful distraction), and just kept riding it out until they could get back to some semblance of business-as-usual.
It's not business-as-usual now, to be sure. Our islands' students continue to learn at home, our nightlife establishments have had to adjust to a recently imposed 10 p.m. curfew, and we've all had to make drastic alterations to the way we conduct everyday activities, like dining out or grocery shopping. Even so, Hatteras and Ocracoke islanders have taken these severe changes in stride, and arguably more so than a typical community anywhere else in the world.
Since the first inklings that COVID-19 would be a major issue in 2020 back in February, we have chatted with hundreds of residents on how the pandemic was affecting their lives.
I can attest, (as a generalization, anyways), that their outlook is grounded, hopeful, and mirrors pretty much every interview we've previously conducted after a catastrophic storm.
Here are a few snippets of verbatim responses from a year of Coronavirus-related interviews:
"I'm scared, but I don't want my kids to be scared. So you act like everything will be OK, and eventually, it will be… You just have to make things fun and normal in the meantime."
"[My] business is having a really hard year, and I don't know if we will recover… But I felt that same way after Hurricane Irene, and Hurricane Isabel, and other hurricanes and evacuations I don't remember right now… and we opened after all of them. We'll survive this, too."
And, my personal favorite:
"It sucks, and I'm worried, but we'll be fine in the end. You wait long enough, and we're always fine after a storm… And this is just another damn storm."
We're still knee-deep in the flood of Coronavirus, no question, and this is a story that is not going to go away anytime soon.
But on a personal note, I've always told friends and family that "when the apocalypse happens, I want to be on Hatteras Island, because not only will they survive it, they'll have a community dinner a day later to ensure that no one goes hungry while the world is ending.
I still believe this whole-heartedly, and our island community's response to the Coronavirus pandemic has only solidified this belief.
There's also another strange and unexpected silver lining to 2020, which is related to the virus, and which is our next top story:
Record-breaking tourism and real estate sales
As stated, after closing the Outer Banks on March 17, we opened our borders to homeowners on May 4, and to the outside world in general on May 16. And man, did the outside world respond.
This has officially been a record-breaking year for summer and fall visitation, as well as real estate sales, with a local boom that is similar to the real estate market of the historic early to mid-2000s.
Per the National Park Service, the fall of 2020 was one of the busiest yet, with the second-highest visitation for September and October on record.
Meanwhile, properties listed for sale have been scooped up in record numbers on Hatteras and Ocracoke islands, and in record time. The "number of days for sale" statistic, which is a reliable indicator of how healthy the real estate market is, has been at record lows, with many properties going under contract less than a week after they hit the internationally available Multiple Listing Service (MLS.)
This economic boost doesn't completely wipe out the financial damage caused by Dorian or the Coronavirus, but it was certainly a breath of fresh salt air, even if residents had to adjust to a heightened population long after the summer was over.
A Record-breaking year for hurricanes…. But not for the Outer Banks
Another silver lining is the fact that despite 2020 being the busiest hurricane season on record, Hatteras and Ocracoke islands were primarily spared from named storms. Hurricane Isaias caused some concern, (and a mandatory evacuation), when it made landfall near Ocean Isle Beach on August 3 as a high-end Category 1 hurricane, but the storm's impacts remained south of the Outer Banks, and our islands were more or less spared the brunt of the damage.
This is pretty incredible when you consider how historic the 2020 hurricane season was on a national level.
In total, the 2020 season produced 30 named storms, (with top winds of 39 mph or greater), which included 13 hurricanes, (top winds of 74 mph or greater), and six major hurricanes, (top winds of 111 mph or greater). Essentially, 2020 had the most named storms on record, surpassing the 28 storms of 2005, and also had the second-highest number of hurricanes on record. And with the exception of Isaias, not one came close to making landfall on the Outer Banks.
Now, Hatteras and Ocracoke islands did have their brushes with both offshore storms and nor'easters throughout the year. When distant Hurricane Teddy inched up the East Coast in September, N.C. Highway 12 was closed for five consecutive days as multiple rounds of ocean overwash battered the roadway in multiple locales, causing significant flooding and damage to adjacent properties.
Flooding will continue to be a concern in the months to come, too, as the wintertime brings more nor'easters – and more erosion – to an already battered coastline and adjacent highway.
But for now, let's focus on the crazy fact that with a record-breaking hurricane season, the Outer Banks was mostly spared. If that is not a rarity and a muddled silver lining to celebrate, then I don't know what is.
Life post-Dorian
Speaking of storms and their impacts, it's easy to forget that before the Coronavirus dominated the headlines, the islands were still in recovery mode after Hurricane Dorian, and this was especially true for Ocracoke Island.
Two months after the storm made landfall, Ocracoke finally reopened to visitors on December 3, 2019, although the island had months of work ahead to get back to a semblance of a pre-Dorian state. Even today, houses in Ocracoke village are still being raised or repaired on a regular basis, and a number of statewide and local organizations – like the Cape Hatteras United Methodist Men – spent the bulk of the past year helping residents get back on their feet.
Considering that Dorian was the worst storm that Ocracoke residents have ever experienced in their lifetime, it's not surprising that big renovations and changes would follow suit. (In fact, just last month, the 49-year-old Ocracoke School was demolished due to the excessive flooding damage of Dorian.) But while the work to recover quietly continues, Ocracoke Island remains a popular vacation destination, as islanders steadily and slowly get back to normal. It's just another example of our islands' inherent resiliency to any and all storms – even the life-altering ones.
Buxton Structural Fire
On October 23, a structural fire occurred in the Cottages at the Cape neighborhood in Buxton, which was once part of military housing dating back to 1958. The wife of a Coast Guard member, Trina Ramsey, and the couple's daughters, Zoey, 7, and Emma, 4, were killed in the fire, as was Sarah Quigley, a beloved local resident and fishing charter captain.
The Hatteras Island community responded to the tragic fire with an outpouring of love, support, and prayers, and a vigil was held so that hundreds of residents could mourn their collective loss together. Even so, the incident ripped out a little piece of our hearts and souls that cannot be repaired, and this tragedy remains one of the most haunting stories in recent memory.
Our volunteer fire departments who responded to the call, and who had to face this tragedy first-hand, deserve the highest accolades possible for being true heroes and beacons of strength under pressure, and in the worst circumstances imaginable.
It should also be noted that GoFundMe Campaigns and local initiatives are still active to support the victims of the Buxton Fire, and more information on how to help can be found here: https://islandfreepress.org/outer-banks-news/hatteras-island-community-mourns-the-victims-of-buxton-fire-at-friday-vigil/.
Jug Handle Bridge
There were few constants in 2020, but one story that carried over from 2019, (and which will continue in 2021), was the steady progress of the Jug Handle Bridge – the last of three new bridges to be built on Hatteras Island in the past decade, as part of the comprehensive Bonner Bridge Replacement Project.
The 2.4 mile-long Jug Handle Bridge was 54% complete as of December 3, however, the projected opening date for the bridge was recently pushed back from the fall of 2021 to the end of the year.
There are several reasons for the delay, (which includes months of challenges for pile installation at the northern end of the bridge), but there have also been big strides in recent months that have allowed the bridge to inch closer to completion. For one thing, Cape Hatteras Electric Cooperative (CHEC) has already begun phase 1 for relocating the transmission lines, and the contractor responsible for completing the work on the eventual roundabout is expected to return this winter.
This is a story that will certainly continue in 2021, so bet on seeing the Jug Handle Bridge in future headlines. Perhaps we'll even be able to wrap up next year with an official bridge opening, which will certainly be a bright spot in the months ahead.
What's next?
Adhering to tradition, we'll start the year with a peek at the stories we expect to be big news in 2020 with a new Editor's Blog, but count on a bit of overwash, additional erosion, and a potential new project or two, (including the new Jug Handle Bridge), that will hopefully make our lives easier.
In the meantime, all of us at the Island Free Press hope that the end of your year is merry, joyful, and completely free of flooding, pandemics, and any other misfortunes that 2020 wants to sneak in before the deadline.
We have reached the end of a challenging year to be sure, so let's raise a glass of something sparkly from the comfort of our homes, (where we have spent the past nine months), and set our sights on a brighter future.
Thank you for reading the IFP, and we truly look forward to sharing the island stories that matter the most in the months, years, and decades to come.