Full-Time Year-Round Property Coordinator - $$ (Avon)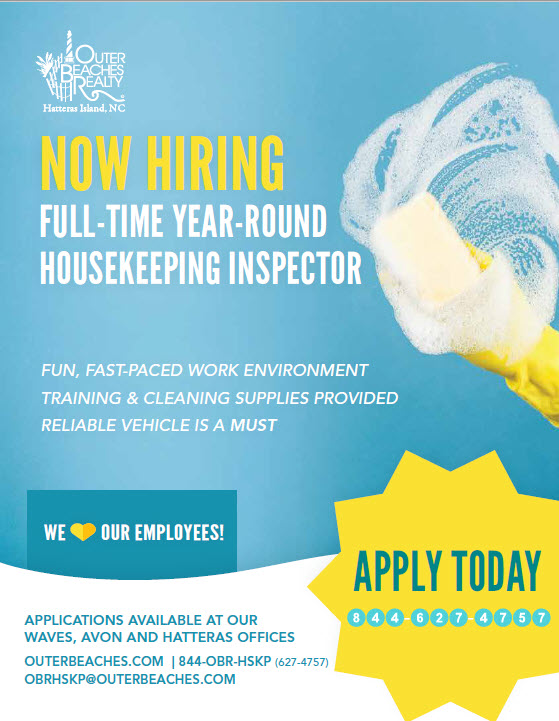 Outer Beaches Realty
Full Time Year-Round Job Opening
Outer Beaches Realty is hiring a Property Coordinator. This is a full time, year-round position with competitive pay and benefits, including health insurance, 401-k, paid holidays and vacation.
Property Coordinators report to our Housekeeping Manager. This is a supervisory position in charge of inspecting home cleans, housekeeper training, report and follow up of maintenance issues, homeowner communications, and more.
Weekends and reliable transportation are required- We offer mileage reimbursement. Applicants must be detailed oriented, locally housed (on Island) and able to climb numerous stairs throughout the course of the work day. Applicants must also have good communication skills in all forms, as well as, great organizational and problem-solving skills. We are a tight knit team, so a strong teamwork ethic is also a must!
If this sounds like you please give me a call, or better yet, come on in to our Avon Office and see me. Please note my normal days off are Tuesdays and Wednesdays.
Andrew Printz
Property Services Manager
Outer Beaches Realty
Avon, N.C. 27915
Direct Line – 252-995-7343
[email protected]