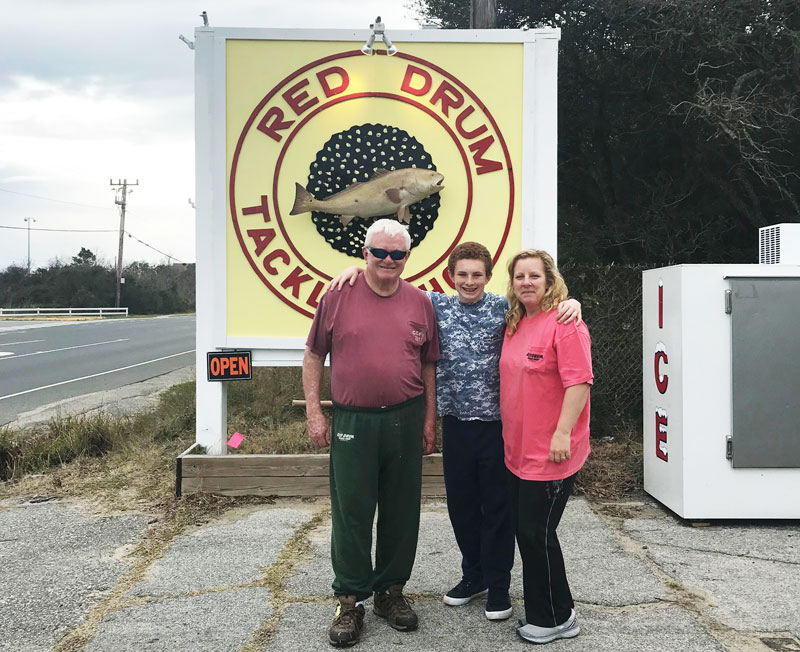 Like the changing of the ocean's tide, nothing is ever quite the same from year to year on Hatteras Island. When a business is able to stand the test of time, it is certainly an accomplishment. One business which is longstanding in the community is the Red Drum Tackle Shop in Buxton, which recently moved just down the street after 43 years of business in the same location. Despite a change in address, Red Drum Tackle is set to serve the fishing community for many years more.
Owner Bob Eakes launched the store in 1974, just a year after moving to Hatteras Island, because he had a passion for fishing. He and his wife Kara run the day-to-day operations of what is one of the oldest complete tackle shops at Cape Hatteras, according to their website.
Despite four decades of successful business next to the Red Drum market, Eakes saw an opportunity when what was formerly The Point Restaurant went up for sale. After renting from the Couch brothers for the entirety of the business' operations, he was ready to own his own space.
"It was time," he said of the move.
Eakes decided the former Point Restaurant would be the perfect spot to expand his business as it offered 30% more space than the old location and has never been prone to flooding. The location, directly across from Lighthouse Road, is just as perfect as the space. What is known as the "closest tackle shop to the Point," according to their website, is now even closer, making it a convenient stopping place for anglers on their way to the beach.
Red Drum Tackle announced its move on Facebook at the beginning of February, and while Bob expects that many of their long-time customers will be surprised by the change in location, they won't be able to go fishing without finding it. Red Drum Tackle has had years of experience serving Buxton's sport fishing needs from Red Drum apparel, only found in the store, to waders and crab nets, as well as live bait. They also make custom rods tailored for unique fishing needs and post daily fishing reports on their Facebook page. With such a wide selection of products and services, the shop is something of an angler's paradise.
Since tackle demands are at their lowest in the winter, it was the perfect time to move. It took Eakes and his crew a little over a month to organize and move 43 years' worth of gear from the old location to the new one. There was also lots of work to be done once they inhabited the space, including knocking out a wall, doing some work on the floors, and painting the building yellow from its original pink. While the Red Drum crew has done a majority of the moving, Bob says he has also had assistance from friends and people in the community who just wanted to help.
"It makes you feel good," he said of the local support.
A new location, for Eakes, meant an opportunity for a lot of exciting changes to the store. While wraps were once hidden away in plastic bins, a new display case will now hold nearly 100 different colors of thread for custom-built rods. Bob also has plans to start carrying soft drinks and pre-packaged breakfast foods in order to cater to the early-morning fishing crowd. Within weeks, the team even wants to widen the parking lot in order to give delivery trucks more room to get in and out.
"We're not at the peak yet. We have a lot to look forward to," said Bob.
Bob loves his job and, despite long years in the business, never gets tired of it. He certainly never gets tired of fishing. For years, Eakes has been involved in recreational and legislative fishing groups, where he fights to keep beach access open to the public.
"Fishing is all my passion has ever been," said Bob.
For Bob, the business side of fishing is motivated by his love for his family. Ownership at this new location means long-term security for his wife and 13-year-old son, Bobby, even after he is done with the business. While Eakes looks forward to scaling back one day, for now he says he is "happy to work like a dog to support his wife and son."
Although the crew is still getting settled in their new location, Red Drum Tackle is operating on its regular February hours from 7 a.m. to 5 p.m., and someone is always available to answer any fishing questions or needs.