Avon Angler Breaks IGFA World Record for Southern Kingfish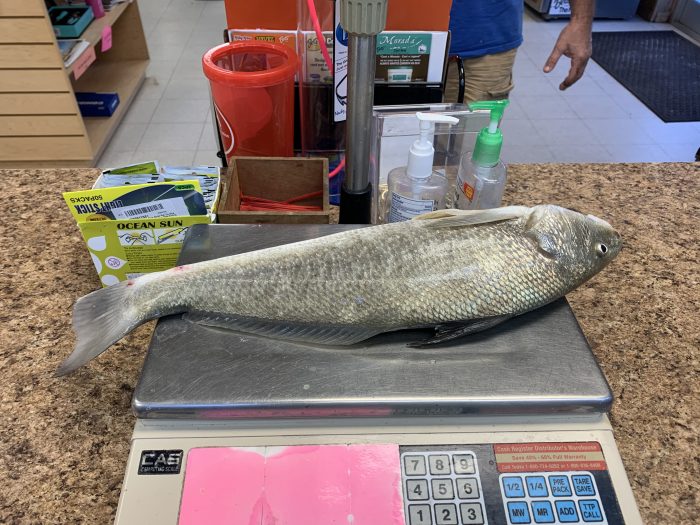 On Monday, November 11, another World Record fish was caught in the waters off of Hatteras Island. Angler Brett Jordan from Florence, South Carolina, was fishing with his friend and fishing mentor, Larry Hart – a local property owner – when the International Game Fish Association (IGFA) record-breaking fish was landed. Jordan had met Hart the previous year when Hart and his wife had administered first aid to Jordan for a stingray sting. Since then, the Harts and the Jordans have become fast friends.
On this beautiful Monday afternoon, Hart and Jordan arrived on Ramp 34, just north of the village of Avon, where Hart had previously caught large Sea Mullet / Southern Kingfish.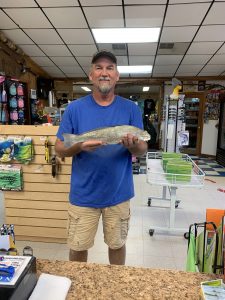 Jordan rigged up his 11 ft. Okuma Cedros/Abu Garcia Rod/Reel combo with one of his hand-tied rigs, baited it with a sand flea, and made the faithful cast. Jordan stated that he had told his friend he would be happy to catch a two-pound Sea Mullet, which would be his personal best, but at approximately 4:30 p.m., an IGFA World Record fish was landed by Jordan.
Jordan stated that while he was fighting the fish, he and Hart could see the fish in the surf. Hart stated, "well, there's your two pounder." Jordan finished the fight and landed the fish. Hart weighed the fish with his personal scales and told Jordan he needed to take the fish immediately to Frank and Fran's Bait and Tackle in Avon, which is an official weigh station for the North Carolina Division of Marine Fisheries.
Jordan did get an official weight of 3 lbs., 1 oz. and an official measurement of 20 inches in length and 11 inches in girth. Jordan also filled out the paperwork to receive a Citation from the North Carolina Division of Marine Fisheries.
On Tuesday, November 12, one of the owners of Frank and Fran's, Stephanie Bayne, followed up with the International Game Fish Association (IGFA) to see what their current world record was for a Southern Kingfish. Mrs. Bayne was told that the current World Record recorded with the IGFA was 2 lb. 13 ozs., (which was caught off of Virginia Beach, V.A. in 2002.) Mrs. Bayne began the process of filing for the new World Record for Mr. Jordan and contacted him to give him the good news.