Comments sought by NOAA Fisheries on catch specifications for spiny dogfish
NOAA Fisheries is proposing the Mid-Atlantic and New England Fishery Management Councils' recommended catch specifications for the 2023 spiny dogfish fishery.
These proposed specifications would decrease all catch limits by at least 55 percent in fishing year 2023, based on recent declining trends in stock biomass and productivity. A comparison of the current and proposed specifications is shown below.
Comparison of Current 2022 and Proposed 2023 Atlantic Spiny Dogfish Fishery Specifications, in metric tons.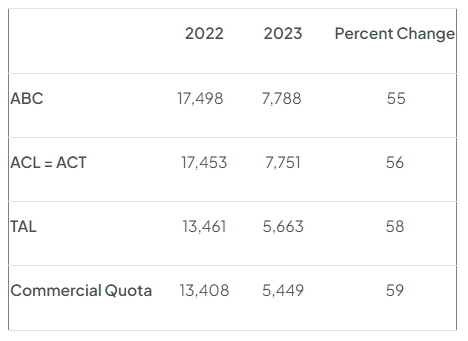 All other management measures and requirements, including trip limits, would remain unchanged.
For more details on the proposed specifications, read the proposed rule as published in the Federal Register, and submit your comments through the online portal. The comment period is open through March 24, 2023.