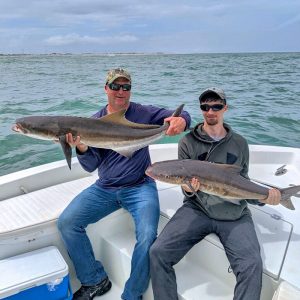 The weather still remains tricky at times, which continues to frustrate anglers, but when they can fish, the fishing is good.
The Hatteras offshore fleets have been catching gapher dolphin, yellowfin tuna, blackfin tuna, some wahoo, a few blue marlins, and a couple of sailfish this past week. The inshore boats have been catching bluefish, Spanish mackerel, big drum, cobia, and speckled trout. It's nice to see more and more reports coming in, now that there are more people to hire the fleets.
The offshore boats leaving out of Oregon Inlet have caught nice numbers of yellowfin tuna, gapher dolphin and big eye tuna, while the inshore boats have caught cobia, Spanish mackerel, bluefish, schoolie stripers, drum and sheepshead.
The speckled trout fishing from Oregon Inlet to Nags Head and Wanchese has been phenomenal. Lots and lots of specks being caught by boaters, kayakers and waders. It is commonplace to limit out and to see a decent class of 20+ inch fish, with some people catching over 100 fish a trip. The specks are being caught on a variety of soft plastics, Mirror Lures and live baits.
The sheepshead bite has been really solid, with a lot of nice fish being caught. These are a great eating fish, and they put up a good fight, though they have a really soft bite and are professional bait stealers. Sheepshead can generally be found around bridge or pier pilings, along with wrecks or other solid structures. Fiddler crabs, sand fleas and shrimp make for the best bait to target these fish.
The cobia fishing has been good, when Mother Nature has allowed for it. Professional Captains and recreational boaters have struggled the past week to get good conditions. Whether the wind was strong or the sun wouldn't come out to help with sight casting, anglers have had to work to get the job done with these fish. These fish are steadily migrating north, and now is the time for us to really be catching them, but we could definitely use some better weather to help with that. This is a big draw species and anglers come from all over to seek them out. Some base entire vacations around chasing these fish with the same or different captains during their stay, so it can be frustrating to get a couple weeks of poor conditions to chase them.
Down on Ocracoke, I spoke with Allen from Tradewinds Tackle, and he reported some puppy drum, yearling drum, sea mullet, black drum, Spanish mackerel and grey trout. He also made mention of a fair pompano bite that has produced a few citation fish. Allen also discussed the weather as a major contributor to difficult fishing recently, but was happy to have anglers making a go of it.
Christie at Frisco Rod and Gun reported some black drum, pompano and sea mullet from the surf of Hatteras and Frisco.
Hatteras Style Custom Rods and Tackle in Buxton reported amazing sea mullet fishing off the beaches of Buxton. Bryan Lester reported weighing in 17 citation sea mullets for just one individual. They also reported some cobia landed from the beach, along with Spanish mackerel and bluefish.
Frank and Fran's also reported really good sea mullet fishing off the beaches of Avon and the Tri-Villages, and they said they knew of at least one cobia caught from the sand. They also made mention of really good speckled trout fishing in the sound.
The Rodanthe Pier is open daily from 6 a.m. to midnight. They are asking their anglers to practice proper social distancing, but they are glad to be open for the 2020 season. They reported some sea mullet, bluefish and Spanish mackerel and, like most, attributed slim reports to the weather.
Hatteras has seen more expanded beach closures for birds and turtles, and this is the true new normal for Hatteras, unfortunately, but one makes the best of it. With that said, the beach may be crowded at times and a little patience and civility goes a long way. The same can be said for the Rodanthe Pier, as it is the only open pier on Hatteras, because Avon Pier is still reeling from storm damage.
Looking into my magic ball for the forecasts, the weather looks typical for the approaching summer months, with a chance of rain almost daily, and an ever-changing wind. The key is to put oneself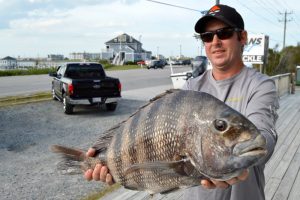 on the leeward side of that wind if it's too strong, or directly into it when it's light to moderate.
Always remember that visiting and patronizing our local tackle shops and marinas goes a long way. The knowledge and experience these businesses possess can help an angler get on and catch fish.
Also check out our local seafood markets. I've been in a couple the past week, and they are slowly bringing in more and more variety, as the people continue to visit and the restaurants begin their reopening. It's a surefire way to ensure you have some great local fish or some extras to add to your catch.
Until next time… Good Luck and Happy Hunting!
Rob Alderman has lived on the Outer Banks for nearly 20 years and chased fish the entire time. He is a former fishing TV show host and producer and currently runs kayak fishing charters. You can find more about his trips at www.OuterBanksKayakFishing.com