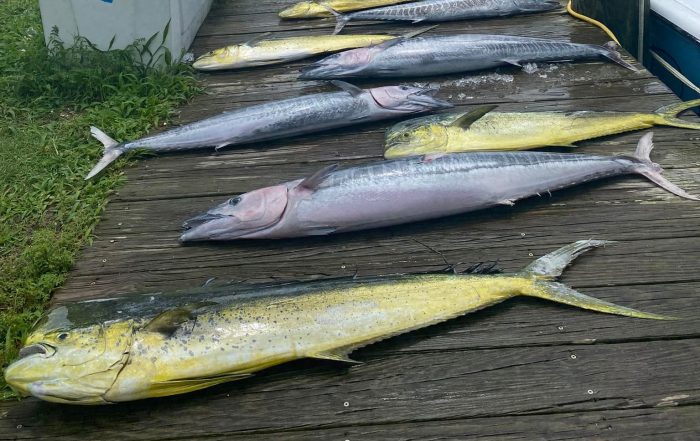 As July comes to a close, we are once again faced with high winds and thunderstorms interrupting fishing days. The initial concern this year had been rising fuel prices causing boaters and surf fishermen alike to think twice about going out, but now it seems the volatile weather is adding insult to injury.
This week, offshore charters have been few and far between, and although inshore boats have been more likely to get out, conditions are still far from ideal. Boaters are faced with rough and potentially dangerous rides. And although surf fishing can be better in high winds, especially for drum, many people over the past week have complained that getting sandblasted and fighting the strong currents just hasn't been worth it. While we haven't faced any major storms this season, these bouts of rough weather seem to be more common this year.
With that being said, when conditions have been better, the fishing has been very good. Anglers on the beach and sound have seen Spanish mackerel, slot-sized drum and bull reds, plenty of bluefish and speckled trout, plus some nice pompano around Hatteras.
Offshore catches are turning up a lot of wahoo lately, and the dolphin bite is still steady most days. For those going bottom-fishing, we've seen some grouper and a lot of triggerfish filling the fish boxes.
As of now, the high winds look like they'll continue throughout the coming week, but will hopefully settle down again as we move into August. Charter, commercial, and recreational fishermen are all anxious to get back out and get hooked up.
Luckily, although it feels like summer is on its way out, the fishing season is far from over, and we hope to see plenty of fishable days ahead!