The N.C. Marine Fisheries Commission will meet Nov. 13-15 at The Beaufort Hotel, 2440 Lennoxville Road, Beaufort.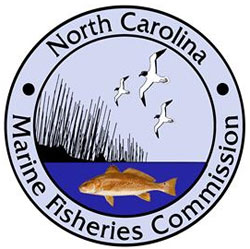 The meeting will begin at 6 p.m. on Nov. 13, at 9 a.m. Nov. 14, and at 9 a.m. Nov. 15.
Public comment periods are scheduled to begin at 6 p.m. Nov. 13 and at 9:30 a.m. Nov. 14. Members of the public may speak to the commission on any fisheries-related topic. The chairman will allow each speaker to comment for three minutes. More time may be allotted, at the chairman's discretion, depending on the number who sign up to speak. Those making comments will be asked to speak only once, either at the Nov. 13 or the Nov. 14 session, but not during both public comment periods.
The deadline for submitting written comments to the commission through the Marine Fisheries Commission Office is 5 p.m. Nov. 7. Those who wish to submit comments electronically may do so through an online format by clicking here.
Those who wish to bring their own handouts to give to the commission during the public comment period should bring at least 12 copies to the meeting. The Marine Fisheries Commission Office will not accept public comment for this meeting through email.
The public may listen to the meeting online. Up to 200 participants may listen to audio and view presentations in real-time on a first-come, first-served basis. Directions for participating in the webcast, including information on system requirements and testing, can be found here. Following the meeting, an audio recording will be posted online.
The commission is scheduled to consider public comment and advisory committee input received on draft Amendment 3 to the Blue Crab Fishery Management Plan and select its preferred management measures for departmental and legislative review.
A full meeting agenda and briefing book materials are posted online here.
WHO:
N.C. Marine Fisheries Commission
WHAT:
Quarterly Business Meeting
WHEN:
Nov. 13 at 6 p.m.

Nov. 14 at 9 a.m.

Nov. 15 at 9 a.m.

WHERE:
The Beaufort Hotel

2440 Lennoxville Road

Beaufort

LIVE STREAM:
http://portal.ncdenr.org/web/mf/listen-online