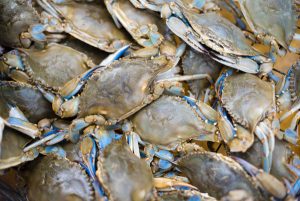 The North Carolina Marine Fisheries Commission (MFC) will hold their first quarterly meeting of 2020 on February 19-21 at the New Bern Riverfront Convention Center, and there are several big amendments on the agenda that are slated to be voted on and addressed.
On Thursday, February 20, the meeting agenda calls for a vote on the final adoption of Blue Crab Fishery Management Plan (FMP) Amendment 3.
There will also be votes to approve the goals and objectives for two additional FMPs on Thursday: the Southern Flounder FMP Amendment 3, and the Shrimp FMP Amendment 2.
In addition to the above FMP votes, the commission will also be voting on the final adoption of proposed amendments to two rules:
Amend 15A NCAC 03M.0509 to prohibit possession of tarpon and make it illegal to gaff, spear, or puncture tarpon by any method other than hook and line.
Amend 15A NCAC 03O.0108 to clarify the circumstances under which transfers of Standard Commercial Fishing Licenses are allowed.
The meeting agenda also includes a potential action to begin rulemaking for small mesh gill nets, as well as a potential action to begin rulemaking for recreational hook and line modifications.
The two-day meeting will have two public comment periods at the start of the session.
The first public comment period beings at 6 p.m. on Wednesday, Feb. 19, and the second is at 8:30 a.m. on Thursday. Members of the public may speak to the commission on any fisheries-related topic during these periods, however, those making comments will be asked to speak only once, and not during both public comment periods.
For those who cannot attend the New Bern meeting in person, the MFC now streams its meetings live allowing the public to hear live audio and view presentations in real-time. Up to 200 participants can listen-in on a first-come, first-served basis. Public comment will not be allowed from any remote participants.
Click here for instructions on viewing the upcoming meeting online. The full agenda for the Feb 19-21 can also be found online at https://files.nc.gov/ncdeq/02-2020-mfc-briefing-book/02-2020-MFC-Meeting-Agenda.pdf, and an excerpt containing the timeframe for the above pertinent votes is listed below.
Times indicated are merely for guidance. The commission will proceed through the agenda until completed.
Thursday, February 20
10:40 a.m. Rulemaking Presentation – Shawn Maier
11:00 a.m. Potential Action to Begin Rulemaking for Small-Mesh Gill Nets – Steve Murphey
12:00 p.m. Lunch Break
1:00 p.m. Fishery Management Plans

Status of Ongoing Plans – Catherine Blum
Blue Crab Fishery Management Plan Amendment 3 – Jason Rock, Corrin Flora

Overview of Departmental and Legislative Review
Plan for Implementation
Vote on final adoption of Blue Crab FMP Amendment 3

Southern Flounder Fishery Management Plan Amendment 3 – Mike Loeffler, Anne Markwith

Summary of public comment received during scoping period
Overview of potential management strategies and plan timeline
Presentation of draft FMP goals and objectives
Vote on FMP goal and objectives

Shrimp Fishery Management Plan Amendment 2 – Chris Stewart, Kim Harding, Jason Rock

Summary of public comment received during scoping period
Overview of potential management strategies and plan timeline
Presentation of draft FMP goals and objectives
Vote on FMP goal and objectives

3:45 p.m. Rulemaking Update – Catherine Blum

15A NCAC 03 – Marine Fisheries

2019/2020 rulemaking cycle

Overview of public comments received
Vote to approve 15A NCAC 03M .0509 (Tarpon) and 03O .0108 (License and Commercial Fishing Vessel Registration Transfers)

Rulemaking Update Continued

2020/2021 rulemaking cycle

Vote on preferred management option for Shrimp Fishery Management Plan Amendment 1 Special Secondary Nursery Area Issue Paper – Chris Stewart
Oyster Sanctuary Rule Change Issue Paper update

15A NCAC 18A – Sanitation

Readoption schedule update

4:15 p.m. Director's Report – Director Steve Murphey (Reports and updates on recent Division of Marine Fisheries activities)

Information Paper Regarding Recreational Hook and Line Modifications – Steve Poland
Potential Action to Begin Rulemaking for Recreational Hook and Line Modifications

5:30 p.m. Recess