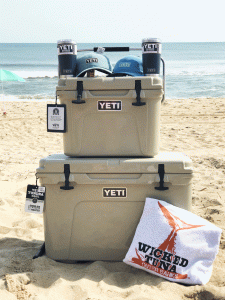 Get your fishing poles ready to raise money for area disaster relief efforts.  Outer Banks Association of REALTORS® (OBAR) 23nd Annual Surf Fishing Tournament is scheduled for Friday, October 4, 2019 at Jennette's Pier.  The fishing boundaries encompass the beach accesses from Eighth Street (MP 10) south to Jennette's Pier (approx. MP 16.5).  Check in begins at 6:30am at Jennette's Pier and fishing ends at 3:30pm with an awards ceremony immediately following.  Cash prizes ranging from $125.00-$500.00 will be awarded to the top three winning teams.  There will also be plenty of raffle prizes provided by generous local businesses.  This year's raffle grand prize, a Yeti cooler package valued at almost $1,000, is provided by Cola F Vaughan Realty and Farmer's Daughter.
OBAR is now accepting registrations for teams of up to six for $200.00.
The event has long been a fun occasion with comically named teams and community support that has helped send 139 local high school seniors to college through the association's scholarship fund.  In light of immediate local need after Hurricane Dorian, the tournament, which is open to the public, will benefit The Outer Banks Association of REALTORS® Disaster Relief Fund.
Said 2019 OBAR President Jean-Paul Peron of the Outer Banks Real Estate Company at eXp Realty, "Earlier this year we held a bowling tournament benefitting local food pantries because we had an urgent need for food after the government shut down.  Now we have an urgent need for monetary donations from our residents that have been affected by Hurricane Dorian.  We felt that it was imperative to focus this charity fundraising tournament solely on our disaster relief fund to help our neighbors.
Presale tickets for the grand prize Yeti cooler package are available now through October 3rd.  Tickets are $10 a 1 ticket and the winner need not be present to win.  The winner will be chosen at 12:30pm during a live Facebook event.  With 1 in 500 odds of winning, you may purchase tickets at the following locations:
OBAR office – 201 West Eighth Street, Nags Head
Wells Fargo Home Mortgage – 5121 N. Croatan Hwy, Kitty Hawk
New American Funding – 3118 N Croatan Hwy, Unit 202, Kill Devil Hills
Stack 'em High — 3801 N. Croatan, Kitty Hawk
Wells Fargo Home Mortgage has already signed up as the Lunch Sponsor, BBQ from High Cotton.  New American Funding is sponsoring the beverage truck.  Atlantic Dominion Distributors is donating water and chips.  And Steven Gillis Agency State Farm is sponsoring breakfast by Stack 'em High for the second year in a row.  OBAR is still looking for sponsors for coffee and the flags that attendees put on their vehicles to mark them as part of the tourney.
If you have questions, would like to register for this event, purchase pre-sale tickets for the grand prize, or become an event sponsor, please contact OBAR's Membership and Marketing Director Karen Pierce at karenp@outerbanksrealtors.com or 252.441.4036.  It's time to get your fish on to help out our neighbors in need!