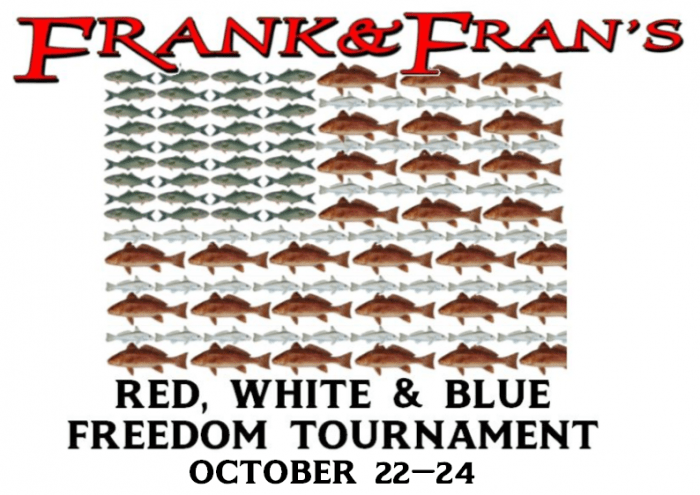 Though a number of upcoming fishing tournaments around the Outer Banks have been canceled or postponed due to the Coronavirus pandemic, Frank & Fran's Fisherman's Friend in Avon recently announced that they will be hosting a Red, White and Blue Freedom Tournament this fall, from October 22 through 24.
Registration for the tournament opened on Wednesday, August 12, and the aptly named weekend-long tournament will target three popular fall species – Red drum, whiting, and bluefish.
Interested anglers can sign up for the tournament now at https://hatteras-island.com/red-white-blue-freedom-tournament/, and more details about the upcoming surf fishing competition – including costs and prizes – can be found below.
Entry Fee
The cost to enter the tournament is $50. Entries will be accepted from August 12, 2020 through October 21, 2020.
Tournament entry is $50 if paid with cash. A $2.00 service charge will apply for credit card transactions.
Location
The tournament will be held along all oceanside beaches on the Cape Hatteras National Seashore from ORV Ramp 23 to Ramp 55, excluding ramp 44, allowing ample opportunities for anglers to maintain social distance.
Fishing must be done from the beach with feet in the sand using a rod and reel. No kayak, pier or boat fishing allowed.
Lines in will be 12:01 a.m. (midnight) on Oct. 22nd through 12 p.m. (noon) on Oct. 24th. There is a two-rod limit when fishing from the beach.
Targeted Species
Red Drum, Whiting (Sea Mullet) and Bluefish. Should changes be required to target species, Frank & Fran's will announce that change ASAP.
Scoring
Each participant must obtain a scorecard from Frank & Fran's. Participants are expected to follow the honor system. Each person will be given a scorecard that has to be filled out and witnessed after each fish that is caught, which must include species, length of fish, and time of catch. One fish can win in only one category, but anglers can win more categories with multiple fish.
Scoring Fish – Longest Red Drum, Whiting and Blue
Drum must be 18 inches minimum to qualify using measuring tape provided.
Whiting must be 11 inches to qualify using measuring tape provided.
Bluefish must be 11 inches to qualify using measuring tape provided.
Each fish needs to have a clear time-stamped picture. Winners will be required to provide us with the picture prior to the winner's being announced. Frank & Fran's will contact the winner via the phone number provided to request the photo. Winners may be subject to a polygraph test. Remember, you are expected to follow the HONOR system!
If there is a tie, the tiebreaker goes to the time of the first fish caught.

All Fish MUST be photographed with a measuring device provided by Frank and Fran's showing proof of posted length following the rules below:
All photos must show the catch laying natural Dorsal (Top) fin up and no obstructions (hands, lipping device) to be considered a good picture.
Measuring device must be placed flat on the sand.
Fish must be placed above the measuring tape.
Inch lines must be visible on the measuring device.
Entire fish MUST be in the photo and must show the fish length from upper lip to end of unpinched tail using straight line and no curves. EXAMPLE BELOW.
Catch and release is at the discretion of the angler. Each angler is personally responsible for adhering to all local and federal catch limits as it pertains to fish kept by angler.
Payout – 100% Payout
| | | | |
| --- | --- | --- | --- |
| Category | 1st Largest | 2nd Largest | 3rd Largest |
| Red Drum | 25% Payout | 15% Payout | 10% Payout |
| Whiting | 10% Payout | 7% Payout | 3% Payout |
| Blue Fish | 15% Payout | 10% Payout | 5% Payout |
| | | | |
A prize (approximate $300 value) will be given out for the largest red drum in the following categories, and only one angler can only win in one of the categories below. (Example: you cannot win senior and ladies.)
Winners will be announced on social media and on the website at 6:00 p.m. on October 24, 2020
For more information on the tournament, visit https://hatteras-island.com/