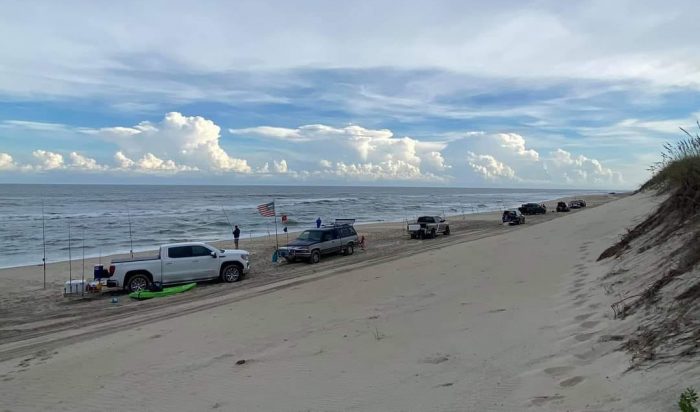 The 13th Annual North Carolina Beach Buggy Association (NCBBA) Red Drum Tournament will be here soon, (from October 19-22), and registration is currently open to the public.
Check-in starts on Wednesday, October 19, in the morning. The tournament is open to anyone who wishes to register and is not an invitational. Fishing starts Thursday at 12:01 a.m. and runs through Saturday at noon. This tournament features more than $12,000 in prizes with a wide variety of categories, including seniors, women, youth, and teams.
Participants will have 60 hours of wide-open fishing from ORV Ramp 23 in Rodanthe to ORV Ramp 43 in Buxton on Hatteras Island, with no assigned stations or timeframes. Judges will measure the fish and assure that all anglers are apprised of and follow the rules.
Entry packages and goodies, including a shirt and hat worth 50% of the registration cost, can be picked up on Wednesday between 8:00 a.m. and 6:00 p.m. at the drive-through check-in at the Klub Koru parking lot or at Frank & Frans, (both in Avon), from 6:00 to 10:00 p.m.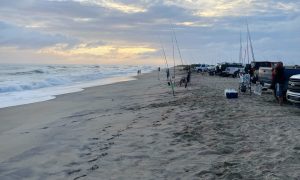 Beginning at 9:00 a.m. on Wednesday, October 19, Tommy Farmer will be giving a casting seminar at Ramp 34. This long-distance casting champion will provide great tips on proper form and practice techniques that are sure to improve your casting abilities. Tommy will be followed by Ryan White, who will demonstrate alternative techniques for catching the fish participants will be targeting on their path to the awards presentation.
The tournament banquet, with a well-deserved meal being served during the angler awards ceremony, will begin at 2:00 p.m. on Saturday afternoon at the Klub Koru in Avon. Throughout the course of the banquet, several of our tournament sponsors will be available to cater to any of the attendees' surf fishing needs, including their products. There will also be a wide variety of raffles and door prizes given away at this time.
The Team Category consists of teams numbering from 3-6 anglers, and has become a favorite of families, as well as established club teams and pick-up teams. Team members are eligible for all individual categories, and may choose to fish together or separately as they wish. New for 2022 is a $500.00 cash prize for the judge who judges two sessions and catches the largest drum. As usual, judges working two sessions will be reimbursed their entire entry fee, and those judging one session will be reimbursed $50.00.
Interested anglers can sign up or obtain more information at www.NCBBA.org. All individuals and teams of 3-6 are welcome and are encouraged to sign up early to assure their shirt size is available.
Participants are advised to make housing plans as soon as possible as this week in October has become very busy in recent years. For those who love tournament fishing, there are three tournaments in this timeframe including the Capital City Wheelers Tournament on Saturday, October 15, Frank and Frans Red, White and Blue Tournament on the 17th and 18th, followed by the Red Drum Tournament. This means there are three tournaments, three different formats, and prizes, fun, friends, and festivities for eight solid days!
All proceeds from the Annual North Carolina Beach Buggy Association (NCBBA) Red Drum Tournament go to the organization's scholarship programs and special organizational needs in the Dare and Hyde County communities.
The Co-Chairman, Head Judge, or NCBBA Board of Directors may cancel the complete tournament, or any portion of the tournament, if circumstances such as bad weather arise. If the complete tournament is canceled before it begins, a full refund of the entry fee will be made.
As always, volunteers are needed and are much appreciated during the event.  For questions regarding this tournament or those interested in judging, please contact Chris Worthington at chris.worthington@ncbba.org or 910-676-2565.