Volunteers needed for the 38th Ocracoke Invitational Surf Fishing Tournament on May 3-5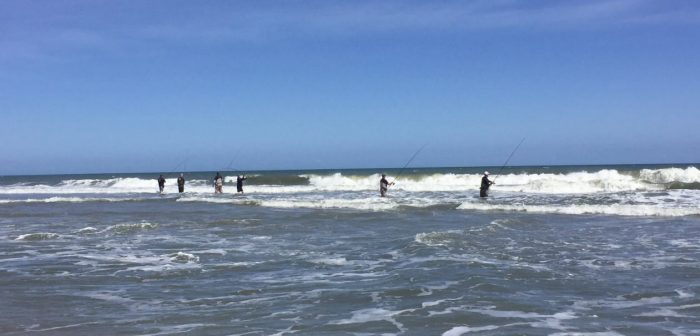 The Ocracoke Invitational Surf Fishing Tournament (OISFT) is just around the corner on May 3-5, and judges and volunteers are needed to be part of the behind-the-scenes action.
"This year, we have 73 teams participating," said OISFT Co-Chair Candis George. "It is our 38th tournament [and] would have been our 40th, but Covid shut us down for a couple of years."
Each team has six members, and the invitational tournament has a waiting list of future teams eager to join in the fun of the annual event.
"The Ocracoke Invitational Surf Fishing Tournament is the favorite of many anglers [because of their] love of Ocracoke, fishing, kicking off the surf fishing season, and the camaraderie that binds us together," said George. "In fact, I'd say we are a small community who – while enjoying our pastime and each other – are happy and proud to contribute back to Ocracoke."
All funds collected from the tournament go back into the Ocracoke community through donations to village churches, schools, individuals with special needs, or community organizations, as well as two scholarships that are given to graduating seniors.
Guidelines for volunteer judges include the following:
There is a minimum age requirement of 21, and judges will need a proper driver's license and insurance.
A judge's meeting will take place Wednesday evening, May 3, at 4:00 p.m. in the Ocracoke Community Center. All judges are asked to attend so they can learn the rules and receive their judging equipment.
Judges will meet Thursday and Friday before 7:30 a.m. to check in prior to driving to the area of judging, with details to be discussed at the judge's meeting.
The National Park Service requires a valid ORV pass for all vehicles while traveling on the beach. A $50 permit is available for 10 days of driving in lieu of the S120 annual ORV pass.
All judges will receive gas/ice money, and each judge will also receive an event Judge T-shirt.
Optimally, the event will have two judges per vehicle – one to measure the fish and the other to enter the angler's data, such as name, type of fish, how many points, etc. Each judging team is given the responsibility of at least five teams, or stations, within a given stretch of shoreline for measuring each fish caught.
"This is an excellent opportunity for anyone that has not judged this type of fishing tournament to discover the behind-the-scenes activity [of] how an event like this takes place, and all the hard work the primary volunteers put forth, so everyone has a good time," noted OISFT Head Judge Lee Barrett, who has been judging tournaments since 2009, including as Head Judge for the NCBBA Red Drum Tournament and Assistant Head Judge for the Nags Head Surf Fishing Club's Fall Tournament.
"All volunteers play a key role in an event like this, which could not happen if were not for our volunteers, especially the judges."
To volunteer for the Ocracoke Invitational Surf Fishing Tournament on May 3-5: