It has been announced that visitors can return to the Outer Banks beginning May 16, and I know many are anxious to get here so they can get in on some phenomenal fishing that has been transpiring during the COVID-19 closure.
There are a lot of businesses that are preparing to welcome the visiting public and while I cannot say what exactly will or will not be open in most cases by the 16th, I can say that most every tackle shop and charter captain will be anxiously awaiting your arrival and business.
The past several weeks have produced some unbelievable fishing. The drum bite from the south end of Ocracoke to Cape Point can only be described as off the chain. I've been fortunate enough to get to play with the drum from land and sea. During a trip with Captain Aaron Aaron of Tightline Charters out of Hatteras Harbor, and a trip with Captain John Berquist of Drum Beat Fishing out of Oregon Inlet, I saw unreal numbers of fish. Numerous large schools of drum and at one point during a trip, a few schools came together to briefly form one of the largest schools I've ever seen. On those trips, we really whacked the drum using Bowed Up Lures' bucktails. There were plenty of other boats and kayak anglers getting in on that action.
During those two trips, I also saw plenty of large Spanish mackerel and false albacore (Albie.) I caught a personal best Albie that came in just under 36" and weighed roughly 23 lbs. I hung onto that fish with little more than a trout rod, with a 2500 reel and ten pound braid, using a pink and white glass minnow. That was a 30 minute fight, and the fish smoked the drag washers in a brand new reel. Probably the single greatest fight for me from a fish that was only a quarter mile from shore.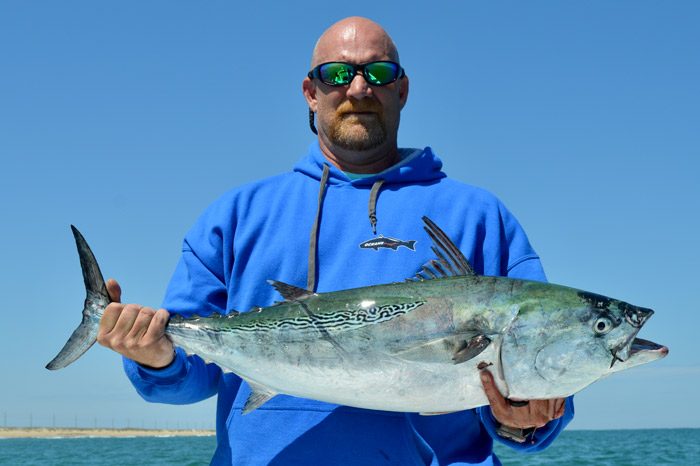 The surf action has been hot on Cape Point. The drum bite has been pure fire, with one bite being the best most have ever seen, yielding a few hundred fish at bare minimum. It was a bite that started around 4 p.m. and lasted 'til midnight, and it stretched the entire length of the open, south-facing side. It was nothing to see a dozen or more anglers hooked up at any given moment. The drum bite has been consistently good on the SW winds.
I've also seen plenty of sea mullet and bluefish from the sand, and that bite will generally be up and down the island for now. Most are using the basics of fresh shrimp, sand fleas, or Fishbites to catch the mullet, and the normal metal lures or cut bait for bluefish.
Now, I am going to stop here, so that I can emphasize something. I've had a few conversations with the Cape Hatteras National Park Service (NPS) Superintendent, Dave Hallac. Dave is asking that social distancing be observed by trying to maintain 6 ft. apart for non-family members, parking roughly 20 ft. apart. and keeping groups to ten people or less. These regulations have been difficult with just local fishermen, and will be even more difficult with the influx of visitors and property owners. Situational awareness will go a long way. The NPS is trying hard to leave the beaches open to the public, but they're adhering to state and federal guidelines pertaining to social distancing.  These guidelines are subject to change at any time, but I believe if they do, it'll be for the better.
I spoke with Ken at Tradewinds Tackle on Ocracoke, and he reported puppy drum and blues from the surf. He also stated that reports were limited, due to the lack of anglers, but wanted everyone to know they were excited about the return of visitors and property owners, and looked forward to helping everyone.
The northern beaches of the Outer Banks have had stellar speckled trout fishing, with some unusually large stripers being caught in the mix. I've seen more than 35" or bigger striper pics floating on social media. A variety of jigs and soft plastics or Mirror Lures have worked very well.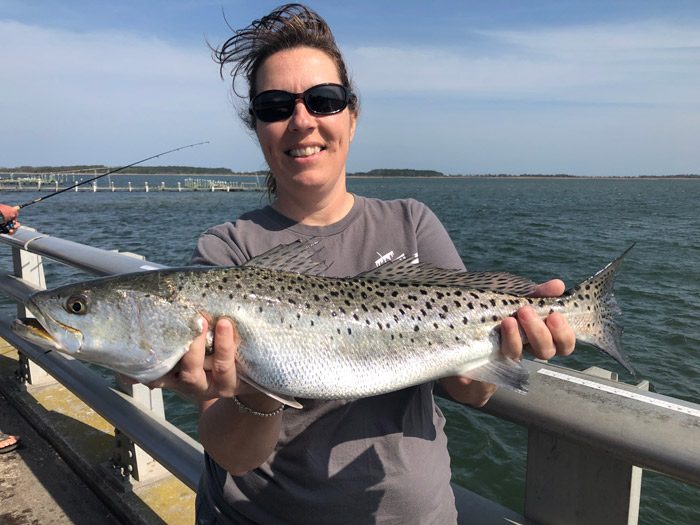 The backwater boats have also been doing well with speckled trout and schoolie stripers. Some puppy drum reports have started to get more frequent.
The boats that have been running offshore during this closure have hammered yellowfin tuna. It has not been uncommon for the boats to limit out, and what a great fish to do it with, as they fight and eat well.
Now it's May, and the water is warming up all along the Outer Banks, which means it's cobia season. The brown wonders draw anglers from all over the East Coast, and the reopening couldn't come at a better time, as these fish can be big money makers for the area. While only a handful have been caught thus far, that generally will and does change overnight. There is high probability that there is a mass push of these fish in the next two weeks or so. If you never fished for these before, then I highly recommend it. These fish are sought on the surface and sight casted. They are an extremely hard fighting fish and amazing table fare.
The captains, fleets and marinas of the Outer Banks are very excited about the reopening on May 16, and are looking forward to assisting you however they can, along with every tackle shop from Corolla to Ocracoke.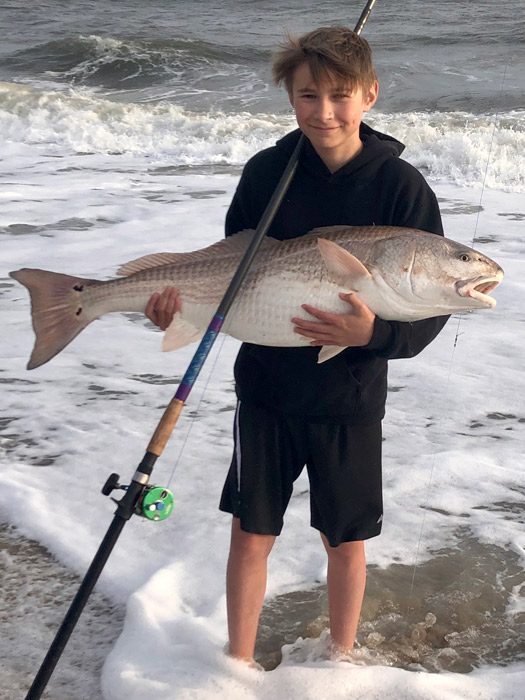 I'd love to tell you that all of this will be going off by the time you get here, but I can't.  I can tell you that by visiting the local tackle shops and marinas, they can put you on the fish.
Don't forget to visit one of our many local seafood markets, as our brothers and sisters in the commercial fishing industry have also been hard hit by the closures. There is some really nice seafood right now to compliment your catch, or to help out if you strike out.
The past couple of months have been strange times and very stressful for most. Some may see the move to open as too soon and their concerns are viable. There are those that are ready to begin to move forward, too. So, if you're concerned, sit at home and relax, until things work better for you. For those that are ready to fish, then come and go fishing. The choice is yours.
Until next time… tight lines and happy hunting.
Rob Alderman has lived on the Outer Banks for nearly 20 years and chased fish the entire time. He is a former fishing TV show host and producer and currently runs kayak fishing charters. You can find more about his trips at http://www.outerbankskayakfishing.com/