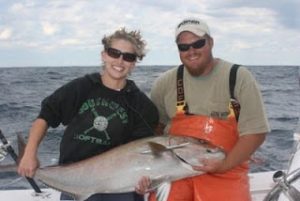 By Tim Wilson
Not all is lost when it comes to winter fishing. December to March can be a great time of year to fill the cooler. When trolling's not working, it's time to turn to jigging. A couple of key factors have to be considered. First is the water depth of 140 to 350 feet and second is the water's temperature which must 73 degrees or less. It's these conditions that you'll many times find species like wahoo, tuna, amberjack and even pompano congregating offshore.
Using a conventional or spinning reel and a rod with much arch as possible. This will make the jigging process more active. Set up your tackle with rigs such as the Shimano Butterfly system or the Owner No Escape rig. The Bluewater Candy Roscoe rig is also popular for this purpose. I recommend a mono or fluorocarbon leader about 6' to 12' in length. I also recommend braided line when possible and using metered or marked line will help monitor your depth. You should have line in the 55 to 85 pound rage to endure the jigging action and weight of the fish.
When dropping your rig, it's important to remember the more vertical the better. Casting away from the boat will create an angle that will decrease your chances. Allow the boat to drift and make sure your angle doesn't exceed 40 degrees. Drift with the boat's beam to sea and each angler should keep their line directly in front of them. If possible, keep everyone on the same side of the boat. Drop the rig below the school of fish. Now take a single handle crank with and "up and flutter" motion. When you get a miss, continue the crank and flutter process Every 3-5 seconds.
Offshore jigging is a great way to continue fishing right through the winter months, but it takes preparation and practice. Consult your tackle shop for the right rigs and supplies you'll need.