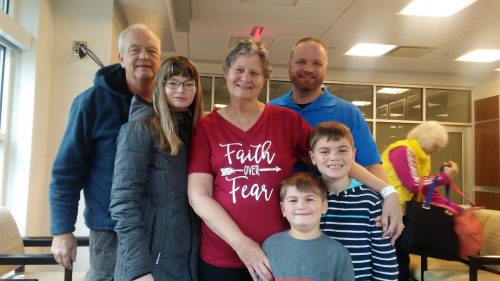 People, especially our families, ask us why we stay living here on Hatteras Island, especially as we age. They see hurricanes, medical inconveniences and all those stairs! "Is it your love of the ocean?" they ask. Well, yes, but it is really the love, internal warmth and compassion shown to us, by you, this community.
As the latest hurricane strengthened and my husband was away, my daughter Kelsey and I spent two days securing our house and boat. We evacuated with our dog, cat and snake. After that, I did suggest to Alan that we should consider moving. "How can we?" he said. "We haven't paid back the community for all they did for us. We have to stay!" He was so right and here is why.
In September of 2016, while getting ready for work, I discovered a rather large mass. It seemed to have appeared overnight. And I knew, 100% and instinctively, that I had cancer. Dr. Jaime Fountain saw me the next day, examined me, and asked if we could pray together.  Now, you tell me, where in this day and age, can a physician be so bold as to ask that? Here, that's where.
I was diagnosed with stage 3 aggressive triple negative breast cancer. With that diagnosis it was crucial that I be accepted for treatment at UNC Lineberger at Chapel Hill. Try as we might, we were unable to even get a call back. When Angie Ballance heard of my situation, she called her surgeon there and I was seen immediately. Angie once had the same diagnosis and recognized the urgency. From that moment on, the Hatteras Underground revealed itself to me and wrapped its loving arms around me and my family.
I am a planner and became hyper focused on finding a church. Up to that point, I was a church hopper. I knew that I might die, soon, and where would my service be? As soon as I entered Little Grove United Methodist Church I was home. It became my church. If I had to die, I wanted Pastor Toni to direct me to Jesus.
One random day, Tilman Gray, Sr. showed up at my door. He had felt compelled to anoint me with oils.  Strange, but okay. Immediately, I felt a lightness fill me and I believe my healing began.
The next two years involved chemo, surgery, radiation, another surgery and physical therapy. I could write pages detailing that experience, and maybe someday I will. I prefer now, however, to share a few anecdotes about our community.
After my second chemo treatment, my hair started to fall out. I asked Alan to use his barber set to take it all off – he couldn't do it, nor could I. An emotional call to Kelly at Island Style Hair Salon resulted in her immediately coming over with all her equipment, as well as a few beers. We laughed the entire time.
As you can imagine, finances became a concern. Due to weekly chemo appointments at UNC, both Alan and I had to leave our jobs. Three sources helped us.
Donna Barnett, representing the Hatteras Island Cancer Foundation, reached out to me to suggest that I apply for a grant, stating that no one should have to pay for cancer. My grant application was accepted, and their financial assistance was staggering.
Then there was my job at Cathy Parsons, CPA. Cathy Parsons held my job open the entire time, while allowing me to work when I was well enough. That is love and trust.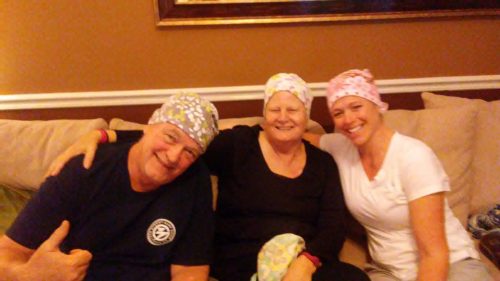 Finally, help poured in from our community. Checks arrived in the mail for two years, often anonymously. Businesses such as Conner's gave me gift cards. There were many times that I'd return home from UNC to a spotless house as a gift from Shore Details. Even the vet stepped in to help with our dog.  It was truly the whole island helping me fight this cancer, and blessing all areas of my life.
At the date of diagnosis, Kelsey was 17, too young to live alone for weeks at a time. The first islander to step in was Marta Martinez. Kelsey stayed with Marta, but there came a situation that I still smile about. Out of Mommy guilt, I permitted Kelsey to order a snake online. Marta does not do snakes. The snake arrived early, at my house, in a box. Marta gallantly helped Kelsey set up everything needed for a snake to survive in my home.
Every Sunday night, Sylvia Mattingly would message me, "do you need anything?" I always seemed to need my prescriptions picked up, as I was on 16 medications. She thus became known as the drug runner. Once Steve from the pharmacy asked if I needed my prescriptions delivered. No, thank you, I have a drug runner!
There came a time when I could only wear button-down shirts as I couldn't raise my arms. I didn't own any, so Alan took me to Walmart, which also did not have any. Alan then suggested that I wear his. That comment resulted in a much-needed total meltdown. "I look like a boy and now you want me to dress like one?" I sobbed. Within 15 minutes of posting my despair on Facebook, the shirts poured in. Michelle Pehrson was at my door within 15 minutes with five feminine blouses. Within three days I owned more button-down blouses than Paris Hilton.
My work mentor and friend, Barbara Foster, passed away from a recurrence of cancer. Her daughter, Jenn Johnson, visited me and gave me the blanket that Barbara used during her chemo, as well as a rock that read "live." I can barely write about this. Thank you, Jenn.
Now let's speak of friendship. Sharin Melton declared herself my best friend as my treatment worsened. She would message me to visit. "No," I would respond.  "I don't want anyone to see me like this." Soon, she would come barreling through the front door, often with a roasted chicken in her arms. She would hand it off to Alan and climb in bed with me. She researched everything, and would keep me informed on what I could expect next, simply and truthfully. I love her.
This may be my favorite tale. Gee Gee from Buxton books sent me a bra. A pre-teen type of training bra, in blue, in the mail. I was confused – maybe she didn't know that I know longer needed a bra of any type. When I asked her about it, she had a perfectly fine explanation. "When someone looks down your blouse, they will see underwear, not scars." Wow, a business owner sent me underwear.
I do, of course, contemplate why I am alive when so many of my sisters from my beloved "Cancer Survivor Sisters" group lost the fight, especially in 2018. Maybe to be able to thank you, Hatteras Island, for your prayers, your compassion and your generosity. What I wrote about here are just a few of the countless people, experiences, gifts and support I received over the last few years. I loved this island before cancer and these experiences only solidified what I already knew – the people are what make this island strong.  On behalf of my family, I thank you.  We are staying. We owe you.
Love all round.