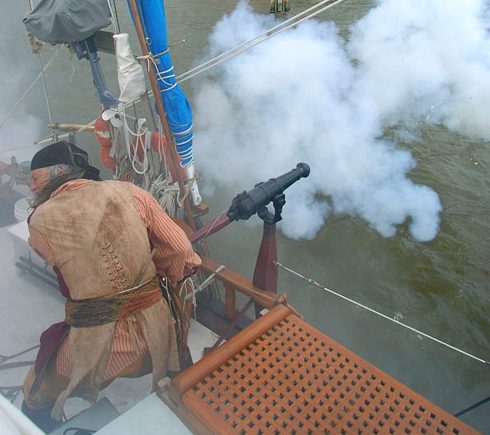 Ten years ago, on the morning of the 22nd of November 2007, I stood alone on the sandy beach of Ocracoke Island's Springer's Point with my camera gear to take photos for my yet-to-be-published book, The Last Days of Blackbeard the Pirate.
That day I pondered that, Blackbeard and the men who died there in the Battle of Ocracoke in 1718 ought to be remembered, they ought to be honored for giving history something worth preserving. Twenty-three mariners were killed that day, including 11 Royal Navy sailors. On that quiet morning in 2007, I resolved that in forthcoming years I would not stand there alone. It was then that an idea was born that would take on a life of its own.
So was begun the annual "Black Beard Pirate Memorial." One year to the day that I had stood there alone at Springer's Point, I was surrounded by 60 pirates—even though the temperature was unusually frigid and the wind pierced the outer defenses of the pirate's period clothing. And more than 100 self-invited Ocracoke residents and visitors joined us for what was a solemn and emotional event. Hymns were sung, the history was chronicled, a wreath was dedicated, and a canon or flintlock weapon was fired for every man who was killed there in 1718.
We've been doing it ever since, except for the years when hurricanes lashed the Outer Banks and damaged NC 12, the precarious highway lifeline linking the villages of North Carolina's remarkable barrier islands.
As a result of the success of the Memorial Service, the first annual "Blackbeard's Pirate Jamboree" was held on October 25-27, 2013. The Jamboree has been an enormous economic success for Ocracoke, exceeding everyone's expectations. The reenactment of the Battle of Ocracoke within the watery amphitheater of Silver Lake is always a spectacle to be seen and chilling in its authenticity. The sea battle, replete with smoke-bellowing black powder weapons, featuring Capt. Horatio Sinbad's Meka II sailing in the role of Blackbeard's sloop Adventure and joined by Captain Ben Bunn's historic skipjack Ada Mae, and the Beaufort Oars. Sadly, Blackbeard loses the battle and his head every year.
The docks and wharves surrounding Silver Lake are always thronged with spectators. Families flock to the authentic pirate encampment of tents, guided by the smell of wood smoke and savory meats roasting on spits. They watch spellbound by demonstrations of navigational skills and rope making or participate in a scallywag school for young aspiring pirates. Cannon maker Lawrence Campbell describes how he practices a fascinating lost art, while Michelle Murillo presents her rare collection of Port Royal artifacts and shares her knowledge of the infamous pirate port. The ever-present and indefatigable Motley Tones of Raleigh perform melodious madrigals or bawdy sailor songs—depending on the age of their audience. And Steve Whetzel and his Shadow Players Stage Combat Group have audiences rollicking in laughter with his bullwhip antics assisted by gullible volunteers.
The ghost of Blackbeard must be pleased with what we have done. Two hundred ninety-nine years ago, Blackbeard and his Carolina pirates from the Pamlico River aided the ailing economy of North Carolina's tidewater region in ways shamefully overlooked and under-appreciated by history and shunned by popular culture. And Blackbeard and his pirates still contribute to North Carolina's economy. Now, at a time of year when Ocracoke's off-season economy had been typically slow, hotels and rental cottages are full, restaurants are crowded, and retail shops are bustling.
Few places in America have real pirate history to commemorate, and even fewer have a valid reason to celebrate the notorious Blackbeard, arguably the world's best-known pirate. In North Carolina, surprisingly, there are just two—Ocracoke and Bath.
America's pirate history is nothing like the Hollywood pop-culture, romantic, fairy tale version so perpetuated by publishers and producers and adored by its fans. True pirate history is actually more interesting, more complex, more relevant to our own life and times. The story of North Carolina's own Blackbeard remarkably mirrors today's newsworthy issues of political conflict, economic distress, deficits, taxes, unemployment, social discord, health concerns, government corruption, and climate change. Certainly, there's a place in our hearts and minds for folklore and fiction, for swashbuckling, swaggering, Errol Flynn- and Johnny Depp-like pirates, but we should never fail to understand and appreciate the real story.
At 10 a.m. on Sunday, Oct. 29, 2017, I will lead a solemn procession at Ocracoke's Blackbeard Lodge, led by the stirring sounds of a lone bagpiper. We march the long, mile and a half route to the sandy shores of Springer's Point, paced by the beat of a drum and refrains of Amazing Grace, passing bystanders, quaint homes, and the sphinx-like Ocracoke light. A couple of hundred yards offshore over the very site of the 1718 battle and Blackbeard's death will be anchored the venerable sailing vessels Meka II and Ada Mae ready to fire their guns in salute to the fallen.
Similar to previous years, specially-composed songs will be sung, the history of that fateful day will be retold, a memorial wreath will be launched. As their names are called, a bell will be tolled singly for each man—pirate and Royal Navy sailor—who died in battle on November 22, 1718.
There is, perhaps, no better way to experience the past than to visit the very places where momentous events took place, to walk in the footsteps of our forebears. Nowhere is Blackbeard's history observed in its pro
per context and more accurately than at Ocracoke. We hope to see you there.