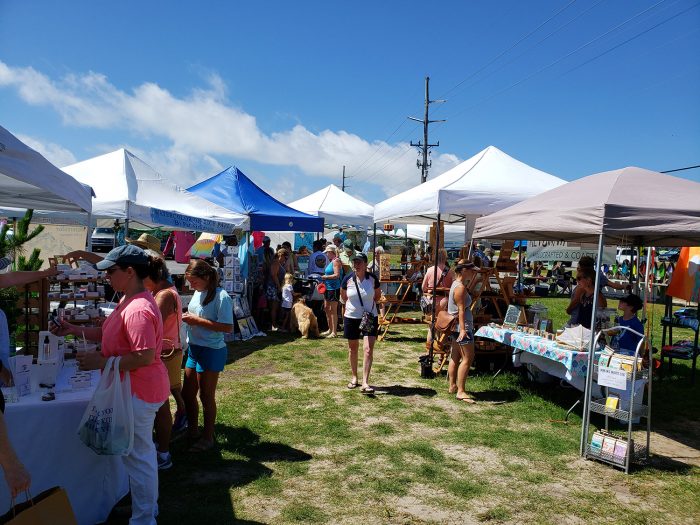 The Avon Farmers market had sunny weather and plenty of crowds on its opening day, as it officially kick-started its 2019 summer season.
Originally established in Buxton In 2010 before moving to its current home next to Pangea Tavern and the Koru Beach Klub in Avon, vendors reported that folks were popping by before the market even opened at 9 a.m. to see what new goodies were available with this year's season.
2019 is shaping up to be one of the biggest years yet for the local Tuesday market, with 65 different vendors who signed up weeks before the market began.
Held every Tuesday morning from 9 a.m. until 1 p.m., this year's market includes a large number of longtime regulars – such as C and J Produce of Rodanthe – as well as some new artisans and vendors for locals and visitors to discover.
"We have about 15 new vendors for 2019," said Market Manager Susan Meyers in an earlier interview, "and it's going to be a very diverse year for sure."
There are some additional differences besides an uptick in vendors, which includes more space – thanks to off-season grading of the Koru Beach Klub property – and an on-site food truck, courtesy of Stu's Donuts of Avon, which offers easy lunchtime fare such as gourmet hot dogs and BBQ.
Among the crowded stalls on Tuesday morning, lingering visitors were treated to local artworks, handcrafted jewelry, fresh produce, gourmet coffee, regional wines, soaps and handcrafted toiletries, coastal-infused décor and home items, and so much more.
"We're excited to keep growing, and we appreciate the local island community for supporting this market," said Meyers. "We have locals coming every week, and the island community is what has made the market a success."
The Avon Farmers Market will continue every Tuesday from 9:00 a.m. until 1:00 p.m. at the Beach Klub in Avon until September 3, 2019.
For more information, visit https://www.facebook.com/pg/farmersmarketAvonNC/