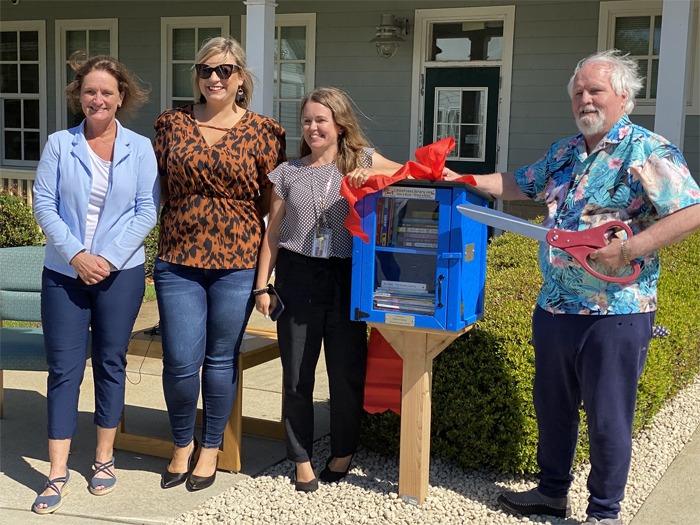 Little Free Libraries are a global phenomenon. The small, front-yard book exchanges number more than 100,000 around the world in over 100 countries — from Italy to Brazil to Japan. Now, a new Little Free Library at Cape Hatteras Elementary School will join the movement to share books, bring people together and create communities of readers.
With grant funding provided by Hatteras Island Youth Education Fund, CHES Media Coordinator Jenn Augustson worked with the Little Free Library organization to purchase an outdoor library for CHES. Augustson organized a ribbon-cutting ceremony which was held on Friday, May 14, at the school.  The celebration included a dedication to former CHES principal, Mr. Ray D Gray, Jr.
"Mr. Gray has always been a champion for our Hatteras Island students and his love of literacy made him the perfect choice to honor for our Little Free Library dedication," said Augustson. CHES Principal Rachel Benton kicked off the ceremony with a welcome to all and a big thank you to HIYEF.  Mr. Gray and his family, along with CHES Staff, enjoyed listening to fond memories about his time as principal sent from former colleagues and students. After Mr. Gray cut the ribbon to formally open the Little Free Library, he shared a few words with the crowd and then added a favorite book from his personal collection. Friends enjoyed perusing the library while having cake and punch out on the lawn to celebrate this special event.
How will the Little Free Library work? If you see something you'd like to read, take it. You don't have to give a book at the same time as you take one. After you've read it, share it in any Little Free Library book-sharing box, bring it back to the CHES Little Free Library, or just pass it on to a friend. Be a friend of all libraries, big and small. Share books whenever you can.
Little Free Library® (LFL) is a nonprofit organization that inspires a love of reading, builds community, and improves book access by fostering neighborhood book exchange boxes around the world. LFL received the 2020 World Literacy Award and has been recognized by the Library of Congress, the National Book Foundation, and others for its dedication to expanding book access for all. To learn more, visit LittleFreeLibrary.org.