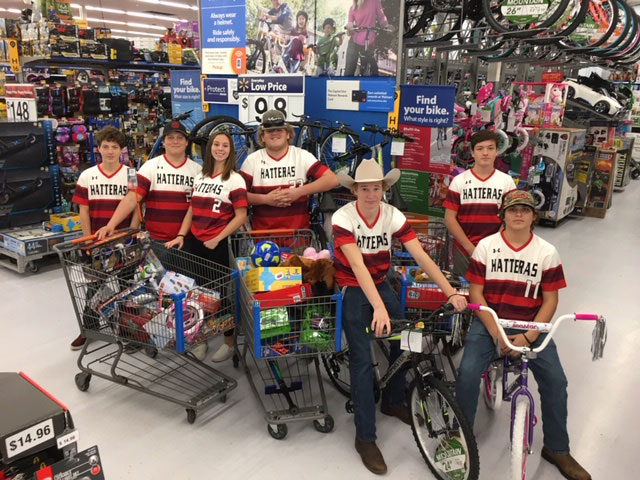 Members of the Cape Hatteras Secondary School (CHSS) Hurricane Baseball team concluded their annual community service project on Saturday, December 14, raising more than $1,000 for the local island community in the process.
During the months of November and December, Hurricane baseball players sold $1 raffle tickets for a $100 WalMart gift card.  The players raised $901.00 in ticket sales, and the proceeds go to purchase toys for the Hatteras United Methodist Church Angel Gift program, which provides Christmas gifts to local families when the need arises.  Tami Lamz of Rodanthe won the drawing for this year's gift card, and then donated it back to the team to purchase more toys.
Members of the team completed the project on Saturday by traveling to Kitty Hawk to purchase the toys at Walmart, then participated in the annual Hatteras Village Christmas parade, spreading cheer to those that braved the gray skies.  Through ticket sales and donations, when it all was said and done, the Hurricane Baseball program purchased 80 gifts valued at $1,096.00 that will help brighten Christmas morning for lots of kids on Hatteras Island.
This is the fourth year that the Hurricane Baseball team has helped brighten the holidays for children by raising money and purchasing toys.  Over the past four years, the team has raised over $5,000 and has purchased nearly 500 toys to help children have a better Christmas.
"This project is an integral part of our baseball program at CHSS," stated Keith Durham, Head Varsity Baseball Coach, "Although, it doesn't guarantee wins in the spring, it does help the young men and women that participate in it become winners in life.  One of the goals of the CHSS Baseball program is to help our players develop an attitude of service to others.  This project is just one way that our players can give back to the community and help brighten Christmas morning for others."
"We would like to thank Wal-Mart, Hatteras United Methodist Church, Cape Hatteras Secondary School, our players, parents, and local businesses that all help make this annual project a success.  Without your support, we could not make this wonderful time of year brighter for so many of our families."