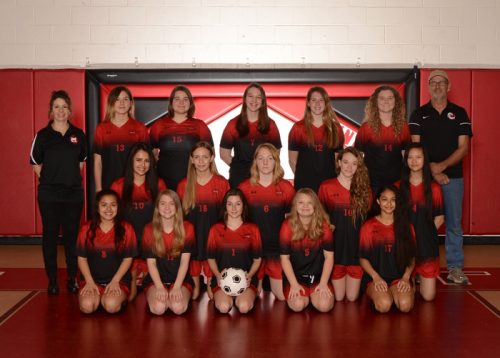 With the turning of clocks forward, spring finally sprung in March — even though the weather hasn't seemed to notice yet. Despite numerous cancellations at the beginning of their seasons, spring sports are officially in full swing, and Cape Hatteras Secondary School (CHSS) is ready to show their conference what they can do.
The Lady Canes soccer team kicked off their season with a home game against Southside earlier this month. The girls lost 5-0 to the team out of Chocowinity and subsequently lost 2-0 to Camden. Despite some discouraging losses this season, the girls are not ready to quit. They have entered this season after losing nine seniors and a head coach with a renewed drive to win.
Luckily, the team has some incredible leaders dedicated to rebuilding the team. Senior captain Samantha Smith is truly a force on defense, cutting off shots and clearing the ball. Her co-captain, Maria Bradley, holds down the midfield with smart passes to control game flow and redirect the ball. Senior Nyah Machie has emerged from her impressive role as goalie to carry the ball up the field and make powerful shots as a striker.
Alongside the captains, head coach Lisa Bradley and assistant coach Paul Rosell help point the team in the right direction. Bradley, who is new to CHSS, is no stranger to soccer as she grew up playing the sport and has many years of experience coaching it. Assistant coach Paul Rosell used to coach the Lady Canes years ago, and his passion for and knowledge of the sport is one of the team's greatest strengths. Bradley is looking forward to spending many years coaching the girls and building up the program.
"We are truly starting to come together as a team, and we will finish our season much stronger than we started it," Bradley said.
Their next home game is on Friday, April 5, at 5 p.m. versus Northeastern. This team has so much potential and will continue to work on capitalizing on their strengths.
Baseball and softball started their seasons off with a bang at the Fourth Annual Cape Hatteras Sandlot Tournament organized by head coach Keith Durham. This event is always a huge success from year to year and involves schools from across North Carolina. In conjunction with the Hatteras Island Cancer Foundation, N.C. teams played both to raise awareness and pay tribute to loved ones affected by cancer. An organized food drive also successfully collected 350 cans of food for the Hatteras Island Food Pantry. Needless to say, it was a great weekend, not only to showcase athletic prowess but also to lend support to the local community. Though Currituck took home the title at the end of the weekend, the Hurricanes fought hard and represented CHSS well. Our own John Canning, a senior at CHSS, made the all-tournament team.
CHSS baseball will play in yet another tournament this weekend at Cleveland High School to raise money for the John Jacobs Memorial Scholarship in honor of Coach Jacobs, the Cleveland assistant coach who lost his battle with cancer in 2017. Jacobs played a major role in the Sandlot Tournament for its first two years, and even had a tournament award named after him. Durham expects that the Canes' involvement in this tournament will not only allow them to honor Jacobs, but also to build character as a team.
"Our baseball program is about more than wins and losses. We are building young men to win in life as well," said Coach Durham.
Canes baseball defeated the Math and Science Academy out of Cary, N.C. in two non-conference games at the beginning of their season. They subsequently defeated their rivals, Ocracoke, at home, and will face them again on Ocracoke Island on Thursday. Their next home game is Wednesday, April 3, against Mattamuskeet at 6 p.m.
So far in this spring season, Lady Canes softball coached by Darren Moore has the best record of all CHSS teams. They beat both Mattamuskeet and Columbia, leaving them ranked second in their conference. The dedication and persistence of Coach Moore have had a major impact on the team's improvement over the progression of the season.
"We are getting better in practice and hopefully will be getting some more wins in the future," he said.
With more than half of their season left, Lady Canes softball is sure to show their conference what they're made of. Their next home game is on Friday, April 5, versus Mattamuskeet at 6 p.m.
CHSS sports aim to create an environment around students to succeed. No matter what the scoreboard says at the end of the evening, CHSS coaches are shaping student-athletes into leaders and responsible citizens. This is an asset which will not only help them on the field, but will also carry them through life.
To keep up with CHSS sports schedule changes and score reports, visit maxpreps.com/high-schools/cape-hatteras-hurricanes-(buxton,nc)/sports.htm
To donate to the John Jacobs Memorial Scholarship, make a check payable to Cleveland High School-John Jacobs Scholarship and send to:
Cleveland High School
Attn: Coach Jamie Lee
1892 Polenta Road