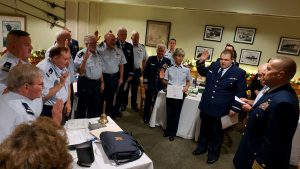 The Outer Banks Flotilla of the U.S. Coast Guard Auxiliary observed their annual Change of Watch ceremony this December. It was a celebration of family relationships and a collaboration with fellow Auxiliarists and the U.S. Coast Guard teams at Station Oregon Inlet in Nags Head, Coast Guard Air Station in Elizabeth City, and the Coast Guard Aids to Navigation Team at Wanchese.
The Change of Watch program includes the swearing in of the Flotilla Staff Officers and recognizing a few Auxiliarists with awards. This year, the program awarded John Horst with the Inspirational Leader of the Year award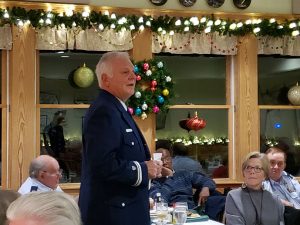 due to his ability to boost the moral and confidence of fellow Coast Guard members. Kathi Neal, who will continue to serves as Public Affairs officer, was also awarded the Auxiliarist of the Year award. She was surprised and humbled to receive the designation.
Albert Douglass, the Outer Banks Flotilla Commander, will lead the flotilla into the new decade with his spirit and dedication. There are also a number of new and returning members filling the Staff Officer positions to support the Commander. The current Vice Commander, Timothy Baker, is moving up to Division Vice Commander. John Lawing is the new Flotilla Vice Commander, a dedicated Coxswain who also serves in Public Visitation and Aids to Navigation. Another member who excels at multi-tasking combined with creativity is John Horst. Last year, he served as Operations Officer, and he will add to his Auxiliary responsibilities the role of Public Education Officer.
Membership in the Coast Guard Auxiliary is voluntary, personally challenging, and is dependent on as much time as an individual is willing to give. The rewards of supporting Coast Guard training, providing safe boating training for children and adults, and interacting with the community at public events are beyond gratifying. (And it's fun!)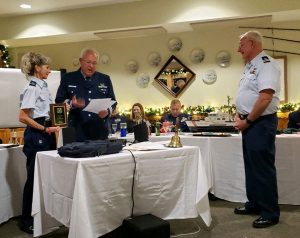 The Outer Banks Flotilla hopes you will join their Auxiliary family. Membership is available to all men and women in the community with a desire to serve and a willingness to learn, and all the flotilla members will help you succeed.
The Coast Guard Auxiliary is the uniformed civilian component of the U.S. Coast Guard and supports the Coast Guard in nearly all mission areas. The Auxiliary was created by Congress in 1939. For more information please visit www.cgaux.org