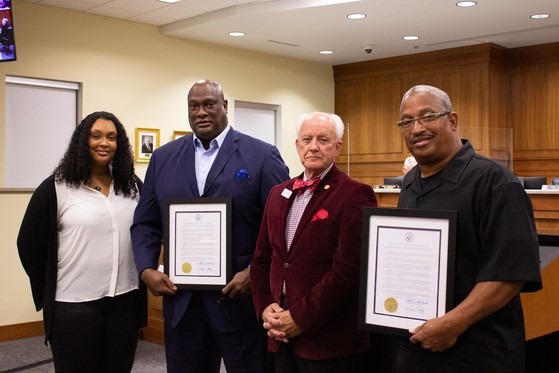 The Dare County Board of Commissioners have voted unanimously to approve a resolution to rename the Dare County Center in Manteo as the Virginia Tillett Center in honor of the professional educator and community leader who served Dare County as an elected official for more than 30 years.
The resolution—which was passed at the Dare County Board of Commissioners meeting that was held at 5 p.m. on Monday, November 15, 2021—was presented to the board during Chairman Bob Woodard's remarks at the beginning of the meeting.
Many of Tillett's family members and friends attended Monday's meeting in her honor, including her two sons, Michael Tillett of Manteo and Johnny Tillett of Raleigh, both of whom were presented with framed copies of the resolution that had been signed by Chairman Woodard.
The Dare County Center, which is located at 950 Marshall C. Collins Drive in Manteo, is a multi-generational facility that provides resources, programs and activities designed to enhance the lives of all Dare County citizens ranging from youth and adults to seniors and families.
Tillett—who was elected to the Dare County Board of Commissioners in 2002 after serving in the positions of both chair and vice chair on the Dare County Board of Education for 20 years—played an instrumental role in the development of the Dare County Center, which has had a profound and positive impact on thousands of Dare County residents since it opened its doors in 2009.
According to the resolution, "Without Virginia Tillett's tireless efforts and her vision for the facility, specifically as a place where individuals of all ages could get together and learn from one another, these individuals would not benefit from the wide array of programs and services it offers to the Dare County community."
Tillett has been honored as the recipient of a number of awards over the past several decades, including the Dare County Outstanding Citizen of the Year award and the Outer Banks Chamber of Commerce's Citizen of the Year award, both of which she received in 2015.
In 2006, she was honored by North Carolina Governor Michael Easley, who awarded her the prestigious Order of the Long Leaf Pine Award, and in April 2021, Tillett was recognized for her accomplishments and dedication to servant leadership by the North Carolina Black Alliance, which presented her with a 2021 Trailblazer Award.
At the November 15, 2021, Dare County Board of Commissioners meeting, the board declared that, "In honor of her life and many significant contributions as a longtime community leader, the Dare County Center will officially be renamed as the Virginia Tillett Center."
A separate announcement will be made for the building dedication ceremony. For the latest updates, as well as more information about the facility and its programs and activities, visit www.DareNC.com/DCC.