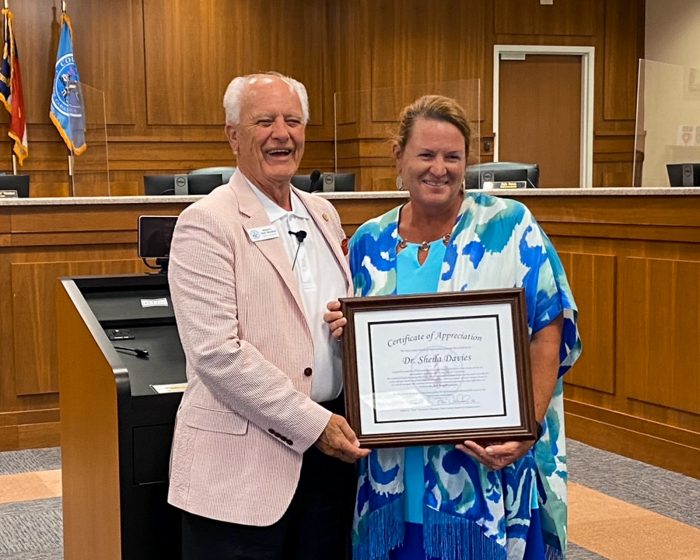 Dare County Department of Health & Human Services Director Dr. Sheila Davies was named Dare County Employee of the Month—and also presented with a prestigious Certificate of Appreciation—at the Dare County Board of Commissioners meeting that was held at 5 p.m. on Monday, June 21, 2021.
Dare County Manager Bobby Outten recognized Dr. Davies as Employee of the Month for June 2021, citing and commending her tireless work and extensive efforts—not just over the course of the past month, but since the COVID-19 pandemic first began to affect the Outer Banks community early last spring.
"Sheila's service during COVID is an example of leadership, knowledge, commitment and compassion—and those are the same things she brought to work before COVID and brings to work every day since and during COVID," said Outten. "She's taken her fair share of criticism, but through it all she has held her chin high with the confidence and the knowledge that her actions saved lives and reduced the outbreak of COVID in Dare County, making positive impacts to the people in Dare County. Through it all, she has not wavered in her commitment to preserve the public's health."
Outten's Employee of the Month award presentation was then followed by a special presentation during which Dare County Board of Commissioners Chairman Bob Woodard honored Dr. Davies with the county's prestigious Certificate of Appreciation.
Dr. Davies was presented with the award in grateful recognition of her exemplary service and tireless dedication to Dare County during the unprecedented challenges posed by the COVID-19 pandemic.
Since the start of the COVID-19 pandemic last spring, Dr. Davies has played an integral role in Dare County's ongoing response to the crisis—keeping the community informed with her department's frequently updated online dashboard that compiles pertinent information in one easy-to-access place and also by providing comprehensive weekly updates in both written and video form, among an array of additional tasks and responsibilities.
"Since 2020, when Governor Roy Cooper first declared a State of Emergency in North Carolina, Dr. Davies has worked tirelessly on the front lines of the pandemic, providing critical information, resources, guidance and supportive services for everyone in our community," said Woodard.
According to the Certificate of Appreciation she was awarded, "The exceptional leadership and guidance Dr. Davies has provided is unparalleled and has made it possible for county officials, healthcare professionals, local educators, childcare providers and area business owners to successfully navigate this uncharted territory—and to ultimately overcome the many difficulties our community has faced during the pandemic."
According to Woodard, "If there is one person working for Dare County who deserves to be recognized after the past year and several months that we've experienced during this pandemic, it's Dr. Sheila Davies."
During his presentation, Woodard also acknowledged the way that Dr. Davies has gone above and beyond to assist the greater Outer Banks community through one of the most challenging times the county has ever faced in its history.
"Dr. Davies' performance during the pandemic has far exceeded her job description and required responsibilities," said Woodard. "She was always available. She answered the phone—including any time, day or night—and she has gone above and beyond in the services she has provided the entire county. Dr. Davies was also instrumental in coordinating outreach, not just without Dare County departments but decision-makers all throughout the county: the towns, the mayors, the hospital, medical providers, local businesses, restaurants, local schools, teachers, parents, nonprofits, and the list goes on and on."
Woodard also commented on Dare County's status as a leader in North Carolina in regard to the number of vaccinations that have been administered to residents and property owners—an accomplishment he attributed to the exceptional work being performed by Dr. Davies and her team.
"Despite the difficulties we have all faced, we are finally seeing the light at the end of the tunnel—and it was a dark tunnel at times—and we're beginning to step out on the other side of this pandemic," said Woodard. "I think everyone can agree that I wouldn't be able to stand here this evening without the truly incredible work on your part, Sheila, and the services provided by yourself and the health department team under your leadership since March of 2020. On behalf of the Board of Commissioners, I want to thank you for doing the job that you did during the pandemic, and for your support of our residents."
For more information about the Dare County Department of Health & Human Services—including its ongoing response to the COVID-19 pandemic—visit www.DareNC.com/Health.