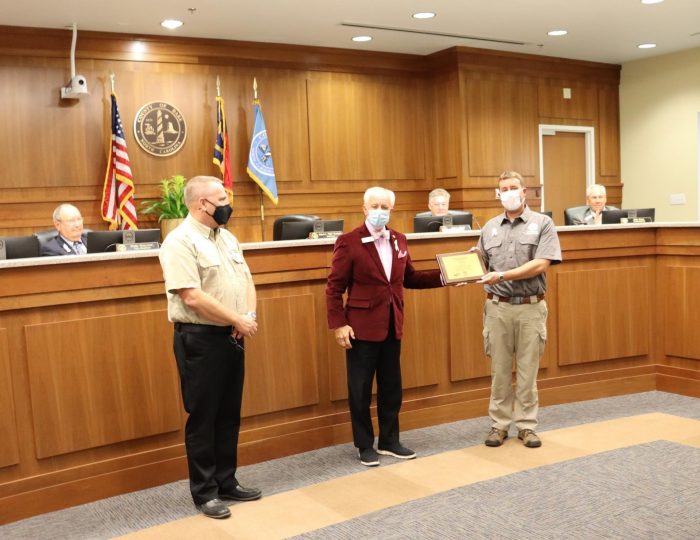 Dare County Emergency Management Planner James Wooten was recognized as a Certified Emergency Manager (CEM) by the International Association of Emergency Managers (IAEM) at the Oct. 5, 2020, Dare County Board of Commissioners meeting. The award was presented to Wooten by Dare County Board of Commissioners Chairman Bob Woodard and Emergency Management Director Drew Pearson.
Wooten joins approximately 2,200 emergency managers worldwide who have completed the rigorous process that leads to receiving IAEM certification.
In order to achieve this certification, all CEMs must have over three years of comprehensive emergency management experience; possess practical experience during exercises, major public events and actual disasters; complete at least six professional contributions and hold a baccalaureate degree; write a comprehensive essay and pass an examination demonstrating knowledge on all phases of emergency management; and be recommended by three practicing emergency managers.
Certification by IAEM is considered to be the gold standard in the emergency management profession. Earning this prestigious certification shows that the individual has the ability to effectively manage a comprehensive emergency management program; a working knowledge of all phases of emergency management, including mitigation, preparedness, response and recovery; experience and knowledge of interagency and communitywide efforts designed to improve emergency management capabilities; and the ability to effectively accomplish emergency management goals and objectives with little or no additional training.
Wooten began working as the emergency management planner for Dare County 15 months ago.
"He's been making a difference as we've updated plans, managed response and recovery efforts during several storms, coordinated planned events and continue to support [Dare County Health & Human Services Director Dr. Sheila Davies] during the ongoing pandemic," said Pearson. "Even with a busy work tempo and raising a young family, James undertook and completed certification, setting him apart from his peers while bringing great credit to himself and Dare County."