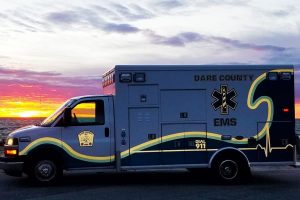 The Dare County Board of Commissioners recently passed a resolution proclaiming the week of May 16-22, 2021, as Emergency Medical Services (EMS) Week. EMS Week offers an opportunity to recognize all members of the Dare County EMS team who stand ready to provide lifesaving care to Dare County's residents and visitors, 24-hours a day, seven days a week. The national theme of this year's EMS Week is "This is EMS: Caring for Our Communities," and that is exactly what Dare County EMS does with pride!
Dare County EMS personnel serve the Outer Banks community on the front lines, often while making many personal sacrifices, such as being away from their families on nights, weekends and holidays, and they must also endure all types of weather-related conditions. EMS personnel engage in thousands of hours of specialized training and continuing education in order to enhance their lifesaving skills.
Over the past year, the COVID-19 pandemic created unprecedented health and safety challenges for EMS personnel and resulted in monumental changes in everyday procedures. Throughout this ongoing public health crisis, Dare County EMS has continued to respond to those in need and has also maintained the highest standard of medical care.
National EMS Week is a time to recognize and honor EMS professionals for their tireless dedication to their communities—not just during the COVID-19 pandemic, but every day of the year. Dare County EMS operates from eight different stations throughout the county and also includes Dare MedFlight, our lifesaving medevac helicopter.
This year, in celebration of EMS Week, Dare County EMS is holding a children's coloring contest and a teen/adult poster contest! Children coloring pages may be downloaded from https://www.darenc.com/departments/ems or children may create their own drawing if they prefer. For interested teens and adults, Dare County EMS will also host a poster contest of its own design considering EMS Week's 2021 theme "This is EMS: Caring for Our Communities." Posters need to reflect this theme and also illustrate Dare EMS caring for the Outer Banks community. Please place your name, age and contact information on the back of your coloring page or poster.
Color pages or poster designs can be submitted to EMS Station 1 in Kill Devil Hills (1632 N. Croatan Highway), EMS Station 2 in Manteo (515 Bowsertown Road) or EMS Station 3 in Frisco (50346 N.C. Highway 12) by Saturday, May 22, 2021, for a chance to win a prize.
Dare County EMS will collect all the entries and select the winners. Prizes include t-shirts, toys and a "behind the scenes" experience with Dare County EMS. A decision on winners will be made Monday, June 7, 2021, and then contact those individuals.  Please ensure your name, age and contact information is included with your submission.
Dare County EMS thanks the Outer Banks community for all of its support throughout the year and looks forward to many, many more!