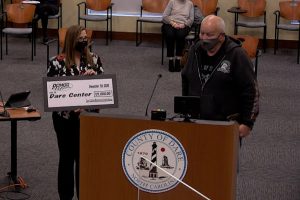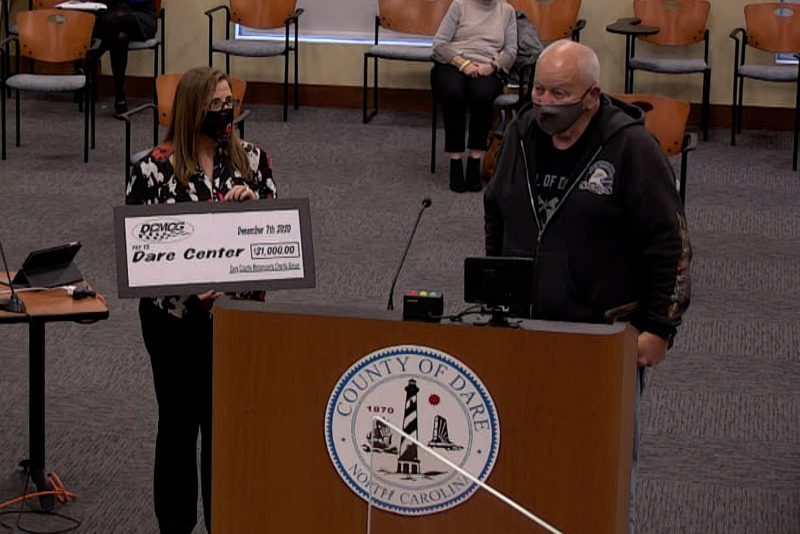 Terry Gray, lead organizer for the Dare County Motorsports Charity Group (DCMCG), presented Sandy Pace, director of the Dare County Center in Manteo, with a $21,000 charitable donation at the Dare County Board of Commissioners meeting held on Dec. 7, 2020.
The funds were raised during DCMCG's two-day Dare County Motorcycle – Jeep Toy Run, which took place Sept. 25-26 at Vertigo Tattoo in Manns Harbor.
The money will be used to provide toys for more than 380 Dare County children in need this holiday season as part of the annual Dare County Center Toy Drive—an increase from previous years, which is likely due to the financial burdens placed on many local families by the COVID-19 pandemic.
The Dare County Center has hosted the event—which was formerly known as the Roanoke Island Freedman's Colony Toy Drive—since the center opened in 2009.
All Dare County children ages 0-16 are eligible and must register for the event between Nov. 1 and Nov. 30 of each year.
Due to COVID-19, toy distribution for the 2020 Dare County Center Toy Drive will take place outside the center as a drive-thru pickup. Registered children are required to attend in order to receive their toys.
The Dare County Motorcycle Toy Run is a private foundation dedicated to ensuring that Dare County children in need have the opportunity to enjoy the holiday season each year. The group's inaugural toy ride took place in 2016 and was held with the hope that hundreds of bikers would join together for a ride designed to help raise funds that are then distributed to select organizations throughout Dare County in order to purchase toys for local children.