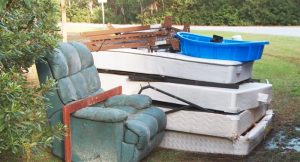 The Dare County Sanitation Department will be conducting a large household pick‐up for residential customer
only.
NO COMMERCIAL BUSINESS DEBRIS WILL BE PICKED UP.
January 28, 2020 Tuesday
East Lake, Stumpy Point, Manns Harbor
February 4, 2020 Tuesday
Wanchese
February 18, 2020 Tuesday
Manteo (outside town limits)
March 3, 2020 Tuesday
Colington Harbor – inside the gate
March 17, 2020 Tuesday
Colington – houses located off Colington Rd, not in the gated community of Colington Harbor
March 24, 2020 Tuesday
Buxton, Frisco, Hatteras
March 31, 2020 Tuesday
Avon
April 1, 2020 Wednesday
Rodanthe, Waves, Salvo
April 21, 2020 Tuesday
Martins Point
PLEASE DO NOT INTERFERE WITH COUNTY EMPLOYEES PICKING UP LARGE ITEMS.
If large item pick‐up falls on your regular garbage collection day, please do not block the garbage container.  Be mindful of overhead power lines and try to place items in such a way that County trucks will not be in danger of coming in contact with them. Materials must be at curbside no later than 6:00 am on the date of collection. There will not be a second day pick‐up.
On this special pick‐up, the County will collect the following recyclable items: used auto tires, used motor oil (only in spill proof containers), auto radiators, scrap metals (rims, motor parts), appliances, furniture, mattresses and box springs. Please remove doors from refrigerators.
The following items WILL NOT be collected: old clothes, shoes, cardboard, etc., tree limbs, stumps, leaves, any yard‐clearing debris, construction/demolition materials such as lumber, toilets, windows, doors, etc., any hazardous materials (oil based paint, pesticides, etc.). Water based paint can be picked up but must be dried out. All normal household garbage must be disposed of in your black can.
RESTRICTIONS:
PLEASE DO NOT PLACE ITEMS FOR THE COUNTY LARGE ITEM PICKUP AT THE ROADSIDE UNTIL THE DAY BEFORE YOUR PICKUP WILL BE HELD. IF THE COUNTY DOES NOT TAKE AN ITEM(S) YOU PLACED ON THE ROADISDE, IT HAS BEEN REJECTED AND MUST BE DISPOSED OF AT YOUR EXPENSE. TAKE PRIDE IN YOUR HOME AND RESPECT YOUR NEIGHBORS. DO NOT LEAVE TRASH AT THE ROADSIDE EXPECTION IT TO BE PICKED UP.