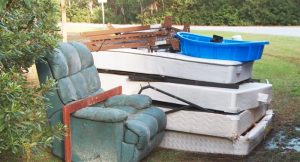 qLarge-item pickup for Hatteras Island is scheduled for the week of March 22, 2021. Please have all items that need to be collected placed at the curb no later than 8 a.m. on March 22, 2021.
Dare County Public Works will be starting in Hatteras Village and then working their way north. Once the items have been removed from your house, please do not place more items out as there will not be a second pass.
Large-item pickup is for residential customers only. No commercial business debris will be picked up.
Large-item pickup will also take place in the other unincorporated areas of Dare County beginning Jan. 26, 2021. For detailed information on pickup dates in these areas, visit www.darenc.com/departments/public-works/large-item-pick-up.