James D. "Keeper James" Charlet will be presenting a new program at the upcoming Hatteras Village Waterfowl Festival. The place is the Hatteras Civic Center, Hatteras Village; the date is Saturday, February 25 and the presentation is on the Main Stage at 3:00 p.m. It will not only be the first time this program has been presented anywhere, but it will also be specifically for this event. He and "Miz Linda" will be at a table all day starting at 10:00 a.m. with his new book and they will be engaging guests. Photo ops are encouraged!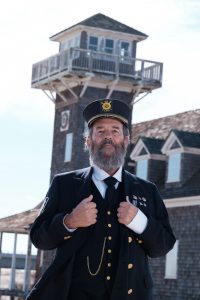 The program will be based on only one story from the 24 chapters in his best-selling book, Shipwrecks of the Outer Banks: Dramatic Rescues and Fantastic Wrecks in the Graveyard of the Atlantic, Globe Pequot Press. It is being sold by major booksellers in America, also in Europe, Japan, Australia, and others. It has been seen in the Antarctica and Scotland. But it all started right here on Hatteras Island!
The presentation will consist of narratives combined with oral readings directly from the book. But which story? Will it be about Richard Etheridge and his all-Black crew? – Chapter 5. Or about Chapter 11 and how Keeper Patrick Etheridge originated the phrase "The book says we gotta go out – don't say nothin' about coming back"? Or is it Chapter 9 and the 55 consecutive hours that a Station Keeper spent responding to four different shipwrecks and saving eighteen sailors mostly by himself? Or Chapter 15 how the Wright brothers success was directly due to the critical help they received from the Surfmen of the Kill Devil Hills of the United States Life-Saving Service Station No. 13? Or is it about James' direct experience with the 2012 Coast Guard rescue of the movie ship Bounty during Hurricane Sandy – Chapter 7?
Or maybe something completely different? Come to hear the legend to find out!
Keeper James' book will be available for purchase, and he will personalize it for you.
SPECIAL: Unique, custom mini-bookmarks specifically for this event will be issued with each book sale!
Saturday is a full day of events, starting at 10:00 a.m. with demonstrations and creative offerings from local vendors. All events are free and open to the public.
See the full schedule at https://islandfreepress.org/hatteras-island-features/hatteras-village-waterfowl-festival-shares-schedule-of-events-for-saturday-feb-25/.
Keeper James Presentations TM is a series of live programs presented by local historians, historic interpreters and performers Keeper James Charlet and Linda Molloy. Each program about the U.S. Life-Saving Service consists of appetizers of true, exciting, highly dramatic Outer Banks stories of 'America's Forgotten Heroes.' For more information, see www.KeeperJames.com/programs.