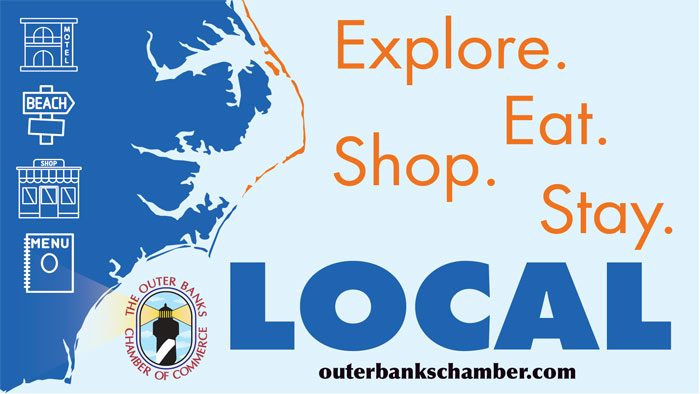 The Outer Banks Chamber of Commerce has introduced the new "EXPLORE, EAT, SHOP, STAY, LOCAL" campaign for 2021.  While the OBX has experienced an early influx of visitors to the area the Chamber wants to keep the focus on local spending.
"Dollars spent locally circulate throughout the region and cotinue to help all our businesses prosper; the EXPLORE, EAT, SHOP, STAY, LOCAL program helps to remind our visitors and locals alike to spend their funds locally to see the best return in our economy", says Richard Hess, Chairman of the Board and local Sun Realty realtor.
By promoting visitor attractions and Chamber members, Runt's OBX Tour kicks off the 2021 season. Runt is the Chamber Cat that has a traveling stuffed replica.  Runt's OBX Tour, an Outer Banks Chamber Facebook promotion, kicks off May 10 daily and runs through May 21.
"Like" the Outer Banks Chamber of Commerce FB page and join Runt's OBX Tour by guessing what popular Outer Banks attraction Runt is visiting daily. If guessed correctly, your name will be entered into a drawing to win a gift from an Outer Banks Chamber member business.
The Outer Banks Chamber of Commerce is an advocate for business on North Carolina's Outer Banks representing 1,000 businesses and organizations throughout Dare County, Currituck County, Ocracoke Island and beyond.