The 27th Annual Island-wide Food Drive to stock the shelves of the Hatteras Island Food Pantry in Buxton is now underway and will run through Dec. 31. Only with your support will this non-denominational, non-profit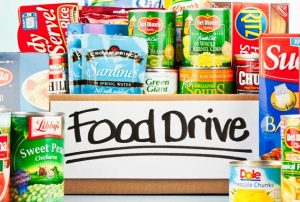 outreach be able to meet the needs of our island community this winter.
Whether you donate unopened non-perishable food, personal care items, cleaning supplies, dog food, cat food, kitty litter, or money, 100% of all donations goes to assist island residents. Items in highest demand are tea bags, sugar (small bags), coffee, powdered coffee creamer, cooking oil, pasta sauce (not tomato sauce), canned veggies especially mixed veggies, spinach, collards, peas, creamed corn, carrots, and beets (not green beans), canned fruit (not applesauce), and cereals.
Here are this year's convenient drop-off locations:
Our Lady of the Seas Catholic Parish Social Hall in Buxton (24-hr. drop box on porch – that's the hall, NOT the church)

Frisco Rod and Gun/Frisco Market in Frisco (daily 6 am-9 pm)

Surf-or-Sound Realty in Avon (daily 9 am-5 pm)

Midgett Realty in Hatteras, Avon, and Rodanthe (daily 8:30 am-5:30 pm)

Outer Beaches Realty in Waves, Avon, Hatteras (daily 9 am-5 pm)

Crescom Bank in Buxton (Mon.- Fri., 9 am-5 pm)

Sun Realty in Avon (daily 9 am-5 pm)
If you'd like to help but you live off-island or don't have time to shop, then consider making a monetary donation. No amount is too small, and all donations are tax deductible. Checks may be written to United Methodist Men, the group that manages the pantry, and sent to Hatteras Island Food Pantry, PO Box 1591, Buxton, NC 27920.
Please contact food drive organizer, Linda Browning, at (252) 995-3662 if you need more information.