Off-Season Osprey Monitoring Project Launches – and the Public's Help is Needed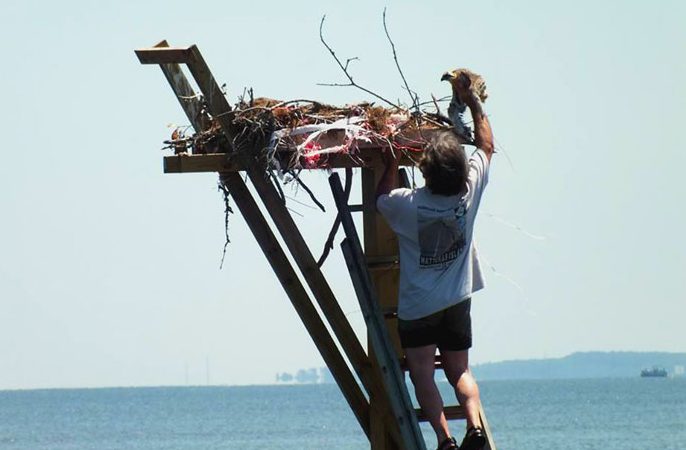 Longtime Hatteras Island Wildlife Rehabilitator Lou Browning is undergoing a Hatteras Island-wide project on our local ospreys, and the public's help is needed to move forward.
The project, which will extend throughout the winter, is being orchestrated to accomplish two goals. The first goal is to get a clearer picture of the number of osprey nests on Hatteras Island, and the second goal is to determine the amount of manmade debris – (like kite or balloon strings, plastic bags, or nets) – that may be incorporated in each of the individual nests.
The debris is an essential component of the monitoring project, as the foreign nest material can cause a number of problems for the nest's seasonal occupants.
Browning, who continually works with injured wildlife of all varieties as a Hatteras Island Wildlife Rehabilitator, reports that he addresses at least one osprey entanglement every year. Both adult and baby osprey can get stuck in the debris, which can range from kite strings or fishing lines, to discarded T-shirts.
"My first entangled adult was back in the Water Plant area more than 20 years ago," says Browning. "The osprey was hung in fishing line in the nest, and we discovered that it had been hanging there for several days, upside down by the leg. That bird went to the Carolina Raptor Center, and had to be euthanized."
Browning receives and treats entangled birds all year long, and specifically seagulls and other birds by the beach that may be trapped in fishing line. But the osprey come in contact with debris via a different method, by picking up limbs or material that may have manmade garbage involved, and then using it to build their nests – literally with strings attached.
"I think the picture [recently posted] on Facebook really brings it home," says Browning. "It's a picture of a nest in Duck that had kite strings. We had an entangled baby osprey that was hanging under it, which was cut out by some volunteers."
Browning estimates that there's roughly a dozen or so osprey nests on Hatteras Island, although this project will certainly paint a clearer picture on a more exact tally.
But he says that it's the debris involved in the nests, and not just the number of nests themselves, that will provide the most valuable info.
"That's the point of what I'm doing," he says. "It's more than just looking and noting how many nests we have, and how many are successful. That's certainly good information to have, but the emphasis is to look at the problem of garbage, plastics and entanglements in the nests themselves."
While the ospreys are away this winter, Browning hopes to take high resolution photographs from the air and to compile a catalog of observations and numbers. The info will also be sent to the international organization Osprey Watch, which is a documentation program where people can record their nests and accompanying information.
Browning has a remote operator permit from the FAA to fly drones commercially over the nests to record images, however he notes that a little preliminary info is necessary before proceeding – particularly, whether the nests are already seasonally occupied.
Ospreys do not nest in the winter months, when the project is occurring, however great horned owls have been known to "rent" the nests for a little while in December and January, before the osprey return. Because of this fact, Browning is asking folks who are reporting an osprey nest to note if there have also been any owl sightings in the immediate area. If the info is not known, Browning will monitor the nest before taking pictures to ensure there's no owl activity.
Even though the project itself is a bit of a big undertaking, helping out with collecting the info is easy to do.
Visitors and residents are asked to simply record what they see – with details such as location, accessibility, and / or the presence of owls – and to pass that info along to Hatteras Island Wildlife Rehabilitation.
"It can be a verbal description, it can be a map – however they can get that information to me will be fine," says Browning.
And while it may be several months before a better picture of osprey nest activity and conditions are known, the immediate evidence suggests that debris will ultimately play a factor in the overall health of the nests.
"I know it's a problem. I get line entangled birds all year long," says Browning. "There's just a lot of line, string, and debris laying around… and it would be lovely if we can figure out some way to keep this from happening."
How to Get Involved and Report Osprey Nests
The information needed is:
Osprey nest observations can be sent via Facebook message to https://www.facebook.com/Hatteras-Island-Wildlife-Rehabilitation-316636688958/.