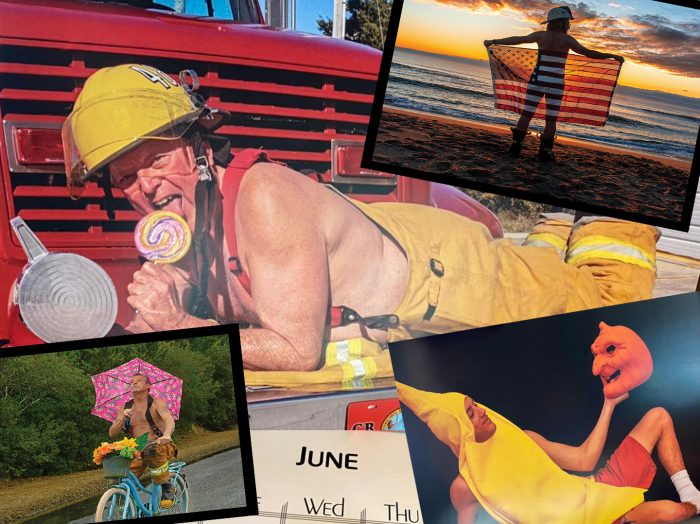 The brave volunteer firefighters of the Tri-village's Chicamacomico Banks Fire & Rescue (CBFR) team are bringing the heat this summer, thanks to the latest edition of their highly anticipated and undeniably steamy "Burning Love II" calendar.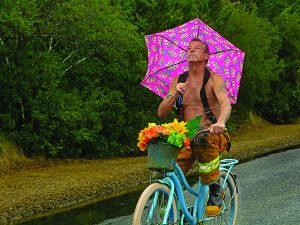 The fundraising project, which was first launched in 2020 and is orchestrated by lifelong volunteer and current CBFR Secretary, Elaine Hooper, features more than a dozen of the organization's finest in slightly risqué poses, which celebrate each month with style.
"Last year, we didn't do a calendar, because of COVID restrictions and just being so busy," says Hooper. "So this year, we decided to do it again, by popular demand of the guys and gals in the department."
Hooper says the team was fully on board with the calendar project from the get-go. "I guess they are gluttons for punishment? Because they all said, 'let's do it again!' But [this enthusiasm] kind of goes with the vibe of our department – we're here because we're not all there."
The theme of the calendar is "dudeoir," which is essentially a romantic boudoir-style photoshoot, but for men. Hooper, who was the photographer and production supervisor for each of the shoots, says that she found a lot of ideas for the photos online, and then acquired props from local dollar stores to make magic in front of the lens.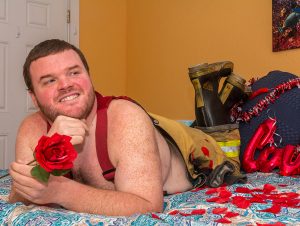 "Dudeoir is an emerging thing these days, so there's a lot of inspiration out there," she says. "Some [photos] are hot and steamy, and some are tongue-in-cheek, and we mainly got inspiration from the more tongue-in-cheek photos. These guys are like my brothers, so it would be too weird to get hot and steamy with them."
The photoshoots began in early 2022, starting with a 2020 calendar veteran and favorite, (and pastor of the Fair Haven United Methodist Church in Rodanthe), Tim Fitch.
"Tim Fitch was my first shoot, and his wife, Sarah, came out to egg him on," says Hooper. "He is Mr. Valentines Day, so we did a bedroom shoot. It was romantic – like a boudoir shoot with a beautiful woman – only with Tim Fitch, and his wife saying 'oh yeah, give it to me baby!' in the background."
This first photoshoot set a fun tone for the dozen or so shoots to come.
"I love them all, but one of my favorite shoots was modeled off some wedding photos I saw," says Hooper. "We went to the Salvo Day Use area in March or April, and I gave [the model] some fake flowers, and we did a bunch of photos at sunset, so it's a gorgeous setting as he's looking longingly out at the water, or lounging seductively in a palm tree."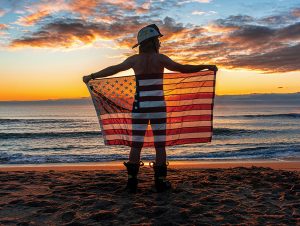 "My other favorite shoot was [our] chief. We went out at sunrise, and he stripped down to his boots, helmet, and what I thought was going to be a pair of trunks, but he forgot his trunks," she says. "So we have him at the beach, looking at the sunrise, with an American flag [behind him.] I thought it was too early for folks to be out on the beach, but folks were on the beach… Everyone gave us a really wide berth."
There are a couple of additional surprises for calendar fans this year as well. For the first time ever, the calendar features a female firefighter, Jessie, who is Miss March.
"Since we put guys in more feminine poses, we gave Jessie a chainsaw and had her chop open a pinata," says Hooper. "I think we like to turn gender on its head a bit."
The other surprise is that instead of a 12-month calendar, the latest edition features a full 18 months, starting in July 2022 and extending through 2023, for an extra-long heatwave.
"We did an 18-month calendar to cater to our vacationers," says Hooper. "They can pick it up at the end of June or July. It's a full 40 pages, with 18 months of photos."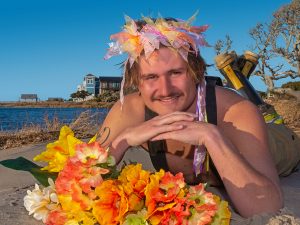 2020's calendar was an undeniable success, raising approximately $2,500 for the volunteer fire department. Time will tell if this latest edition will be just as hot, but with folks already requesting a copy, it's likely that the 2022/2023 calendar will also garner plenty of excitement.
The calendar is expected to be available by late June, and folks can pick up a copy at the Chicamacomico Banks Fire & Rescue Station, as well as local Tri-village area stores, including the Rodanthe Surf Shop, Sweet & Salty, and the Hatteras Island Pet Resort.
Folks can also reserve a copy (or copies) via email at cbfdcalendars@gmail.com.
The cost for a calendar is $15, which covers 18 full months of burning love.
The first 500 copies, which are in the process of being printed, are expected to go quickly, but folks who miss their chance to pick up their calendar of the Tri-village's finest will hopefully have additional opportunities in the years to come.
"We have a large firetruck purchase in the near future, so we'd love to beat 2020's [totals]," says Hooper. "We're enjoying it so much, so I don't see why we wouldn't make this [an annual tradition.] We'll get together, and embarrass ourselves, and say 'Oh my gosh, that was terrible… let's do it again!"