The 2nd Annual Waterfowl Festival was held this past weekend, February 21 to 23. This year, the festivities were held at three locations in Hatteras Village: the Hatteras Civic Center, which was the main hall with vendors, demos, and a snack counter; Hatteras Island Ocean Center, where children's activities, and educational events were set up; and the Hatteras Community Building, which housed several displays of decoy collections, wood art, and the United States Federal Wildlife Duck Stamp Art Exhibit.
The Hatteras Civic Associations sponsored the event, and estimated that the festival attracted close to 200 attendees this year, even though there was a winter storm the night before the event was scheduled to kick off.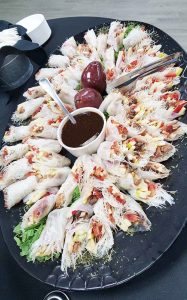 The doors opened at 5:30 p.m. on Friday, February 21, as the festivities kicked off at the Hatteras Civic Center with a "Fin, Feather, and Bourbon" dinner. The Hatteras Civic Association sponsored the menu and devised the menu items as a group effort. However, Dee Callahan and her talented assitants, Chris and Faye, donated their personal time on Friday and again on Saturday to "stick their foot in" amazing dishes like Duck & Andouille Gumbo over Rice, Shrimp and Smoked Gouda Grits, Bacon Wrapped quail Legs, Bourbon Beets wrapped in Bacon, Jack Daniels Candied Bacon, and Pulled Duck with a Blackberry Reduction.
Believe it or not, there were also vegetables, like Grilled Asparagus and Harvest Spring Rolls, not even wrapped in bacon. There was also a beautiful Charcuterie table that featured such cheeses as Brie with Fig preserves, and beautiful dessert presentation of Mini Baklava, Himalayan Sea Salt Caramel Brownies, and an assorted variety of Cheesecake Lollipops; key lime, raspberry, tiramisu, and cookies & cream. Dee, Chris, and Faye deserve a round of applause for their amazing creations, and for keeping everyone from getting hungry over the weekend's events.
The main event hall, the Hatteras Civic Center, also housed the CHSS Waterfowl Art Contest the entire weekend, and attendees of the festival were encouraged to vote for their favorite. A donation-based bake sale was held on Saturday for the Hatteras Target Shooters as well as a gun raffle. An array of T-shirts and posters available to purchase to support the Waterfowl Festival were sprinkled among the mostly local vendors, but some brave vendors from off island braved the roads during the "almost snowpocalypse" of 2020.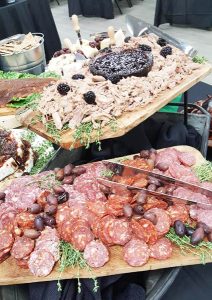 Funktional Art by Sarah Gill immediately caught the eye upon entering the main hall. She uses naturally colorful wood such as purple heart, zebra wood, and ebony to design one-of-a-kind, naturally colorful, and indigenous wildlife wood murals, pieces for your home, and also smaller pieces for jewelry. She also sells some of her designs as educational coloring sheets for children and adults seeking a fun way to learn about our natural wildlife.
Veterans Creed Outdoors booth was manned by Chris Mooring, Pro Staffer, and associates, standing proud and tall at their booth as you entered the building. Their motto is "Serving our Nation's heroes through the great outdoors" and they represent Team NC. They were giving away some awesome swag, and they were doing silent auctions on several quality waterfowl-themed artworks.
Christina Deneka with Hollow Daze was promoting her handmade natural castile soap and skin care products. Christina has a plethora of knowledge when it comes to essential oils, and the holistic properties they have. Her skin care products are all-natural. She is even using sea salt harvested by Hatteras Saltworks, from the ocean at the Avon Pier. She is also a committed member of the local art community and can be found at several local farmers' markets.
Joan Sears is a Hyde county resident, who makes her painted, reclaimed wood art from old barns, rafters, and trees. The work displayed at her booth, she confided, was made from a tree that was over 200 years old when it was cut down to be used for a barn in the 1800s. This barn was destroyed by Hurricane Isabel, and that is when it tickled the fancy of Joan Sears. Joan reclaimed the wood, and made oyster knife handles, and holders, paintings, and signs with the material.
Hawk Manor Falconry with Chip and Summer Gentry had both a booth inside the main hall, as well as live demonstrations in the main event tent.
They definitely stole the show with their falconry history, physiology, and falconry and raptor education. Their two-person interactive show was both educational and entertaining for viewers of all ages. Chip and Summer have that family-next-door (with vultures) feel that audiences can relate to. Their booth inside the main hall coincided with the flight demonstration in the main event tent just outside the civic center. Master Falconer, Chip Gentry, packed the event tent twice. His show was a perfect blending of information and entertainment with an interactive, condensed history of falconry, and some insight into his simple training methods, which include constant handling of the birds until they no longer think, "if I take my eyes off this giant, he's going to kill me and eat me!" Chip and Summer displayed one giant bird after another in a meet and greet of his pets, which included an array of birds of prey: a Red hawk; Mr. Anderson, his hooded Peregrine Falcon; Maggie a black vulture; and the crowd-pleasing, loveable, and imprinted, Annabelle the barn owl.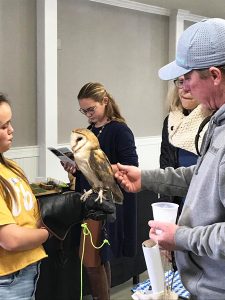 The event tent was the hot spot of the day for the Duck Call competition, naming three winners in three divisions; junior 10-14, senior 15-20, and an open division. The judging criteria was based on the ability to summon a flight of ducks using the following calls: hail or long-distance call, mating call, chatter call or feed call, comeback call, or overall routine. Contestants were allotted 90 seconds to complete their series of calls while the judges faced away from contestants, to concentrate on the call routines. After the first round of calls, the top three contestants with the highest scores were brought back for a "callback" to determine the winner of each division. This tent was alive with duck calls of every variety, and even the youngest waterfowl enthusiasts were joining in the audible fun!
The Hatteras Community Building housed the USFW Duck Stamp Art Exhibit, which helps celebrate and protect migratory birds. Every purchase of a Federal Duck Stamp buys habitat on National Wildlife Refuges and Waterfowl Production Areas, which are all part of the National Wildlife Refuge System.
The Hatteras Community Building also housed the personal collection of Carol Midgett and his daughter, with a variety of decoys made in all styles, and of several mediums. A collection of the late Vester Callahan, a Kentucky native who retired to Hatteras Village to carve decoys, was also on display.
Sam Green, of Decoys on Hatteras, had a booth set up with his beginning-to-end display and demonstration of his handcrafted canvas decoys. He explained, "Historically, good carving trees were scarce. The natural wood here was not suitable for carving. If you look at all the scrub pines, I imagine it was probably the same way hundreds of years ago. And if they brought wood by barge, that would've got kind of expensive. Someone hit on the idea, they were salvaging everything they could, so take the timber they salvaged from shipwrecks, and make him a frame like that…" he said pointing to a canvas duck decoy frame on his table, "and cover it up with some of the old torn up sails [they] had laid back…back then, everybody was using sailing vessels. Well, when it all fell in place, it all made sense!" Sam Green devotes most of his days to giving demonstrations and instructions on traditional canvas decoys and can usually be found at the museum.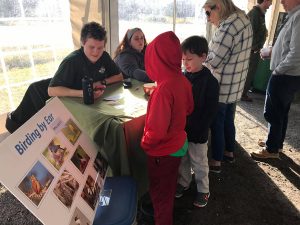 Game Bird carvings by Gregory Berry could also be found at the Hatteras Community Building. He proudly displayed his detailed carvings, and divulged his intricate details. Alongside his booth, Blake Solomon had a lovely display of waterfowl decoys and hand-carved waterfowl wood art, including hand-carved spoons made of reclaimed Hatteras Island wood. He had several displays eluding to the step by step process of his carvings, along with his wood carving tools. He explained, "the smaller items are just as difficult to carve as the larger items," and over the years, he has begun using household items and techniques to make his artwork stand out, such as cinnamon in the details and heating the wood in the oven, to achieve beautiful results.
The Hatteras Island Ocean Center was the third location of the festival, and each site was marked with blade flags, and just minutes from each other. The Ocean Center was the location for children's activities, educational exhibits, and the Salt Marsh Strolls on the paths behind the building. The U.S. Fish and Wildlife Service and Pocosin Lakes National Wildlife Refuge were in attendance with maps and informative brochures, waterfowl identification pocket guides, and real-life examples of waterfowl wings used in training for identification. The National Park Service was also there promoting their Junior Seashore Ranger Program for children ages 5-13, which encourages children to "Explore, learn, and protect" our seashore with individual or family activities guided by park rangers.
The N.C. Wildlife Resource Commission was on deck with "EcoExplore," an initiative of the N.C. Arboretum, where children earn points, badges, and prizes by sharing their own wildlife observations. The program encourages children to get outdoors all year, and explore exciting fields like botany, the study of plants; herpetology, the study of reptiles and amphibians; entomology, the study of bugs, and ornithology, the study of birds. Children earn points by uploading photos, making wildlife observations, and identifying plants and animals. They began their ornithology on site with "Birding by ear," where children listened and identified local bird species by their calls.
Inside the Ocean Center, interactive exhibits about current issues affecting our local waterfowl and sea turtles were on display in a straightforward approach that delighted all five senses, and which children of all ages could grasp.
The Hatteras Civic Association also sponsored several Historic Hatteras Bus Tours, manned by native and local historian Danny Couch, which shuttled from the Civic Center several times on Saturday, February 22.  The bus toured Hatteras Village and touched on fascinating time periods on Hatteras Island. Danny touched on subjects like the islanders' role in the Civil War, Fort Hatteras, beach erosion and the implementation of dune construction, and the importation of the not-so-indigenous sea oats, which happened so long ago, some locals don't even know that the sea oats are transplants from Massachusetts!
Danny Couch also went into great depth speaking about the porpoise factory, where every part of the animal was necessary and put to good use. He explained the little-known fact that the original "Oil Skins" used by fishermen had been made from the extremely durable, and water-resistant skin of the porpoise.
"L.L. Bean has yet to come out with anything even close to comparable in durability or water resistance as those original oil skins, (made from the skin of porpoise)," Danny said on the tour.
The Hatteras Bus Tour was the perfect prelude to the Historical Hunting Talk held in the event tent at the main hall, hosted by Danny Couch as well. Here, Danny focused on the Gooseville Gun Club, which helped to shape our county as one of the leading sportfishing and duck hunting destinations in the state. Before golfing was the leader in prestigious sports, men like John and Andrew Carnegie, Charles and Theodore Edison, and George Vanderbuilt were operating the Gooseville Gun Club, where the U.S. Coast Guard station now sits. Danny Couch pointed out that "76% of our county is water, and of the 24% that is land, 80% is owned by… the National Park Service. The federal government declaring most of our land as National Park saves our small island from corporate takeover, and has helped propel our economy to #4 in the state. Had the park service not rushed in to set aside the land, those guys back in the Gooseville Gun Club days were already trying to buy everything up, then we'd have Walmart and Wings on every corner."
Danny also explained how the Scarborough family came to scoop up the Ancestral home of Wanchese, Wingina, and Manteo's Indian Queen mother's ancestral home, and referenced where it is located presently with a "You know where ole such and such used to live? That's where it was." He also recounted a brief history of the site now known as King's Point, once the sighting of "blonde-haired, gray-eyed Indians by a surveying crew led by Peter Brooks in the 1700s."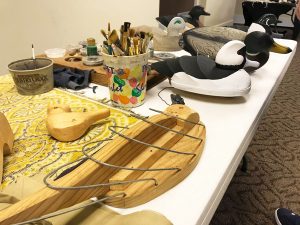 Danny Couch has a unique way of delivering a lot of facts that both instilled pride in our hometown and reflected on the hardships and unique challenges, and which put our local value system into context. He is a great addition to any local festival, as he is a Holy Grail of island knowledge.
Dee of the Marlin's Club, Chris, and Faye, donated their personal time to cook yet another spectacular feast on Saturday in the main hall at the Hatteras Civic Center to bring the 2nd Annual Waterfowl Festival to a close. Around 200 guests are estimated to have attended the event, and while some vendors canceled due to the storm the previous night, the event was a total success for all who attended the Hatteras Civic Association-sponsored event, and we look forward to the festivities again next year!