The 9th Annual Surfin' Turkey 5K is gearing up for its Thanksgiving race day, but for 2020, the charity event is going virtual to provide a safe racing environment, as well as an opportunity for Hatteras Island fans everywhere to join in the fun.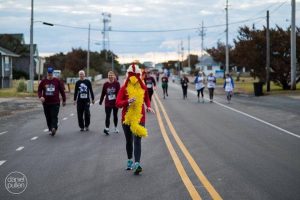 The Surfin' Turkey 5K is one of the main fundraising events hosted by the Hatteras Island Youth Education Fund (HIYEF), which supports the educational needs of students on Hatteras Island by providing equipment, materials, and experiences that would otherwise not be available through public funding. For example, in the spring of 2020, (when islanders were just starting to feel the financial effects of the Coronavirus pandemic), the organization made waves by successfully launching the Fuel for Focus program, which gave every Hatteras Island student $50.00 of "HIYEF Bucks" to use at participating businesses for the purchase of take-out and other food items.
This year, the theme of the race is "Surfin' Turkey: Trotting Together," and unlike prior events where the race had a strict starting time hours before Thanksgiving dinner, folks will have multiple days to complete the race on their own time, and at their own pace.
The traditional course will still be stationed in Hatteras village with markers and decorations, and participants are still encouraged to don their Turkey Day best for the chance to win a coveted best costume prize. However, there will a few adjustments due to the COVID-19 pandemic, which will make the Surfin' Turkey 5K just a little different in 2020.
For one thing, the best costume prize will be judged online by fans of the HIYEF Facebook page, and for another, participants can still join the race despite being miles away from island time. Folks can also complete their race within a multiple-day timeframe – from November 26 to November 29 – which means that they can run before or after their Thanksgiving feast.
More details on the virtual Thanksgiving week race are below, and folks can register for the race online at https://www.hatterasyouth.com/surfin-turkey-5k.
Location
Folks on Hatteras Island are encouraged to run the event's annual USATF Certified Course in Hatteras Village. The traditional Surfin' Turkey course will be marked and decorated for individuals and Rafter Groups. Participants are also encouraged to dress up and take a finisher photo at the provided backdrop located at the Hatteras Village Civic Center.
Not on Hatteras Island for Thanksgiving this year?
Participants can run, walk, or jog on the road, trail, at the gym, or on a treadmill. All participants can run at their own pace and submit their finish time online.
Registration
Cost is $25.00 (+$3.00 signup fee)
Registration includes a T-shirt and access to the RaceJoy app to track and time your run.
Recognition
-Top Three Rafter Costumes, to be judged by the most "LIKES" on HIYEF FB Page
-Top Three Rafters that raise the most money for the cause
Virtual Race Details
The Surfin' Turkey is a family-friendly event. Participants who choose to upload times and track their race can do so by downloading the RaceJoy app.
Participants can run the Surfin' Turkey between Thursday, November 26, and Sunday, November 29. Folks who decide to dress festively or participate in a Rafter group can email their costume photos to hatterasyouth@gmail.com with the subject "Surfin' Turkey" by Sunday, November 29, at 7:00 p.m. to be entered into the contest.
Costume photos will be posted that night. Photos with the most LIKES on the HIYEF Facebook page by Tuesday, December 1, at 5:00 p.m. will win. Winners will be announced on the Facebook page, and will receive a prize.
In-Person Packet-Pick-Up
There will be a drive-thru packet pickup at the Hatteras Village Civic Center on Wednesday, November 25, from 4:00 p.m. to 6:00 p.m. Only participants registered before midnight on November 1 will be guaranteed their selected shirt size if they choose on-site packet pickup.
Mailed Packets
For participants who choose to have the packet mailed, all participants registered before midnight on November 1 will receive their T-shirt before Thanksgiving Day.
Additional T-shirts may be purchased for $20.00, depending upon availability
Refund, Transfer, and Weather Policy
This is a non-refundable charity event. There will be no refunds or transfers.
Can't participate? You can still help!
The Hatteras Island Youth Education Fund appreciates any donations made to their cause. DONATE TODAY