Sometimes to change your beachcombing luck, you have to change your perspective, and discover new hunting grounds for shell and seaglass finds. This past week, a couple of shelling colleagues and I did exactly that, by embarking on an inshore shelling trip with Family Water Adventures.
Inshore trips that focus on other activities besides fishing are growing in popularity, and this is especially true when it comes to shelling-specific adventures. On a shelling trip, you get to explore the small islands in Hatteras Inlet that come and go with the tides, leaving a number of undiscovered treasures behind.
The morning of our shelling trip started off partly cloudy and breezy from the south, which put a slight chill in the air, but none of us adventure seekers seemed to be bothered by it. We loaded onto the boat, and within a matter of minutes, we were passing the huge ferry bound for Ocracoke. We cruised by with ease and followed the soundside of Hatteras point. This section is always so beautiful, because there are several dead trees that stick up out of the water that look to me like giant Medusa wigs.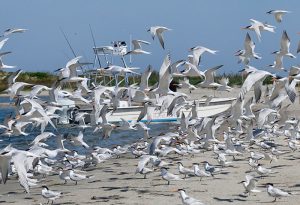 Our first stop was Bird Island, which is a very noticeable island just off the Hatteras docks, and which is full of birds, (just as the name suggests), with pelicans sitting all bunched together behind a brush line, and gulls and terns squawking overhead. The main body of this sand island is closed off during this time of the year for the protected birds, but we were able to walk the perimeter of the shoreline.
As we explored this first island, we found some gorgeous pieces of seaglass, a few lovely seashells, and a couple pieces of beautiful driftwood. There were just a couple small pieces of trash, like a few bottle caps and plastic bag pieces. I always bring a bag for trash, and Captain Tami has a bucket to keep it separate from the treasures. Since most of the sand islands we visited that day are always changing and being covered by the tides daily, it's more important, in my opinion, to collect the garbage that is seen.
It was still high tide as we were made our way to our second island to see if the conditions were right for shelling, which was located in between Ocracoke and Hatteras, where the sound and the Atlantic Ocean collide. There is so much history that lies beneath the waters of this area, and it not to be ventured upon lightly. As soon as we approached the opening, I thought about the legend of the white dolphin, Hatteras Jack, who led boats safely through the shallow inlet to the harbor – an area notorious for shipwrecking boats due to the strong currents and violent weather constantly changing the shape of the boat channels. Yet another reason to have a trustworthy Captain at the helm.
The week we went on our shelling trip there was a full moon, known as the pink moon. Full moons cause the tides to be physically higher and lower than normal, which can be good and bad for a
beachcomber. Sometimes when the tide is too high, a beachcomber cannot gain access to their favorite spot because the water is covering the entire beach. Often times for me, I find that a full moon will bring the tide up so high that the shell pits which are usually exposed are covered by water, and I have to wait until low tide to be able to search through them. We found this to be the case on this morning, with the islands completely covered by inlet waters, so we decided to head back to Hatteras village for some lunch before venturing back out during low tide.
After our delicious lunch at the Snack Shack, we went back out to the inlet, and as we approached, there were so many newly exposed, tiny islands of sand that it became very prevalent to me why so many boats are in danger of wrecking out here. When we had approached the spot in the morning, all we could see were swirling waves crashing in all directions, but now there was a small spit of sand.
Captain Tami pulled up, anchored the boat, and we all jumped out, darting off in different directions, and eager to explore this newly exposed island. I headed for an area that had a thick shell pit and immediately found 20 nice-size olive shells. The closer I studied the shoreline, the more I found, until I had collected over 100 olive seashells of various sizes ranging from 3'' to 0.5'', and in multiple colors. Some were dark brown, others were a mix of cream and tan, while others were grey and black. In this same shell pile, I found a lot of augers, slipper shells, baby's ears, lots of boldly colored scallops, nice wampums, and a very nice nutmeg shell.
We all were finding beautiful treasures on this cool sandy spot, and it was easy to forget that you aren't actually on the beach, but instead, you are practically in the middle of the Atlantic Ocean, which again is why I am so glad we had an experienced captain in change. Once Capt. Tami made sure the boat was secure, she joined in on the shellebration. Since she knows this area better than all of us, I wanted to go where she went.
As a sheller, I know you shouldn't invade someone's turf while they, too, are shelling, but Captain Tami wanted us to find the treasures, and to be able to reach down in the water and pull out the shell of our dreams. The truth, however, is that it's just not that easy. Some days the shells can be so bountiful you don't know which ones to take home, and the very next day there can be one broken oyster shell and that's all you find. Finding rare shells is truly a hit-and-miss deal with zero guarantees. However, having knowledge of the subject, and knowing about the area and the changes that go on, give you more tools to help you find these coveted treasures of the sea.
Within a matter of minutes of walking in the water surrounding the island, Captain Tami pulled a humongous and rather old horse conch out of the water.
She was standing in knee-deep water and saw just a portion of this gorgeous beast poking out, and although it is not intact, it was a magnificent trophy to behold. Horse conchs, especially ones this size, are rare in our area, mainly because we don't have the right environment for them to survive. Every now and then, a few can be found washed ashore after a tropical storm, but they are not a common shell to find on the Outer Banks. But here she was, last one off the boat and last one out hunting, but first one to find the treasure.
As the time flew by while we combed this awesome sandy island, what seemed like a few minutes quickly turned into a few hours. We found such an abundance and variety of shells that I told everyone I was going to move there. (Although I would have to find a builder who could build me a shack on stilts in less than four hours, but a girl can always dream, right!) We found some big, beautiful whelks, and lots of sand dollar pieces, but no whole ones. I suspect it was too windy for the fragile sand dollars to survive intact upon the sand, and rest assured, no live shells were and are never taken.
As we finished beachcombing the entire mid-inlet island, (very thoroughly), Captain Tami said we had time to check out a few other spots, as there were several sandy islands that had popped up, thanks to the extremely low full-moon tide. The water had turned more tropical looking, and you could see so much more beauty in every direction, and I was in complete awe. I truly felt transformed.
As a working resident of Hatteras Island, it is very easy to get swept up in the business of the tourist season, and with the pandemic happening, our area has seen a steady increase in economic growth. So we have all been working a lot longer and more hours than usual, and we haven't had the chance to take a real break from things.
This trip provided us all with just that. On our first ride out, I could feel the stress melting right away, and by the end of it, I felt like a full-blown tourist. I took pictures of birds that I've seen thousands of times, videoed the ferry that I have seen hundreds of times, and collected shells for hours like it was my first time beachcombing, but I was so relaxed and at ease, I didn't care. I wanted to capture everything that was going on around me, so that I would be able to make that feeling last forever. Suffice it to say, by changing up my beachcombing routine, and taking an inshore shelling adventure, I was able to fall in love with Hatteras Island all over again, in one boat trip.