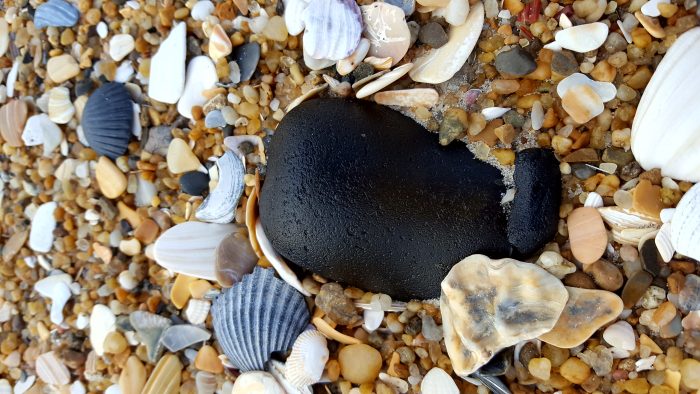 Pirates raising their rum bottles and clinging them together in agreeance with a shout of "Yarrrrrr, Matey!" is what comes to my mind whenever I find a piece of black seaglass.
I always imagine the onion-shaped rum bottles shattering in their hands, with the broken pieces tossed overboard without a second thought.
Fast forward to today, and these broken pieces can be discovered by beachgoers as black seaglass, or as I like to call it, pirate glass.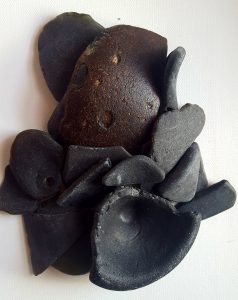 Pirate ships were no strangers to the shores of the Outer Banks, and neither were their rum bottles. After hundreds of years of these bottles being tossed around by the sometimes extremely violent and vicious waters of Hatteras Island, these black chunks occasionally appear on the shore to a beachcomber's delight.
Rum bottles were very frequently used, if not essential, for survival at sea by pirates and sailors alike. A mixture of lime, sugar, and rum was consumed to prevent scurvy. Water was usually too contaminated to drink. Whiskey was said to be the drink of gentlemen, and other alcohols like gin were too heavily governed and highly taxed, so rum ended up being the drink of choice in a pirate's life.
Since it was made in the Caribbean, it was easy for pirates to purchase or obtain, since the reign of piracy mainly occurred in this region. Rum was inexpensive to make on the remote islands, and it could also be stored well, lasting for long periods out at sea or on hot tropical islands. The black glass bottles which held their precious rum played an important role in the preservation of the liquor. Throughout the 1800s and even earlier, black glass was used to make bottles to hold spirit drinks, as well as other items, but mainly alcohol.
Glassmakers added heavy amounts of iron oxides, manganese, or other components like copper with iron to these vessels, which helped to make the bottles more durable. Having strong glass bottles to store the alcohol on ships was also critical when at battle with another ship, or when caught in a hurricane or other violent storm, as out at sea, there is no place for dainty glass bottles.
The sand that was used to make these bottles has traces of natural iron oxide, which when used to make glass, turns the vessel green.
The addition of specific metals by glassmakers changes the color of glass, and depending on what type of additive is used, it determines what color the glass will be at the end of creation. To make these black glass bottles, the addition of iron oxide as well as other components, like coal and ash, were added and made the bottles appear black.
The dark color helps keep the sunlight out, which in turn, helps preserve the alcohol. Sunlight can cause alcohol to spoil, and ships could be out at sea for months on end, so proper storage of supplies is crucial. The black glass bottles are not actually black, but in fact, when held up to penetrating light, are usually a dark olive green or an olive amber, and on rare occasions, deep jewel-tone colors like purple. Sometimes light cannot even pierce through the bottle, and the only way of knowing the vessel's true color is when it breaks.
In present-day 2020, beachcombers can find these bottles from the past as seaglass gems, but they are very often and easily overlooked.
The first time I found a piece of pirate glass, I was going back and forth over one little shell bed, gathering other treasures. When I first noticed the piece laying in the sand, I dismissed it as a piece of asphalt.  It was about 4'' long and it looked just like a black chuck of N.C. Highway 12, and I did not know seaglass could be so big or so dark.  But right before I decided to leave, I thought I might as well pick it up, and to my delight, it was a huge chunk of black seaglass. When I held it up to the light, it glowed a deep olive green, and the glassmakers breath was caught in an air bubble inside the glass. Ahoy, Matey, we have found Pirate Glass!
So the next time you are out hunting for seaglass on the great shores of the Outer Banks, be mindful of those black rocks you see, because there just might be a nice piece of black seaglass!