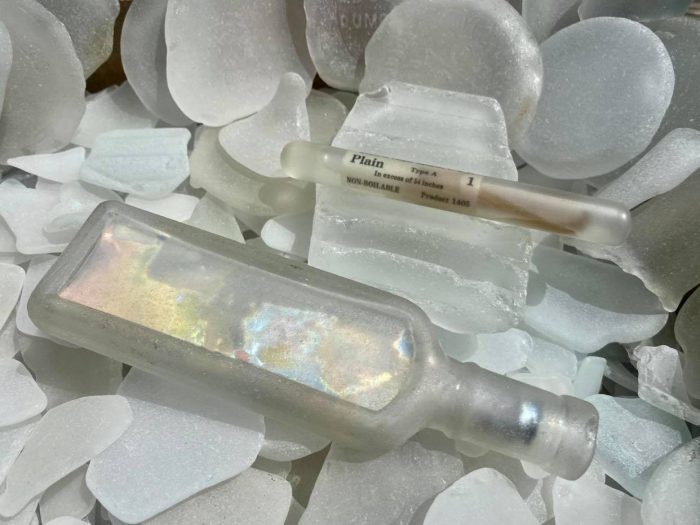 As an avid seaglass huntress, my favorite moment is spying a beaming blue or perfect purple piece tucked into a shell bed that has just been hit by a small wave, making the shells jingle like music as the water is pulled back into the ocean.
If there is one piece of seaglass to be found, my heart is content. If it happens to be a rare color, like yellow or red or pretty much all blues, it doesn't matter what size or whether or not it is completely "seaglassed up," I keep it. Many collectors have set standards for the condition of glass as to whether or not that piece of glass is ready to be called seaglass or not. If the glass is still slick or has sharp edges, or if the piece is not frosty on both sides, then many seaglass collectors consider it a "throwback," meaning the glass is not yet transformed into seaglass, and needs more time out in the elements. I personally do not apply this to rare colors, but I certainly apply it to clear glass or white glass, as this is the most common color of seaglass to find.
Most seaglass comes from discarded and broken bottles being submerged in large bodies of water over the centuries. The majority of bottles produced, especially now, are made from clear glass, thus making it the most common seaglass along the shorelines. Just sit and think about how many clear glass bottles you have in your household right now. Compared to colors like green or blue, clear glass is easily the most common. In fact, brown is the next most common color to find, and some may argue that it's more prevalent than clear, however, based on my many years of collecting, my clear seaglass outnumbers my brown seaglass, (but not by much.) Also, the variety of colors, and the amount of each color you may find, will vary depending on the history of the location where you are beachcombing.
Now, you may be saying to yourself, clear isn't really a color, and you are correct, but let me explain.
There are several chemical processes occurring to glass to turn it into seaglass. Over time, these processes will transform clear glass into frosty white seaglass. The frost that appears on all seaglass is actually a chemical process that is happening with the components the glass is made out of, and the water it is in. The higher the PH level of the water, and the longer the glass is in the water, affects how frosty or "done" the seaglass becomes.
The oceans have high PH levels, as does the Mediterranean Sea and the Great Lakes, so these areas tend to produce seaglass pieces that are frosty all over – unlike basic rivers and small lakes that tend to not produce collectible seaglass.
After a few successful seaglass outings, you will soon discover what I mean by clear being the most common color to collect, followed closely by brown. Many times, they are the only two colors I find, especially if the area has already been combed, which I judge based on the number of footprints I see in and around shell pits. Many hardcore seaglass collectors tell me they walk by clears and browns on purpose, and just hunt for the more rare colors, because they have too many clears and browns in their collections.
But those regular ole clear pieces have their values, too!
Some of my most prized finds are clear, like my intact WWII suture vile. This gem has the original sutures and saline solution inside, and I believe it floated up high onto the dunes after a storm.
On the very first Christmas I had to spend alone on Hatteras Island, an early 1900s rectangular bottle with the cork still in it washed up at my feet. It was full of saltwater, which eventually oozed out all over my beachcombing books, but it left behind a beautiful iridescent rainbow on the inside walls of the glass.
Plus, I can't forget about my two bottle stoppers, both of which have their own funny stories. The first bottle stopper I ever found was in Cozumel on a cruise, however, it only remained in my possession for a few hours because the security guard chucked all the pieces I found in the trash without hesitation, and with a quick "sorry, lady." Needless to say, I cried for a full four hours: the first two hours for the loss, and the last two hours for being a full-grown adult that was unable to stop crying over my missing seaglass stopper. It has been about four years now, and I can finally talk about it without getting verklempt.
My second bottle stopper came during the first few months of the Coronavirus pandemic, which I will also always remember. My boyfriend and I decided to go to Duck for a week, as I hadn't been off the island since January, and he is an ICU nurse and was in need of some R&R. It just so happened to be a full moon that week, and where we were staying, the shell pits were huge, every day. We met several local Duck residents and a few tourists hunting each morning when we would get to the beach, but we all were finding great treasures.
Each day we were on the beach, we would always walk to the right. Well on the fourth day, my boyfriend wanted to walk left, (typed with my eyebrow raised and head cocked to the side), to try something different.
Now, let me explain something here. There are no rules to beachcombing. No set way of doing it. No mathematical equation to it. You just have to go with love on your mind and kindness in your heart, but my mom has always told me to go with your gut and to never ignore it. Your gut is where you can feel your intuition, like a superpower, that you should never ignore, in any situation, to which I always apply to beachcombing. For me, if an area is producing seaglass or treasures, I don't cheat on it. I don't go wandering off, hoping for something better, and instead, I stick with that spot until it's done producing. I don't give up, because that one magical piece that's going to blow your mind might just be a wave away from being exposed. Each time a wave comes up over a big pile of broken shell bits means that, potentially, a glorious piece may come peeking out.
Back to my story. I know my boyfriend loves to try new things, more so than myself, and as soon as he had made the suggestion to go left, he could tell I was mega reluctant. However, since he had been dealing with the horrors of COVID, and I was trying to branch out, I hesitantly agreed. Although I must not have convinced him very well that I was on board, because we took about seven steps before he turned around and said 'let's go the other way,' (which, as I type, I am all smiles). Since I am a more experienced beachcomber, I always let him go in front of me, and then I will follow behind as the "cleaner" to make sure he didn't miss any, or to jokingly taunt him when he walks over a gem.
So we turned around and are walking the "right way" now, towards the area we had been finding many pieces of seaglass during the last few days, when he stopped abruptly. We had only been walking the way I had wanted to for about 3threeminutes when he turned around with the sweetest smile on his face. He carries a seaglass scooper so he doesn't have to bend over to pick up all of the trash and sometimes treasures, so I didn't see him pick up anything. He holds his hand out and says "Here, you would have already had found it if we had started off going this way!" And he drops in my hand a perfect bottle stopper.
There are so many other types of clear seaglass collectables, too, like glass handles or chandeliers pieces, buttons or jewelry, and we can't forget about my personal favorite – chunky insulator pieces.
I'm sure I'm leaving many out, so I would love to see your favorite regular ole clear piece, even if it's just a regular ole clear piece that you nevertheless value.
Like I said earlier, sometimes white frosty pieces are the only ones I find on a hunt, and it is my motto that "one [piece of seaglass] is better than none," even if it's just a regular ole clear. Email me at kristinhissong@yahoo.com with your favorite finds, and as always, happy hunting!
About the Author: Kristin Hissong is a North Carolina native and UNC Charlotte graduate, an Outer Banks resident of 15 years, and is a dedicated, "professional beachcomber." She has spent more than 20,000 hours walking on both our local shores and shorelines around the Eastern Seaboard, and has collected thousands upon thousands of items from the Atlantic Ocean. 
For the past seven years, she has been beachcombing on Hatteras and Ocracoke islands every day, collecting both treasures and trash on her routine expeditions. From typewriters to coffee makers, fishing rods to recliners, if you name it, there's a good chance she has seen it washed up, and has hauled it back to her collection, or to the closest dumpster.