Getting Ready for Thursday night. Photo by Pamlico Deli
The rise in popularity of Pamlico Deli's weekly wine tastings over the winter months could arguably be boiled down to four words: Free wine, good company.
But the Thursday night gatherings in Frisco have transformed into much more than just an opportunity to sample stellar wines and delectable food, and there are big things on the horizon at the deli and wine bar for islanders who want to continue to eat, drink wine, and be merry.
Pamlico Deli is a relatively new arrival to the Hatteras Island culinary scene. Opening in July of 2018 with a menu of varied sandwiches and take-home items, the restaurant coincided with owner Nicholas Blaskovics move to the Outer Banks from Virginia Beach, after roughly 35 years of regular vacations to Hatteras Island.
"I was at a point in my life where I was looking to make a change, and not do the same thing I was doing for the last 35 years," says the former federal contractor, who nevertheless spent decades in and out of the food industry. "As the idea of the deli came together, I started looking for a storefront, and the concept just grew from there."
Blaskovics may not have been routinely involved with the restaurant industry in the years prior to opening the Pamlico Deli, but his roots run deep, starting with his parents – a southern cook and a trained butcher. "At an early age, [my parents] taught me how to make a turkey. My dad said if you can roast a really good turkey, you'll never be alone for the holidays – You'll always have friends and family coming over."
In college, Blaskovics would cook dinner for girlfriends as he couldn't afford to take them out to fancy restaurants, and upon graduation, he moved to San Francisco where he worked at an Italian hot spot, and spent ample time exploring the vineyards of Napa Valley and Sonoma.
His wine knowledge grew from there, as he carved away opportunities over the course of a lifetime to travel to New Zealand, Italy, France, Australia, and other global spots where wine and food tended to take center stage. Over the years, he also took the sommelier exam, and passed the initial level.
So, in late 2018 when Blaskovics first launched his weekly wine tastings at the deli, he had a lot of experience to draw from.
"I'm a big believer in the pairing of food and wine together," he says. "Wine is fun to drink on its own, and food is nice on its own, but when you put them together, magic happens, and the flavors pair together nicely."
The weekly wine tastings launched in the late fall, with roughly a half dozen folks initially stopping by to enjoy something new to do in an otherwise quiet time of year on Hatteras Island.
"I just thought it would be fun more than anything," says Blaskovics. "We rolled into the off season, and many places closed down, so it seemed like a good idea at the time…
"And what I've always wanted to do with the deli is to create a community gathering place," he adds. "It started as 'Hey, let's get together and we'll all taste some wine,' and it grew beyond that."
In recent weeks, the wine tastings attract a regular crowd of about 25-35 people, though some events have had more than 60 folks stop by.
Most nights are centered around the wines and cuisines from a specific country – like Chile, Portugal, South Africa, and Italy – and the 5 or 6 wines vary based on the region, the cost, and of course, the taste.
"It's fun to pick an area, and try to build a menu around it, and a tasting around it," says Blaskovics. "We try to keep the wines affordable, and our [wine distributors] Coastal Beverage and Empire have been super helpful along the way, and I often bounce ideas off of them."
In addition to a few carefully selected wines from a particular corner of the globe, Blaskovics also generously shares his in-depth knowledge of the featured region, explaining the history, terminology, geography, and even the geology that goes into crafting each distinctive variety.
On a recent Thursday, where Italy is the theme of the evening, Blaskovics explains how the minerality in the soil affects the grapes, and how one wine in particular gets its distinctive flavor from ancient oyster shells buried deep below the surface of the vineyard. Handouts are provided on all of the featured wines of the night, and folks are welcome to stick around to enjoy a post-tasting dinner, which also ties in with the theme.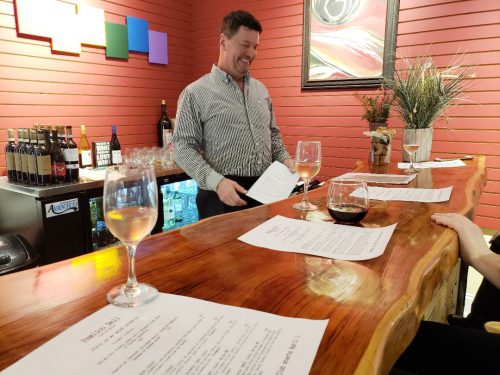 On "Italy Night," for example, the featured dinner is shrimp over polenta with sausage cream sauce and Tuscan vegetables, and Blaskovics admits to the crowd that it's a recipe he has been working on for three weeks. "I've been practicing, and think it came out well this time."
And sprinkled in between the wine education, the sipping, and the nibbling of cheeses and appetizers spread on the countertop is lively conversation among locals who make the weekly tastings their regular wintertime social outing.
"It makes me so happy to see familiar faces, and relative newcomers to the island, all getting together," says Blaskovics. "They come in, come to the wine tasting, and they make new friends. It's sort of a social gathering more than anything else these days."
"And the whole social aspect is what makes me the happiest," he adds. "People have a place to get together during the wintertime."
This budding social aspect of Pamlico Deli is getting ready to grow, too, as Blaskovics prepares to launch the first-ever Hatteras Island Wine Club in April.
"We had a lot of interest in [a wine club] from folks who come to the tastings, and we wanted to do something a little extra," he says. "So we've been formulating the plan on how to run it, and I think it will be a lot of fun."
Club members will have their own designated glass, which they can leave at the Deli or take home, and will have access to their prior tasting notes, special discounts, recipes, cooking classes like an upcoming session on how to make homemade mozzarella, and other opportunities to get together and celebrate a mutual love of food and drink.
In the meantime, the weekly wine tastings will continue well past the off season, as new arrivals trickle in, and more and more folks discover the world of global flavors that are readily waiting close to home.
And the local comradery that has been formed as a result of a love of wine – and the friends made along the way – is exactly what Blaskovics wanted.
"I've been a fan of the island for years, but what surprised me was how welcoming the people have been here," he says. "The local people have been so generous and welcoming to us, so I'm so happy to have made the transition down here, and be a part of this community."