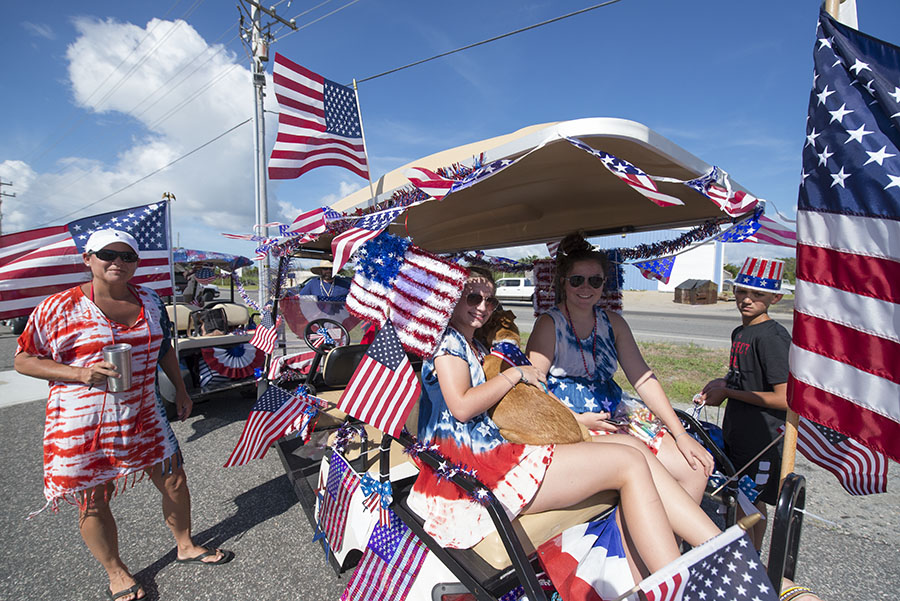 Celebrating its ninth year in 2022, the annual Golf Cart Parade will be brightening the streets of Hatteras village on July 4 at 6:00 p.m.
The yearly event began in 2013 as a fundraiser for the Hatteras Island Cancer Foundation and attracted less than a dozen carts that were decked out in patriotic themes. Once it became clear that the parade garnered interest among locals and visitors alike, the event became an annual celebration, with more and more folks participating in decked-out golf carts of all varieties.
"Last year, we had over 50 [carts], and I am willing to bet we top that this year," said parade organizer Karla Jarvis.
The parade will begin at Teach's Lair Marina and will cruise through the village and down Eagle Pass Road. There will be a free, village cookout at the Community Building from 6:00-8:00 p.m. as well, so visitors can come out, get a burger or hot dog, and watch the parade from the cookout's central Hatteras village location. (Parade winners will be announced at the cookout as well.)
The rules are lax for entering and enjoying the parade. Anyone who has a cart and a dose of creativity is welcome to join in the fun, and spectators are encouraged to head to Hatteras village to cheer on their favorites.
For more information on upcoming Hatteras village events, visit http://www.hatterasonmymind.com/ or the community's Facebook page at https://www.facebook.com/HatterasVillage/.