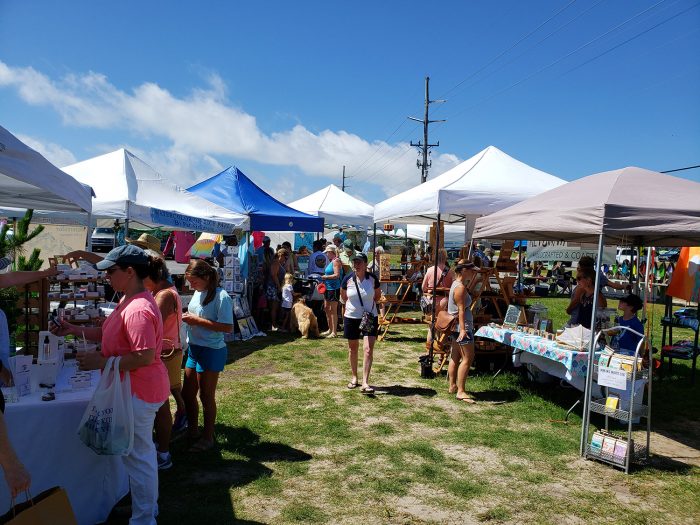 The Avon Farmer's Market is returning to Hatteras Island for the 2021 summer season on June 15, with approximately 55 vendors, and a mix of new and familiar faces.
Originally established in 2010 in Buxton, and eventually finding its permanent home next to the Avon Beach Klub, the Avon Farmers Market has become a weekly tradition for locals and visitors alike, operating every Tuesday morning, rain or shine.
This year, the market is being sponsored by the Avon Property Owners Association, although the market itself will remain the same, with local artisans, craftsmen, regional farmers, and other homegrown entrepreneurs stationed on the grounds near the Avon Pier.
"Most of the vendors will be returning vendors from 2020 or  2019, but we do have some additional food vendors this year, including a small family farm from Elizabeth City that will be bringing every kind of meat you can think of – pork, beef, turkey, chicken, and more," said Market Manager Susan Meyers. "We also have a [vendor who sells] rubs and sauces from her family's century farm, also from the Elizabeth City area."
Approximately 55 vendors are expected to participate in this year's market weekly, and patrons can expect to find a wide selection of handcrafted jewelry, textiles, mosaics, shell art, pottery, bath and beauty products, photography, fine arts, and more. Food-wise, the market will also offer two main produce vendors, as well as vendors that specialize in baked goods, tea and coffee,  honey, fresh eggs, and other delectables. "There is something for everybody, and in every price range," said Meyers. "We have a lot of everything."
The market runs every Tuesday until the day after Labor Day, and is open weekly from 9 a.m. to 1 p.m. Masks are recommended, but are not required to visit and explore all the goodies that the Avon market has to offer.
Featuring local island artists, the farmers market is a fine way for residents and visitors alike to support the community, while sampling what the island arts scene is all about.
"Farmers markets demonstrably increase spending in the local community, especially in brick and mortar stores," said Meyers. "We're incredibly lucky to have this resource in our community."
For more information on the Avon Farmer's Market, visit their Facebook page at https://www.facebook.com/Avon-NC-Farmers-Market-114250639939534/.