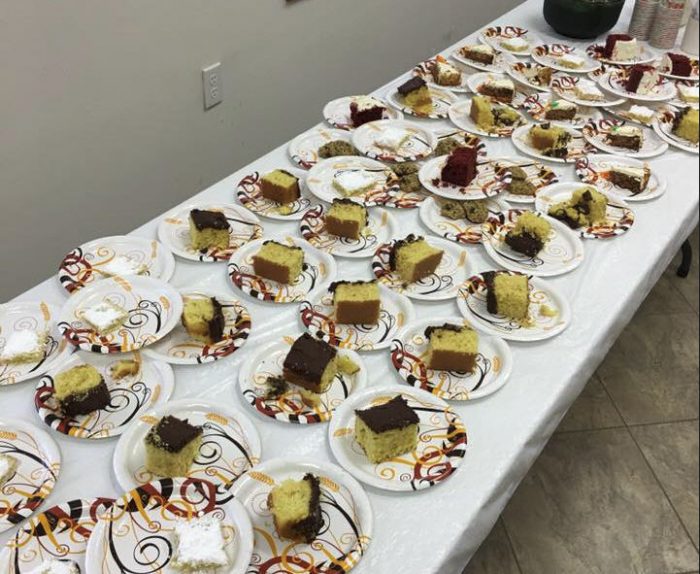 The St. John United Methodist Church (UMC) hosts a number of programs throughout the year to support the Avon community and miles beyond, but one of its most popular off-season initiatives is quietly celebrating a milestone in 2023.
The weekly Free Community Dinners, (which are held for 10 weeks from January through March), routinely attract residents from Hatteras to Rodanthe, and after 10 years of operation, the dinners now host roughly 300 hungry islanders every week.
The Thursday evening dinners are a wintertime social event for many longtime patrons, as the dinners present an opportunity for folks to get together, mingle, and reconnect in a season when a good chunk of businesses and gathering spots are closed until spring.
The menu changes every week, with comfort food staples like homemade meatloaf, chicken pot pie, and barbecue making a regular appearance every year, and the preparation involved in creating an estimated 300 meals takes volunteers several days of work.
It's a big undertaking to nourish a community to be sure, but Denise Gaskins, who launched the Community Dinner program in 2013, has ample experience in feeding a crowd.
In 2011, Hatteras Island was battered by one of the worst hurricanes in recent memory – Hurricane Irene.
Irene cut two distinct inlets along Pea Island, created multiple dune breaches, and resulted in unprecedented 10-12 feet of soundside flooding to homes and structures in Avon and the Tri-villages. Power was tenuous for more than a week, and N.C. Highway 12 was closed from August 27 until October 10, meaning that residents had to utilize the two-hour-long emergency ferry from Rodanthe to Stumpy Point to exit the island for seven weeks.
During the initial days after Irene made landfall on August 27, when the island was literally cut off from the rest of the world, Gaskins and a team of volunteers started providing regular meals to residents and emergency workers from a makeshift staging site at the Avon Fire Station.
"Irene was one of the reasons why I wanted to do the [Community Dinners] program," said Gaskins. "The community came together so well after the storm. We cooked for 15 days there, cooking three meals a day, and we did over 10,500 meals during that 15-day time period."
While the post-Irene emergency meal program was created on the fly and out of necessity, it provided a blueprint for the Community Dinners to come.
"One thing we learned was to count the plates, so we can figure out how many meals to make," said Gaskins. "We had 307 [plates] this year on meatloaf night, and 295 a week before, so we regularly get 250-300 people every week."
Gaskins and the St. John UMC volunteers no longer operate in a post-hurricane, make-do kitchen, either. Today, the free meals are prepared in a recently renovated kitchen in the church, with two gas burners, a big freezer, and ample maneuvering space for multiple chefs.
"It has really made a big difference," said Gaskins.
Many of the volunteers who help prepare the meals, (like Renee Herring who works with Gaskins side-by-side), have been fixtures since the program began, and there are plenty of roles to fill. "We also provide around 30 meals to homebound residents in Avon, so volunteers come in to help deliver meals, too," said Gaskins. "They really miss the weekly meals when they end in March, so we continue that program to deliver meals to the 30 residents for an extra three weeks."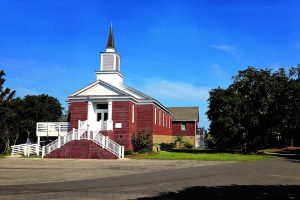 The free Community Dinners are exactly that – completely free, and wide open to anyone who wants to pop in for a freshly prepared on-site or to-go meal.
"We never put out a donation jar, as we don't want anyone to feel obligated," said St. John UMC Pastor Gina Miller. "During Covid in 2021, we had to-go meals only, and we were serving 300 meals each week. We now offer both take-out and eat-in, but [we] encourage eating in to build community and have neighbors meet each other.
"For me, these dinners reflect the Kingdom of God, where all are welcome at the table."
The Community Dinner program will be wrapping up in March as the island comes back to life after a sleepy winter season, but for now, the St. John UMC is the loudest and liveliest place to be on Thursday nights.
And with the program growing in popularity year after year, there are no signs that this 10-year event will slow down anytime soon.
"People will come in here, and they'll sit in groups, and then that group will get up and go to another table and start talking, and then it gets loud, and there are kids running around – it's just wonderful," said Gaskins. "Everyone is having a great time."
For more information:
The free Community Dinners are held every Thursday from 5:00 p.m. to 6:30 p.m. at the St. John UMC at 40336 McMullen Road in Avon. The last Community Dinner of the season is on March 16.
For more information on the weekly Community Dinner program, visit the St. John UMC Facebook page at https://www.facebook.com/stjohnobx.