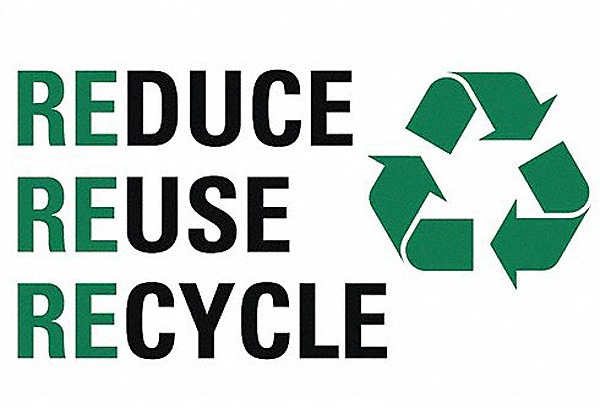 Reduce. Reuse. Recycle. Those words are a call to action for environmental activism many of us have heard for years. Children are taught about the environment in school, businesses separate glass products and some paper, and communities are pushing government leaders to prioritize this step in conserving natural resources.
And consumers are answering this call. Many of us use aluminum water bottles to reduce our plastic water bottle consumption. We don't let water run when brushing our teeth. We repurpose so many items to keep them out of landfills. When shopping, we also try to bring our canvas bags into the grocery stores. We have some control over the "Reduce" and "Reuse" part, but "Recycling" is becoming more and more difficult to achieve.
As discussed in previous articles, the fault does not lie with just the consumer. Communities are reducing what recycling is offered or cutting the programs altogether. Cost is often the most cited reason. Execution of the programs are also often problematic. Even when there is a blue bin, or container showing the famous recycling symbol, you can look inside and see the items that do not belong. Sometimes, old food or dog waste bags are found in these bins as well.
Up until 2019, real recycling (not burning) still existed on Hatteras Island. Hatteras Recycling offered home pickup service of commingled materials and China was still purchasing many products. Then, in 2018, China effectively stopped taking other countries' refuse, and Hatteras Recycling closed its doors a year later. Both contamination of the recycling stream and limited market demand helped put an end to many recycling programs.
"Any recycling company's business model depends on the sale of the recovered materials at prices high enough to cover the cost of processing," explained Vice President of Business Development for TFC Recycling, Tad Phillips. "When the recycled commodities markets crashed in 2018, the value of the recovered material fell below the cost of processing. Worse, this condition persisted through 2018 to the end of 2020."
Now, some communities are working hard to take their plastic, metal, aluminum and paper products out of the landfill and out of the incinerators. While Dare County, (including Hatteras Island and the mainland), sells paper and cardboard that are brought to the community recycling centers, most other household materials are not technically "recycled."
Through the Transfer stations in Buxton and Manteo, household recyclables are collected in a single stream, (plastics, aluminum, steel). That material is then taken to Bay Disposal where it is incinerated as part of a waste-to-energy program which supplies energy to the Norfolk Naval Shipyard. Other materials are also collected at these stations which are then sent to market or the landfill in Stumpy Point. The landfill is the least desirable outcome from an environmental standpoint.
Real recycling does still exist
TFC Recycling is based out of Chesapeake, VA. According to their website, "As the largest recycling company in Virginia, TFC Recycling is committed to working with communities, local schools, businesses and organizations to help educate everyone about the importance of proper recycling."
With its active and interactive website and Facebook presence, it is clear that the company is very proud of what it is doing in its communities since its inception in 1973.  According to Phillips, "You can be assured TFC is really recycling………over the last 24 months we have processed and sold just over 168,000 tons (that's 336 MILLION pounds) of single stream curbside recycling materials."
Phillips added that, "Over the past 6 months prices for materials have risen back to historically 'normal' levels, and we are looking forward to making up for the lean times we experienced since 2018."
TFC's recycling is still based on specific items. "We don't take everything. We take #1 and #2 plastics, paper, glass, aluminum cans, etc." according to Kathy Russell, the Education Outreach Coordinator for TFC Recycling. This is shown in the visual she shared.
And the process is simple for the customer with a single stream of materials. "Our system is automated plus we have people who can assist with the sorting if needed. Things can still get through," she added. But no sorting is needed by the subscriber– just not placing anything other than what is accepted into the bin.
TFC Recycling's chart for what can be recycled.
Duck's decade of success
The Town of Duck has contracted with TFC since 2010. Duck's program is paid for entirely by the town. It is run with two pickups per week from May 1 – Oct. 31 and is cut back to once every other week from November to April. Pickups for holidays can be added.
"Their service has been phenomenal," said Sandy Cross, Senior Planner for the Town of Duck. "We have weekly communication where we can report any concerns or request more containers."
The Town just renewed its contract with TFC in September. "This includes about 2,200 parcels. Some houses want more than one container and a few don't want any, but we also have community locations in the pickups," she added.
As of August, the Town was averaging 400-500 tons of recyclables each year. That averages out to about .2 tons per parcel. During the summer season, the Town pays just over a dollar more per residence for service at about $7 per month. This cost includes the containers, but this does not include regular refuse pickup.
Clearly, the cost is not minimal, but Cross says it is "what our stakeholders want."
Duck's vision statement is clear, as stated on the Town's website, "There is a conscious respect for Duck's fragile and extraordinary environment. We protect and preserve opportunities for our residents and visitors to enjoy our ocean, sound, and natural coastal habitats. We value our pristine, safe, uninterrupted beaches, which are our most valuable asset. Our resilience and adaptability, guided by environmental awareness and forward-thinking, ensure our sustainability as a community."
Duck's ongoing program is a model for other Outer Banks communities and one that Nags Head has followed. In May, the Town of Nags Head hired TFC for its curbside recycling program. This is a subscription, voluntary pickup service offered to residents. The cost is $14 per month per customer, but the Town of Nags Head subsidizes $5 per month for subscribers–bringing the cost to just $9 per month, according to the town's website.
While Nags Head has just begun this program, the number of subscriptions continues to increase quickly. According to Roberta Thuman, Public Information officer, the program has already seen numbers of subscriptions doubling and the total sits around 700. The town has about 3000 residents.
The Town's website seems to reinforce that TFC is actually offering processed recycling which goes to market. It says, "The items collected by TFC will be recycled."
Looking for future solutions
Specifics on costs were difficult to establish, but in a previous article, Shanna Fullmer, Director of Public Works for Dare County, said: "Clean cardboard can still be recycled and we are currently paid $75-85 per ton. Mixed load paper and cardboard earn about $35 per ton."
Fullmer explained that to incinerate the commingled, the county pays $120 per ton. The landfill is the cheaper option at $94 per ton, but also has limits on what is acceptable.
For now, the effort in recycling is more of a personal one and cannot go much further just yet. According to Phillips, "At this point TFC is constrained from further expansion in the OBX area due to time and distance from our location in Chesapeake. Our short-term objective is to make sure we can service the two towns we now have under contract for recycling."
He continued, "Long-term, OBX recycling needs are only going to be met with an improvement in infrastructure to solve the time and distance issue. TFC is actively looking for solutions at this time."
Phillips did say however that if a community transports its recyclables to TFC –which would seem comparable to the trucking of materials currently done by Dare County to Bay Disposal for incineration, and with competitive costs associated– then the company is capable of handling and recycling the materials for a processing fee.
For the many visitors who come to our beautiful, unique coastal community expecting that we recycle to maintain that beauty, this news is not encouraging. The hope is that they will continue to bring their cans and bottles to the Buxton Transfer station to keep the material out of the landfill. Many local residents will continue to make regular and meticulous sorting trips to the station to do their part in the recycling mission. Or at least feel that they are doing something.
How much a resident would be willing to pay to have their recycling materials actually processed for recycling is a question town administrators have to gauge.
There are always excuses for not recycling. Doing the right thing is often more difficult than taking the easy route. However, if we are teaching children citizenship, responsibility and conservation, then some may argue we should have them do as we say– and as we do.
This is final part of a multi-part series of articles that explores the recycling options for each of the Outer Banks communities.
Part 2 in the series explored the intricacies of recycling on Hatteras Island, from the initial drop off at the transfer station in Buxton, to the final transition into new materials. To read Part 2, see Recycling on Hatteras Island: Where Our Recycled Materials Land Once They Leave the Island | Island Free Press
 Part 1 explained the Buxton Transfer station operation, which is Hatteras Island's only recycling option. To read part 1 of this series, see https://islandfreepress.org/hatteras-island-features/recycling-on-hatteras-island-diy-at-the-buxton-transfer-station-and-recycling-center/