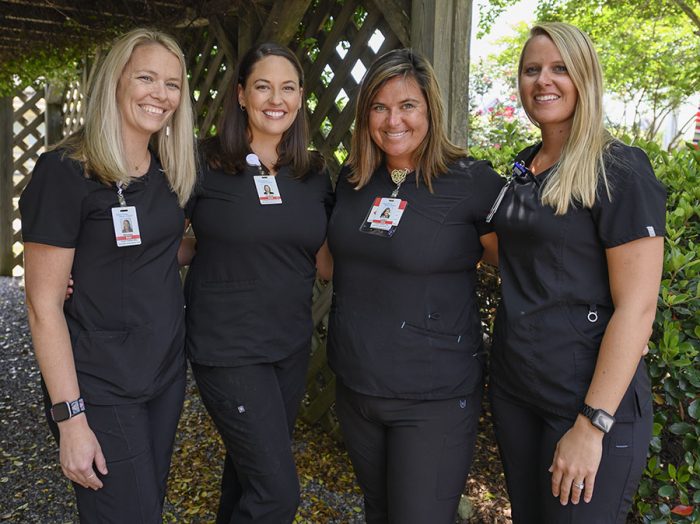 Locals who have lived on Hatteras Island for a generation or two still have fond memories of Carey LeSieur.
The compassionate nurse practitioner was a fixture at the Avon and former Hatteras village medical offices, and was a welcoming presence that made every doctor's visit just a little bit easier for islanders.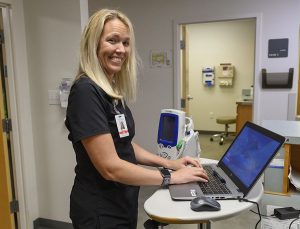 "Carey was the most liked practitioner on Hatteras Island from the time I moved here," said Dr. T. Bentley Crabtree, who is one of the attending physicians at Outer Banks Family Medicine Center in Avon. "She just endeared herself to folks. When I came in 2000 to the Avon practice, I was just a rookie trying to cut my teeth. Carey was always supportive, and would come to me to ask my perspective on things, and we quickly became friends."
When Carey passed away from cancer in August of 2007, the whole community mourned, and a new non-profit foundation – the Carey LeSieur Foundation, Inc. – was established to pay tribute to the local icon. Donation jars were stationed at varying businesses around the island, and annual events like the famed, Frisco "Bucket Party" and the Bluegrass BBQs in the Tri-Villages were held to raise money for the Carey LeSieur Memorial Scholarship.
But in the past few years, attention to the Carey LeSieur Foundation has waned. New non-profit organizations and fundraising events have popped up and have grabbed fresh attention to be sure, and the Coronavirus put a damper on the more large-scale events that previously kept the foundation in the spotlight.
"We have slowed down over the last four years for various reasons," said Dr. Crabtree. "Some reasons are obvious, like the pandemic, but there's also been board turnover and other factors, so we haven't been as visible in the community like we used to be."
Regardless, in its nearly 15 years of operation, the Carey LeSieur Foundation has done a world of good on a close-to-home level.
Focusing on offering scholarships to Hatteras Island students who have completed two years of undergraduate, college courses with the goal of pursuing a career in the medical field, the foundation has awarded a total of $74,000 through 33 scholarships, and has also donated an additional $15,000 to area non-profit organizations, such as Hatteras Island Meals, Hatteras Island Cancer Foundation, and the Community Care Clinic of Dare.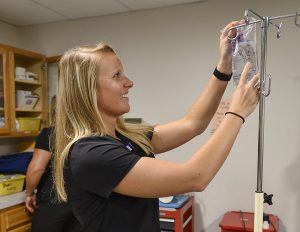 And behind the scenes, this hard work has clearly paid off, as all four nurses who currently staff the Outer Banks Family Medicine Center in Avon are former Carey LeSieur Memorial scholarship recipients.
Dr. Crabtree, along with his wife Sandra – who has been instrumental in running the foundation since its inception, just happened to ponder the happy coincidence shortly after the most recent scholarship recipient was hired in 2022.
"The way ECU Health and the Outer Banks Hospital work, local physicians are not directly involved in hiring clinical staff," said Dr. Crabtree. "Our staff is hired on a corporate level."
"But I immediately recognized each of the four nurses we have now, [when they were recruited]," he added. "I may not have the final say in who gets hired, but I let it be known during the application process that we want that person. These wonderful nurses are homegrown Hatteras talent, and with their island roots, they know the folks down here."
The first local scholarship recipient who was hired for the Avon medical center was Heather Jenette, who joined the team around 2014.The next scholarship recipient, Maggie Easley Williams, was recruited four years later in 2018, and then scholarship recipient Whitney Dempsey was hired at the start of the pandemic, around 2020.
"At the time I thought, 'That is really cool that 3 of the 4 nurses that work in our office are former scholarship recipients," said Dr. Crabtree.
Then, in 2022, scholarship recipient Caitlyn Gray filled the fourth nurse position, and it became evident that the Carey LeSieur Foundation and its Memorial scholarship had come full circle.
And as longtime island residents, all four nurses remember Carey LeSieur very well.
"I do remember her, and seeing her in high school and at the beginning of college," said nurse Heather Jennette. "This is where I always went to the doctor, and it was impactful because she was so well loved. She made me want to try to replicate that same degree of people knowing that you care. You want to leave that same kind of impact that she had."
Jennette received scholarships in 2009 and 2011, and the funds helped her complete her education, and bring her skills and expertise back to her island home.
"I think I [always] knew that whatever track I ended up going down, I would end up back here," she said. "This is home, this is where my roots are. And being able to serve in our healthcare community is incredible."
While the nursing team remembers Carey LeSieur and Dr. Crabtree well, the feeling is apparently mutual. "All of my nurses – who I work with side by side – I remember taking care of them since high school," said Dr. Crabtree. "They knew the office, and you see it come full circle. You saw them years ago for a sports physical or a sore throat, and now 10, 12, 14 years later, they are taking care of our community."
"With their island ties, they know the folks down here," he added. "Health care is a business, but on Hatteras Island, I don't think it's a business first. All of [our nurses] are folks whose families have lived here, and are connected to the community."
The unique coincidence of having an entire team of scholarship recipients has sparked new life into the Carey LeSieur Foundation. Though it has never dissipated over the past decade or so, there are rejuvenated efforts to bring it back into the limelight.
"We will certainly have more fundraisers that will be coming, and more barbecues," said Dr. Crabtree. "I'll never retire the idea of getting the community together in fellowship. When you come together with a memory and a great cause, and people are putting money into a bucket, or handing you a check, you go 'Wow.' It touches me."
A new website for the foundation is on the horizon to make donating and applying for scholarships easier, (although folks can continue to get application and donation information on the foundation's Facebook page), and events are quietly being planned in the not-so-distant future to raise awareness and funds for the foundation's continued work.
And although the Carey LeSieur Foundation has been out of the public eye, with demonstrable results that include an entire homegrown nursing team of scholarship recipients, the awareness of the foundation – and the memory of Carey herself – has never really faded.
"I do believe that as time has gone on, there are more people around here that don't remember her," said Dr. Crabtree. "But for those that do, all you have to say is 'there a bucket party,' and people are going to come, celebrate and remember and donate money. Still to this day, she has friends, and former patients, with very fond memories".
After all, the motto of the Carey LeSieur Foundation is: Carey On…