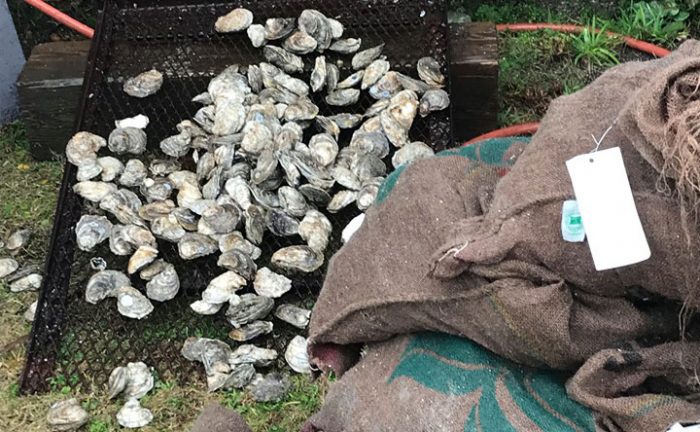 Old Christmas has roots on Hatteras Island due to its isolated nature, and subsequently, the stubborn nature of its inhabitants.
Great Britain changed calendars dropping 11 days from September in 1752, leaving "New Christmas" on December 25th, and Old Christmas – the first Saturday after The Epiphany – about 11 days after the new Christmas date. Once the island community discovered the change in the calendar, they made the most of the adjustment, and began celebrating both holidays, using the two Christmases to visit relatives, and reserving one Christmas as more of a family day, and the other as more community driven.
On an isolated island, not much changes over the course of 200 years, besides the cooks!  Old Christmas is still alive and well in Rodanthe, and seems to be celebrated much the same as it always has been according to several people at the Rodanthe-Waves-Salvo Community Building where Old Christmas was held on January 4.
The parking lot was packed with cars, trucks, and smiles. The Oyster Shoot, an annual light-hearted marksmanship contest with a variety of shotguns, was set to kick off at 1 p.m., however, had to be delayed due to rain.  Not that the rain dampened anyone's spirits – just the sand!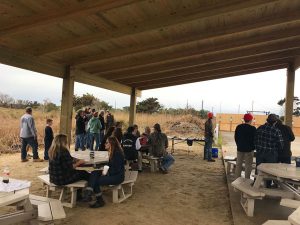 Contestants of the oyster shoot took turns shooting at paper bullseye targets arranged at the end of the basketball court with various shotguns.  The most popular: 12 gauges and 20 gauges.  After carefully aiming at their target and taking their shot, each shooter retrieved their shotgun shells, and their targets to examine their shot's strengths and weaknesses.  Men, women, and children anxiously awaited their number to be called for their chance to take a shot.  The Oyster Shoot went on for hours, but it quickly became clear that finding a winner was not the objective. Meanwhile, children skated in the skatepark, and played on the playground, as old friends, and a whole lot of family members mingled, grilled a hip-high pile of oyster bushels, and a began a  generations-old tradition of cooking chicken and pastry.
General observation revealed most of the people in attendance were close.  In fact, most were locals, or visiting "cousins" from out of town, and as far away as Maryland. The feeling of being an outsider passed quickly, as before I knew it, a gentleman named Phillip Beck was enticing my nephew, Bryson Petry, to try his hand at his first shot with a 20 gauge.  He almost looked insulted by the offer to pay for Bryson's entry, and Beck said he always buys extra shots to dole out to the kids who want to take a chance.  He proudly admits his "favorite part of old Christmas is the comradery, cousins, nieces, nephews, and family coming together, to spend time together."  Mr. Beck was a busy man as he seemed to be helping one person on crutches shoot, as well as helping a variety of children take their shots.   While setting Bryson up for his shot, he informed me that his family was one of the first to have electricity on the island. His mother was born and raised on Hatteras Island, his father was native of Wanchese, and his grandmother was of the family name Midgett, who have deep roots in the Life Saving Station of Chicamicomico in Rodanthe.
Dinner began at 5 p.m. with traditional chicken and pastry, and remember that hip-high pile of oyster bushels? Yes, those too!  The spread of chicken and pastry and smokey grilled oysters was accompanied by potato salad, green beans, rolls, and an entire table of sweets; cookies, cakes, and pies.   Plates were $10, and the proceeds from the oyster shoot and the plates benefitted the community center.  I was lucky enough to speak with Connie Midgett Page, one of the chicken and pastry cooks originally from Hatteras Island, who now drives from Chesapeake, Virginia for the event.  Her grandmother, mother, and Connie all share in the tradition of cooking for the community at Old Christmas, whether they still live here or not!.
Amidst the sounds of fired shotguns, and Sulphur hanging thick in the air, Connie recounted the Old Christmas as she remembers it.  "It came from the Old country [Great Britain] over 200 hundred years ago, but back then, it was much smaller – same building, the old schoolhouse, but over the years they have built on to it. All the chairs would be in the middle, and [there] would be a program… and any child that wanted to get up and tap dance, or whatever they had as their talents, would get up and preform.  And the men would do a minstrel, you know, they would paint their faces and some of the men would dress up as women and they would put on skits." Connie explained.  Minstrel is a medieval term for any type of entertainer such as a musician, juggler, acrobat, singer or fool.  Later the term, from the 16th century, came to mean a specialist entertainer who sang songs and played musical instruments. Minstrels performed songs which told stories of distant places or of existing or imaginary historical events. Although minstrels created their own legends and lore, often they would memorize and embellish the works of others.
"Then Old Buck would come in the front door," Connie continues, "…no one knew when he was coming, but when he did, it meant clear the floor, the band is coming!  So, the floor would be cleared, all the chairs moved, and the band would start.  Then there was this 200-year-old drum that was played, and a fife, a harmonica… That was always played to start it off, and then the square dance calling.  But at that time, it was all families because they didn't have the bridge or even the highway until the 50's."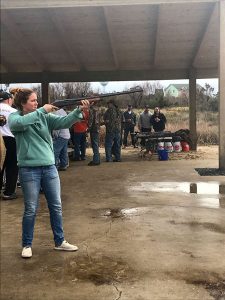 Connie continues, "The young local boys would go around to the houses and gather up chickens for the chicken and pastry, and… everyone knew that the boys were going to come and swipe the chickens.  My grandmother made chicken and pastry, then my mother who was 98 when she quit… I've been doing it every year since. Next will be my daughter, but she says she is going to make spaghetti."
Connie was a treasure trove of wonderful local lore, and I could have listened to her forever, but just as she was beginning to speak of the annual brawls which were also custom at Old Christmas, her cousin, Bill Midgett who traveled from Maryland, interjected a hug around her neck into the story, and they began to discuss how his father was the official beverage taster at the door of Old Christmas, because – of course – good pious people aren't allowed to have alcohol inside the schoolhouse.  So, his father, being filled with the spirit of community service, would take it upon himself to personally taste every drink that entered, and confiscate and dispose of any not righteous enough to enter.
During this year's event, dinner ended as "Old Buck" surprisingly busted into the room, playfully goring onlookers and knocking chairs out of the way.  That is the signal that dinner is over, and it is time for the band to start.  The "Old Buck" legend began over 100 years ago, surrounding a wild bull that is believed to have washed ashore during a storm from a shipwreck, who quickly impregnated all the cows, and inhabited Trent, aka Frisco Woods.  Eventually a hunter took "Old Buck" down, but kept his horns and hide.  These horns along with a bull hide are adorned by a large local man, whose identity is kept secret, to playfully clear the floor for the band.  Rumors circulate that the horns are the same as the drum, and have been around for over 200 years.
Old Christmas is an amazingly unique Hatteras Island tradition, and 2020's event not only lived up to the hype, but far surpassed expectations.  My family may not have any Hatteras Island nobility anywhere in the near or distant past, but I was received with open arms.  A great time was had by all in attendance that day, as a sea of smiles filled that small community building.  Everyone cheerfully admitted that the comradery, far flung relatives coming home to visit, and the antiquity of the tradition is what they enjoy most about Old Christmas.
When I asked Phillip Beck, "what is your favorite part of Old Christmas?"  His reply was simple: "Look around," and he looked around at all the people from near and far, coming together for one day as part of the family, and the community.